Learn how to make blended cottage cheese! It's a great choice for a quick, protein-packed snack or an ingredient for your favorite recipes.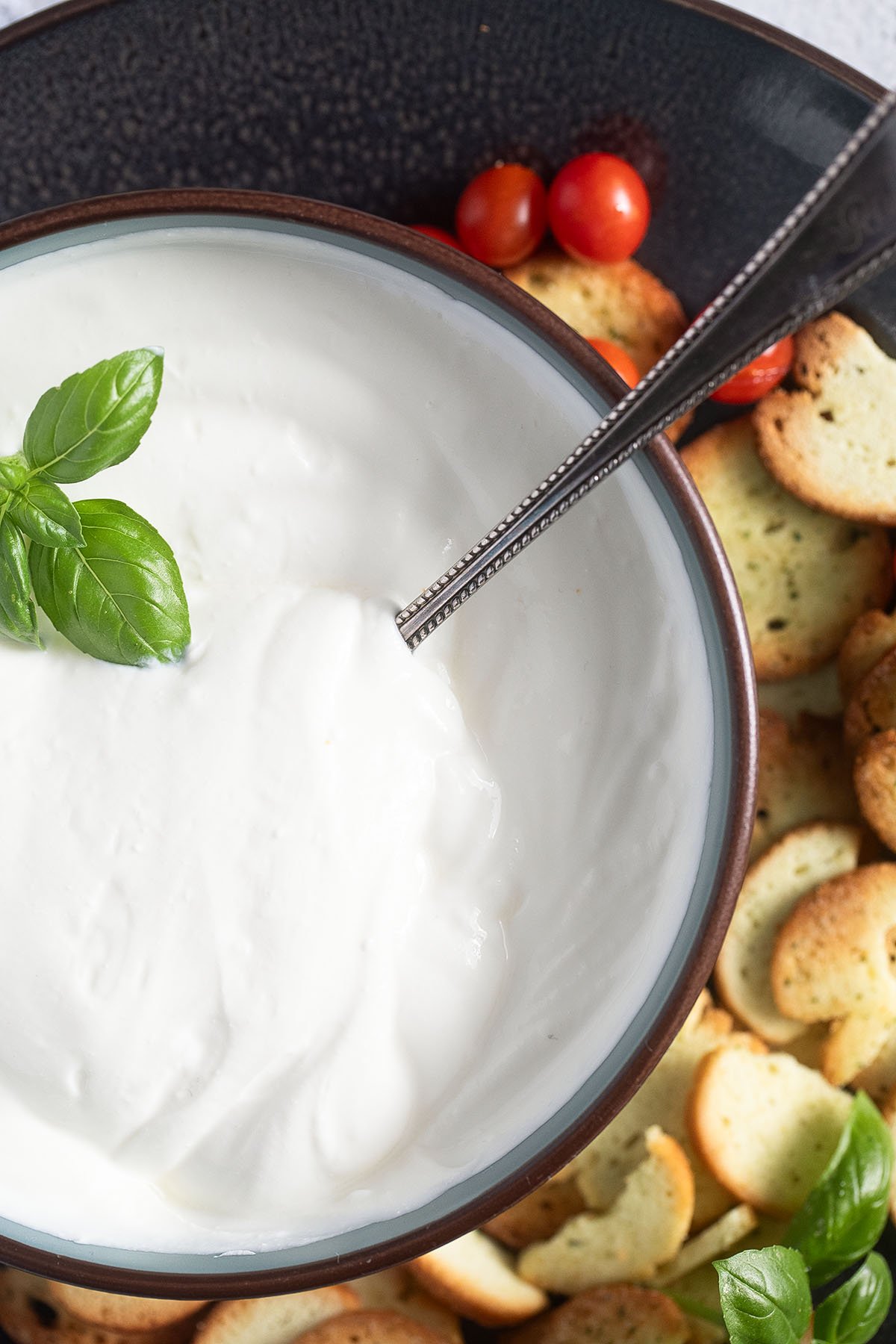 Do you want to enjoy cottage cheese in a different way? Try our blended cottage cheese recipe! Blending transforms the texture, making it light and fluffy. If you're not a fan of the small curd, whipping cottage cheese is the way to go. 
The process only takes minutes, and whether you're making a sandwich, salad, or pasta, it adds a creamy touch that makes it taste better.
Check out more creamy spreads: Hummus Without Garlic and Butter Bean Hummus.
Jump to:
What is cottage cheese?
A type of fresh cheese made from cow's milk. It is a mild-flavored and known for its creamy-white appearance and curd-like texture. It's also known for its high protein content and is often chosen as a nutritious addition to meals.
Cottage cheese is made by curdling cow's milk with acid or enzymes. This separates the milk into curds (solid) and whey (liquid). The curds are drained, sometimes rinsed, and processed to create the familiar texture and variations.
Benefits of cottage cheese
Low calorie and high protein content: A 1-cup serving contains just 163 calories and a substantial 28 grams of protein.
Nutrient-rich: It's also a nutrient powerhouse, containing essential vitamins and minerals like B vitamins (such as B12 and riboflavin), calcium, phosphorus, and selenium. These nutrients are essential for various bodily functions, including bone health, metabolism, and immune support.
What do you need?
Just cottage cheese and a food processor. 
You can use full-fat or low-fat cottage cheese. While both work well, the full-fat variety offers a richer flavor and a slightly creamier texture.
Add honey or other sweeteners to make a sweet, high-protein dip or spread. To make a savory dip, add spices and/or fresh herbs.
How to blend cottage cheese?
Place it in the bowl of a food processor and blend until it becomes smooth and fluffy. 
Don't forget to pause and scrape down the sides of the bowl with a spatula as needed.
Typically, at high speed, this process takes around 1 to 2 minutes in my food processor.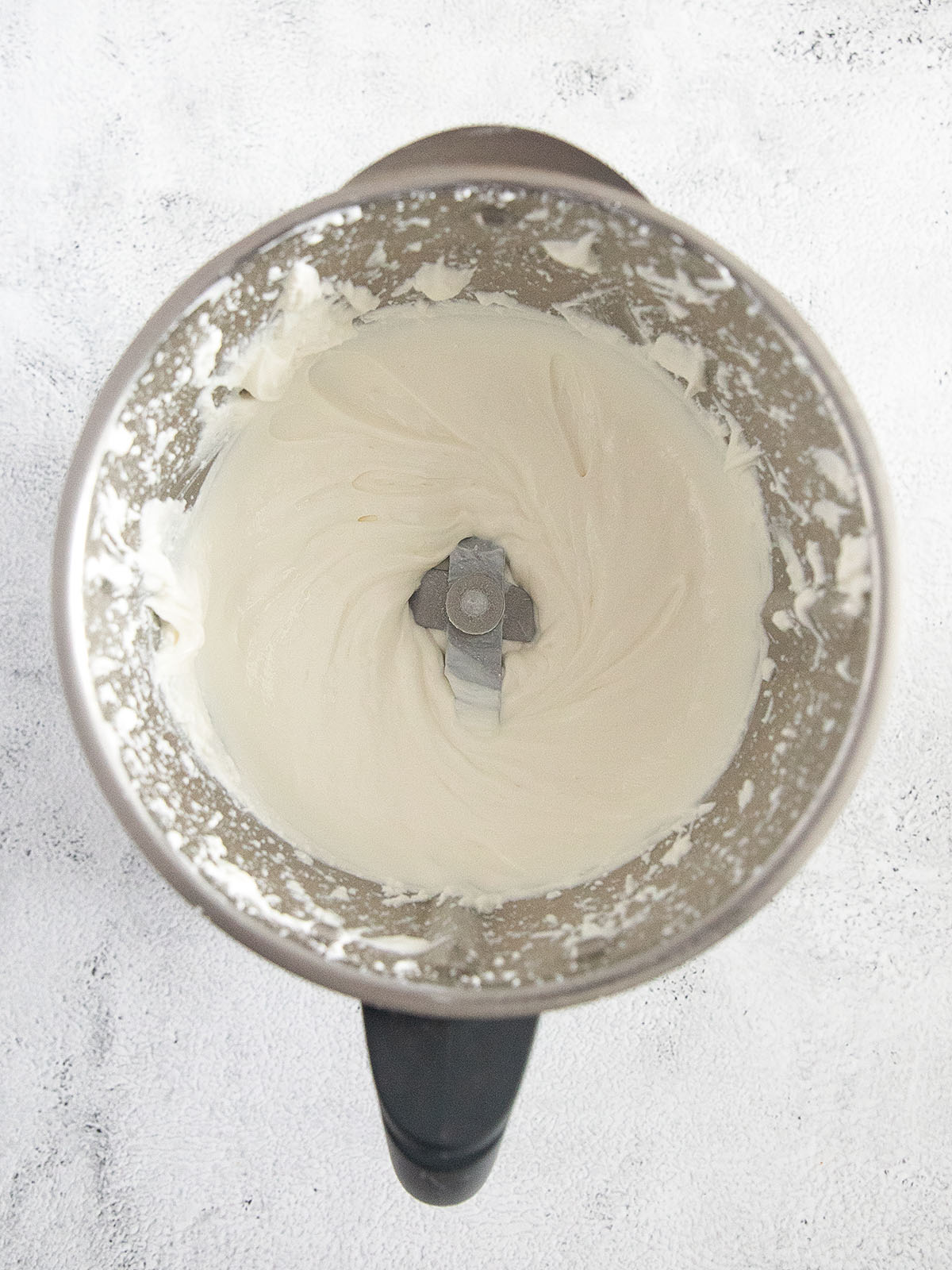 How to use blended cottage cheese?
Whipped or blended cottage cheese is versatile and can be substituted for yogurt, sour cream, or cream cheese in many dishes. Here are some other ways of enjoying blended cottage cheese:
A great spread for toast, bagels, rolls, or croissants for a delicious breakfast. Top it with your favorite toppings, for instance, fresh fruit, honey, or jam. Try any (or all) of our cottage cheese toast.
Perfect dip: Serve it with fresh veggies, crackers, or pita chips. It pairs well with carrot sticks, cucumber slices, or bell pepper strips.

Use spices like paprika, garlic powder, onion powder, cumin, coriander, salt, and black pepper to enhance the flavors.
Add herbs like fresh dill, parsley, cilantro, or dried herbs of your choice.
Or add some hot sauce like sriracha or sweet chili sauce.  

Sandwich filling: Instead of mayonnaise, use it as a healthier and creamy spread in sandwiches or wraps.
Sweet bowls with fruit, honey, nuts, granola, etc. Add vanilla extract, sweeteners, and spices (like cinnamon, cardamom, pumpkin pie, or apple pie spices) to taste. 
Savory bowls with fresh vegetables like cherry tomatoes, cucumbers, grated carrots or kohlrabi, spinach or lettuce, fried or poached eggs, roasted seeds or nuts, and spices to taste.
Salad dressing: Blend it with herbs, garlic, and a bit of lemon juice to create a flavorful salad dressing.
Make a cottage cheese smoothie: Add it to your morning smoothie for a high-protein breakfast.
Pasta sauce: Mix it into pasta sauces for a creamy and rich texture without the need for heavy cream.
Topping for chili or baked potatoes as a healthier alternative to sour cream.
Casseroles: Incorporate it into casseroles for added creaminess and protein. It works well in dishes like lasagna or baked ziti.
Stuffed peppers or shells: Blend it with herbs and use it as a filling for stuffed peppers or pasta shells.
Make cottage cheese dessert cups. Mix it with honey or maple syrup and layer it with fresh fruit or berries in nice-looking dessert cups. You could also add crushed graham crackers between the layers.
Baking: A great alternative for some or all of the cream cheese in cheesecake recipes can result in a lighter and healthier dessert. However, don't just substitute; searching for a specific recipe is preferable.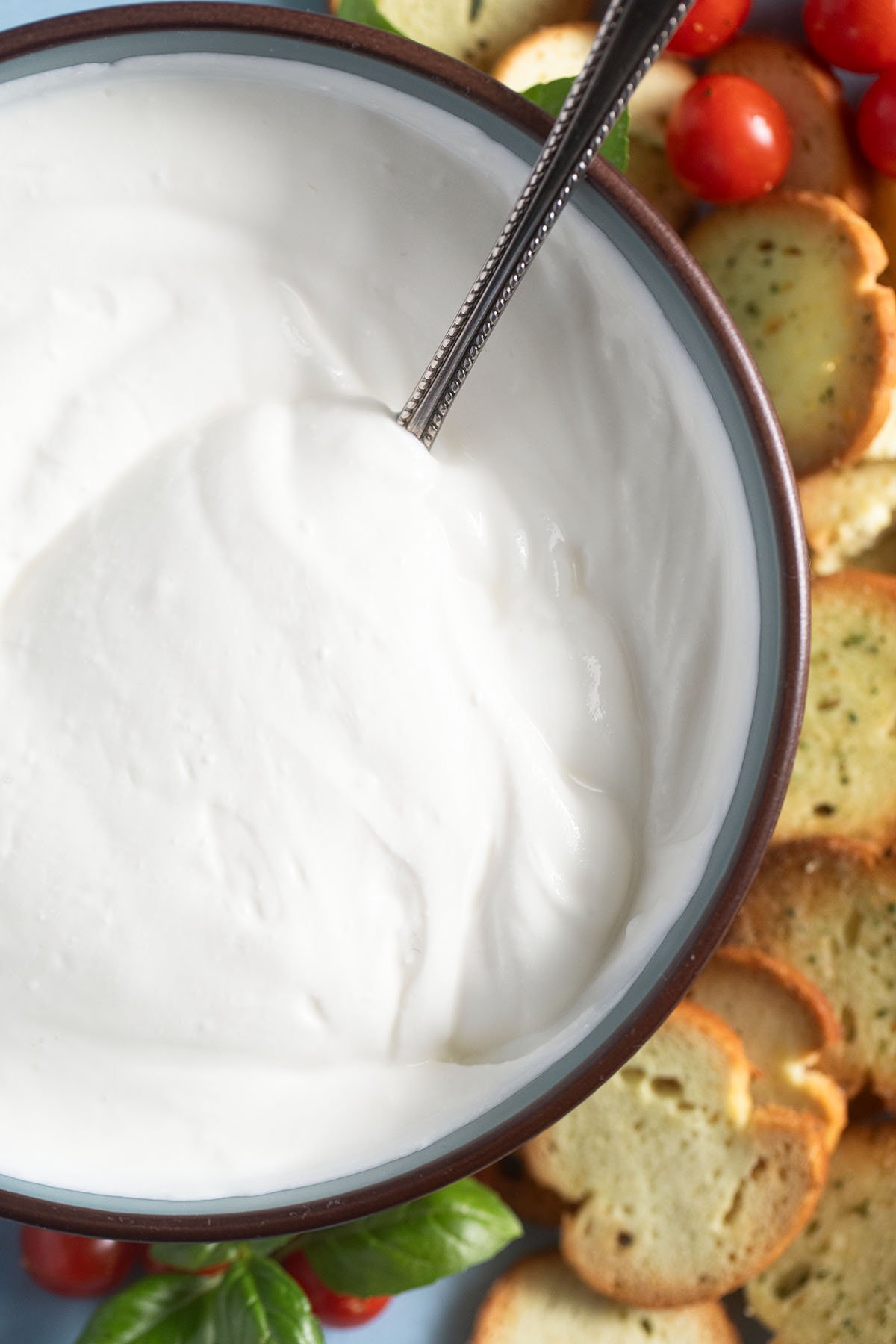 Expert Tips and FAQ
Keep the capacity of your food processor in mind when preparing your blended cottage cheese.

Blending in your food processor is flexible, depending on its size and capacity.
If you have a larger food processor like mine, you'll achieve the best results when blending between 1 lb (450 g) and up to 1.5 lbs (750 g) of cottage cheese. 
Attempting to blend smaller quantities in a large food processor (less than 1 lb) can be a bit challenging as the cheese often sticks to the sides of the bowl, requiring frequent scraping to ensure even blending. 
Choose the right type: There are various types of cottage cheese, including low-fat, full-fat, and different curd sizes. Choose the type that suits your dietary preferences and recipe needs. I prefer the full-fat variety.
Experiment with flavors: It pairs well with both sweet and savory flavors. Try it with fresh fruit, honey, herbs, spices, or as a base for dips and dressings.
Substitute in recipes: You can often substitute it for other dairy products like ricotta cheese or sour cream to reduce calories and increase protein.
Why should I blend cottage cheese?
Blending makes it perfectly smooth (just like cream cheese but softer, or like yogurt or sour cream), so it's great for people who don't enjoy the original lumpy texture. 
Can I use a blender?
For the lightest and fluffiest texture, using a food processor is recommended. However, if you don't have one, you can use a high-powered blender. If the mixture becomes too thick in the blender, add small amounts of milk or water, about 1 teaspoon at a time, to help achieve the desired consistency.
How to store?
Refrigerate it in an airtight container for up to 5 days. 
Can I freeze blended cottage cheese?
Freezing cottage cheese is safe but will significantly change the texture due to its high moisture content. The freezing process causes the liquid to form ice crystals, resulting in a grainier consistency upon thawing.
Thawed cottage cheese is not ideal for fresh consumption as it won't retain the creamy consistency after thawing.
You can use the thawed cheese in cooking recipes where the texture isn't crucial, such as in baked dishes like lasagna or casseroles.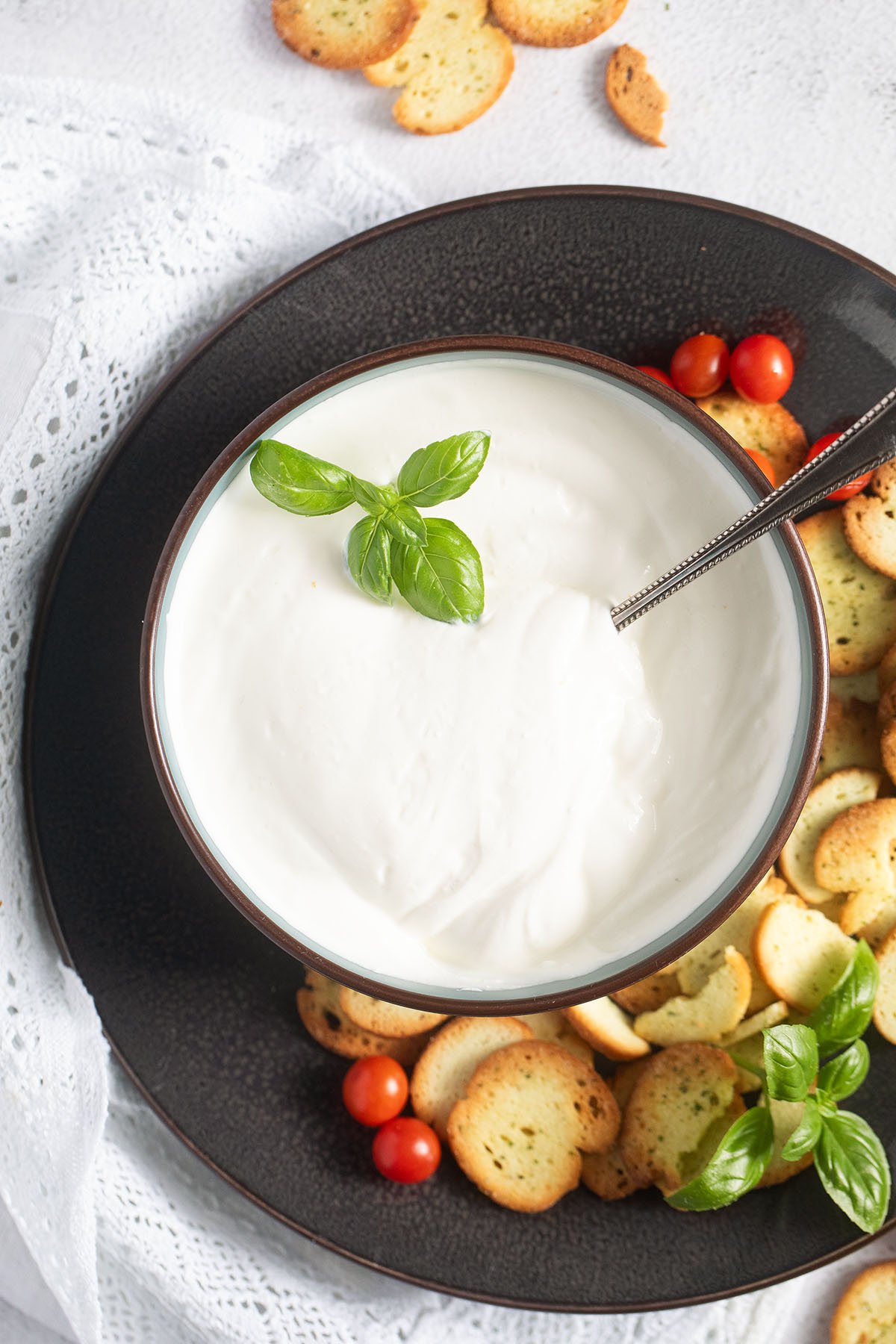 More delicious appetizers
Hungry for More Fast Recipes?
Sign up for our Newsletter to receive new, quick, and delicious recipes in your inbox occasionally! Find me sharing daily meal-time inspiration on Pinterest and Facebook
Give my quick recipes a try for your next family meal! Feel free to reach out if you need any assistance!
📖 Recipe
Blended Cottage Cheese
Our blended cottage cheese is a versatile delight, perfect for those who prefer the cheese to have a smoother texture. Transform it into a tasty spread or dip for your next gathering!
Print
Pin
Share
Grow.me
Saved!
Rate
Ingredients
1

lb

cottage cheese

450 g Notes 1, 2
Instructions
Blend: Place the cottage cheese in the food processor and process until you achieve a smooth, light, and fluffy consistency. Scrape the sides of the bowl with a spatula once or twice in between.

It takes my food processor 1 to 2 minutes at high speed.
Notes
You can use either full-fat or low-fat cottage cheese. However, full-fat is a bit more flavorful and turns out a bit creamier.
Keep the capacity of your food processor in mind when preparing your blended cottage cheese. My food processor is large and yields the best result when I blend at least 1 lb (450 g) and up to 1.5 (750 g). Anything lower than 1 lb is a bit tricky as the cheese tends to be hurled against the sides of the bowl, making frequent scraping necessary.
Nutrition
Serving:
0.25
cup
|
Calories:
56
kcal
|
Carbohydrates:
2
g
|
Protein:
6
g
|
Fat:
2
g
|
Saturated Fat:
1
g
|
Polyunsaturated Fat:
0.1
g
|
Monounsaturated Fat:
0.4
g
|
Cholesterol:
10
mg
|
Sodium:
179
mg
|
Potassium:
59
mg
|
Sugar:
2
g
|
Vitamin A:
79
IU
|
Calcium:
47
mg
|
Iron:
0.04
mg