Creamy butter bean hummus, this simple recipe is a delightful twist on the classic chickpea dip. Enjoy this delicious snack in just minutes!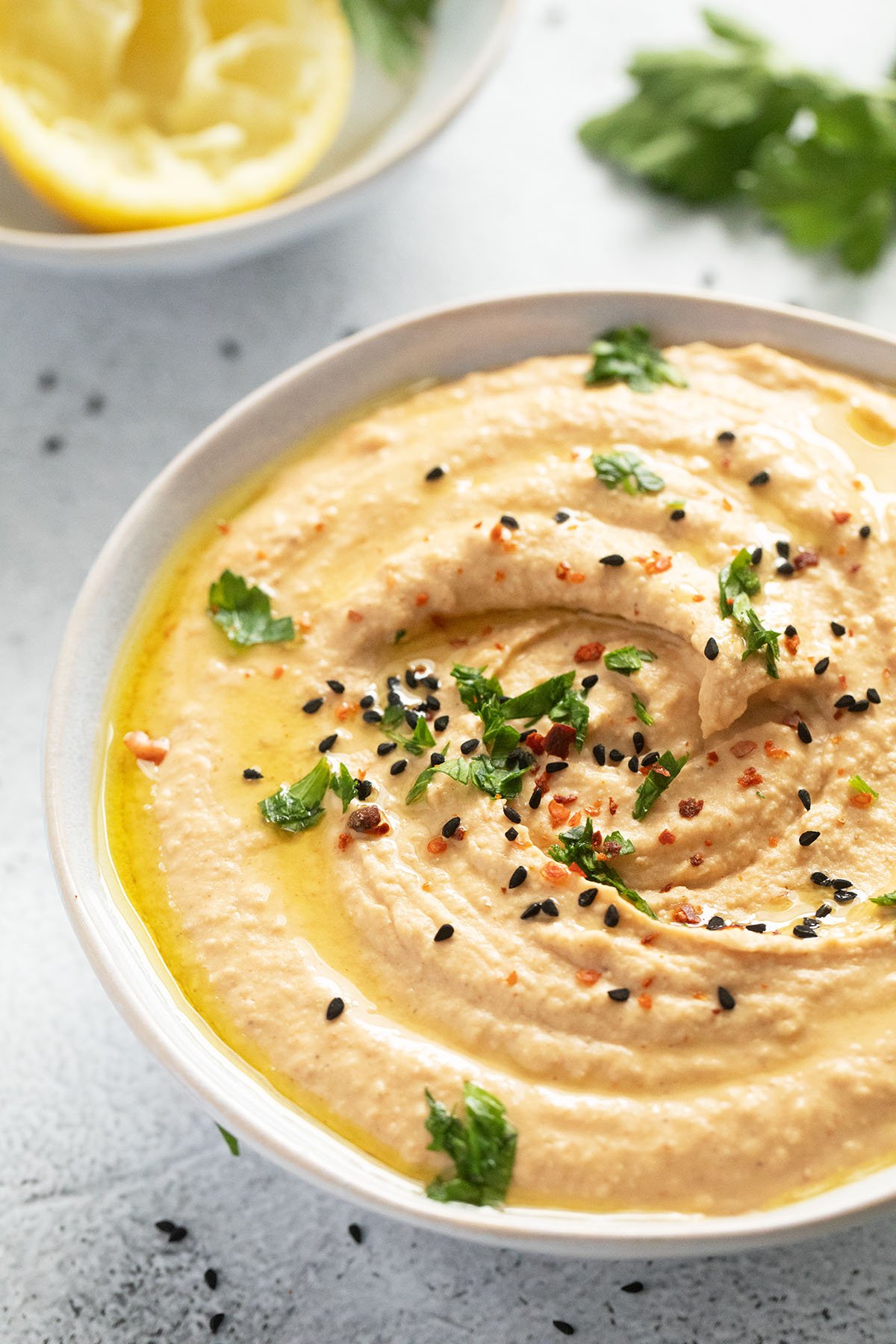 Bursting with garlic, lemon, and tahini flavors, this butter bean hummus is a super creamy and fantastic alternative to a classic dish.
Quick to prepare and easily customizable, our butter bean hummus is a must-try recipe and one of our all-time favorite ways to enjoy butter beans.
Jump to:
Why will you love this creamy dip?
The perfect snack, party appetizer, or picnic food. It pairs perfectly with pita bread and crunchy veggie sticks.
Creamy texture: It has a velvety and smooth consistency that can be incredibly satisfying to dip or spread.
Nutritious: Butter beans are a great source of plant-based protein, fiber, vitamins, and minerals, making this hummus a healthy and nourishing snack.
Versatile: You can easily change the butter bean hummus recipe by adding different flavors so that you can make your favorite versions.
Recipe ingredients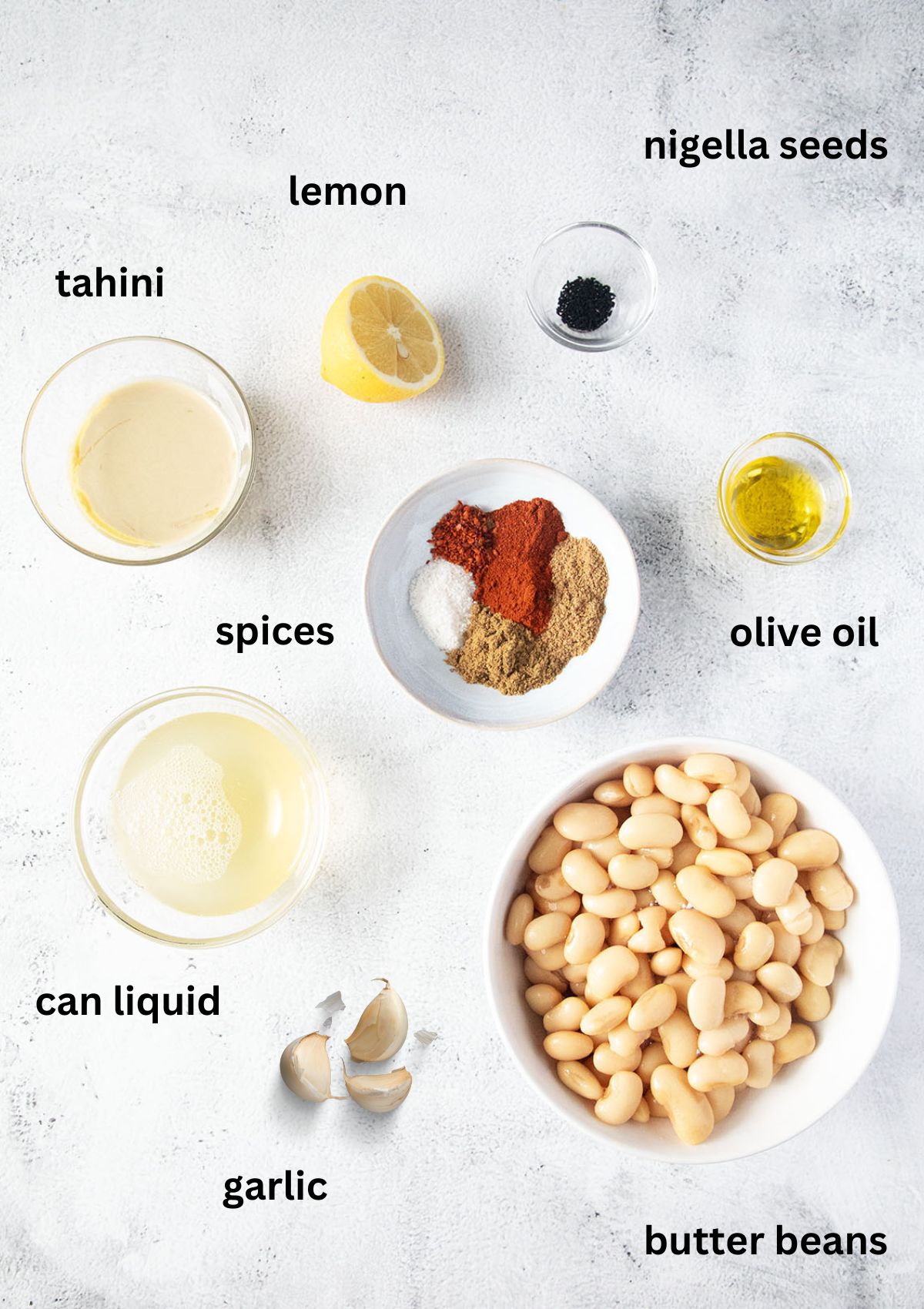 Canned butter beans are perfect, but you can cook dried beans, too, if you have the time. Keep some of the cooking liquid or use the liquid from the can, at least 1 cup.
Tahini is a sesame paste that's readily available nowadays. I prefer to buy it in ethnic shops. The quality is excellent, and a large container is so much cheaper than a tiny jar bought in fancy health stores.
Spices like ground cumin, coriander, sweet and hot paprika, red pepper flakes, and salt. Don't skip them.
Olive oil and lemon.
Sprinkle some nigella seeds on top of the butter bean hummus for extra flavor.
How to make hummus with butter beans?
Drain the beans but reserve their liquid.
Blend pulses, tahini, all the spices, oil, lemon juice, and about ½ cup of the reserved liquid until very smooth. Stop the food processor a few times in between and scrape the mixtures from the walls of the machine.
Adjust the taste with more salt and lemon juice if necessary.
Consistency: You can make the butter bean dip a bit thinner by adding more liquid from the can, but do it gradually. There's no strict rule here – adjust it to your liking.
Transfer the bean hummus to a bowl, and sprinkle with nigella seeds and freshly chopped herbs if you like.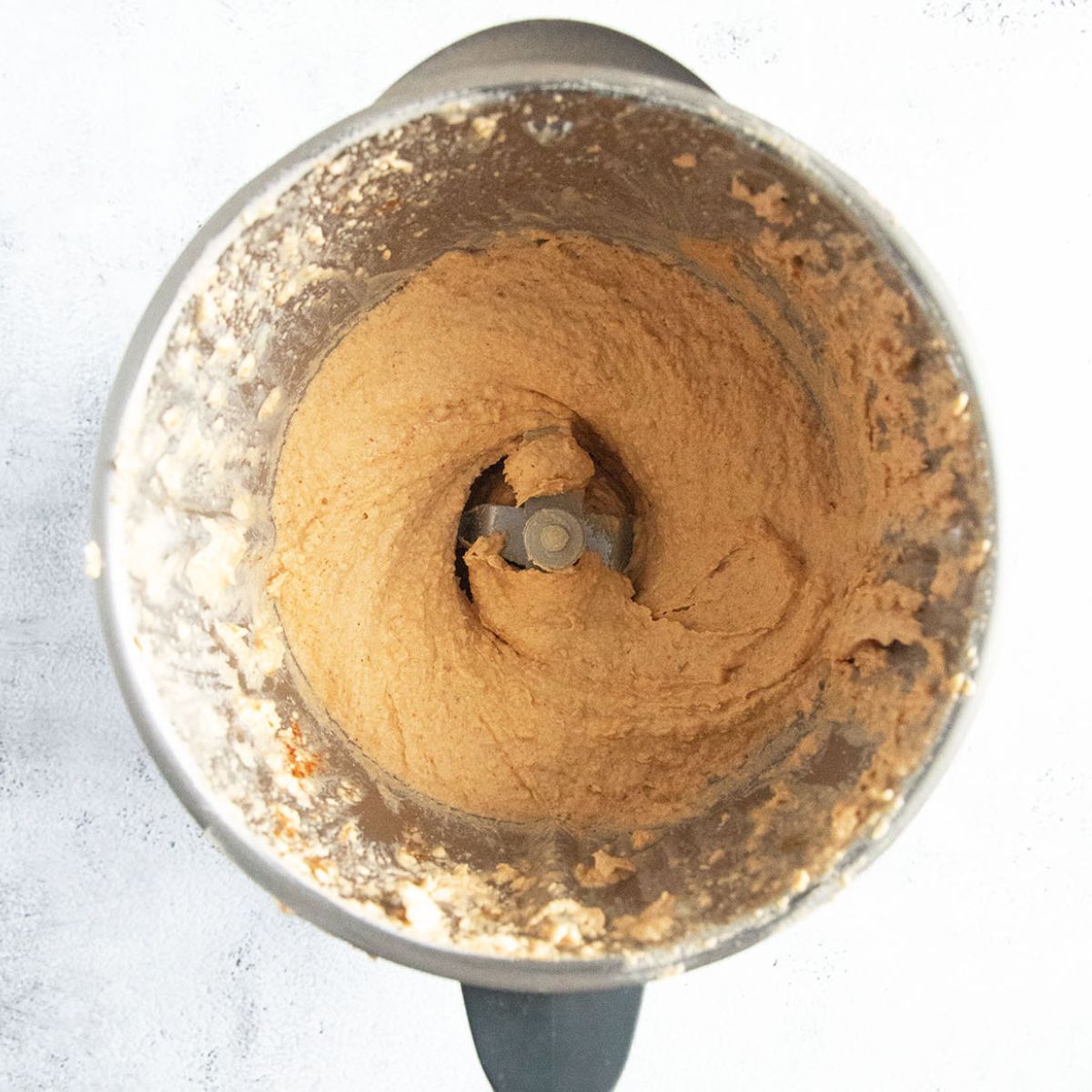 Variations on the recipe
Add any of the following ingredients to the butter bean hummus. You can blend them in the hummus or chop them very finely and fold them into the dip.
Herbs like parsley, dill, cilantro, or a mix of fresh herbs, about ½ to ¾ loosely packed cup.
One large roasted red pepper (from a jar).
Roasted garlic, 2-3 cloves.
About ½ cup roasted sun-dried tomatoes from a jar drained and patted dry.
Pesto, about 2-3 teaspoons.
Black olives.
One small, cooked beet.
Expert Tips
Type of blender
A good quality food processor or a high-powered blender would be ideal for making hummus. These appliances are designed to handle thick and creamy textures, making them perfect for blending the ingredients into smooth and consistent hummus.
I use a Thermomix, which makes super creamy hummus in no time; however, there is a catch to it: it works best if I double the ingredients.

When I make the recipe with only one can of pulses, I find myself scraping the walls of the machine countless times, which can be quite tedious.
However, when I use two cans, everything becomes much easier to manage. We never have too much hummus; it stores well, and we always finish it all.
Tahini balance: Adjust the amount of tahini to your taste. If you prefer a more pronounced sesame flavor, add a bit more tahini; for a milder taste, use less.
Consistency control: To achieve the desired texture, gradually add the reserved liquid (from the can or cooking) a little at a time while blending. This way, you can control how thick or creamy your hummus will be.
Recipe FAQ
What is hummus?
A popular Middle Eastern dip or spread made primarily from chickpeas or, in this case, white beans, tahini (sesame paste), olive oil, lemon juice, garlic, and various spices.
It has a creamy and smooth texture and is often served as a dip with pita bread, crackers, or fresh vegetables.
Is hummus healthy?
Yes, it's considered a healthy food. Beans are an excellent plant-based protein and fiber source, while tahini provides healthy fats and essential minerals.
The spread is generally low in saturated fat and cholesterol, making it a nutritious option for snacking or as part of a meal.
Is hummus suitable for vegans and vegetarians?
Yes, as long as the ingredients used are plant-based. If you add pesto (made with Parmesan containing animal rennet), it will no longer be vegetarian.
How to store?
Refrigerate the butter bean hummus in an airtight container for up to 5 days. Homemade hummus doesn't last as long as store-bought as it contains no preservatives.
If it starts to taste and smell sour, discard it.
Freeze it for up to 4 months. Defrost it in the fridge and stir it well before serving.
How to serve it?
As a dip with pita bread, pita chips, tortilla chips, pretzels, or fresh vegetable sticks such as carrots, cucumbers, bell peppers, celery, and cherry tomatoes.
As a spread: Use hummus in sandwiches, wraps, or pitas.
In mezze platters: Add it to a Middle Eastern-inspired mezze platter, like our falafel plate. Arrange it alongside other dips like baba ganoush, tzatziki, and tabbouleh, and serve with olives, falafel, dolmas, and flatbread.
In bowls: Arrange it in a bowl with rice, couscous, quinoa, or other grains. Add roasted or raw vegetables, feta cheese, tofu, chicken breast, canned tuna, shrimp, olives, chickpeas, etc.
With grilled meats, meatballs, or roasted veggies: It makes a wonderful side dish for all these mains.
Party appetizer: For gatherings or parties, serve it in a bowl garnished with a drizzle of olive oil and a sprinkle of paprika or fresh herbs. Place a bowl on a large platter and surround it with vegetable sticks, crackers, pita, bread, and so on.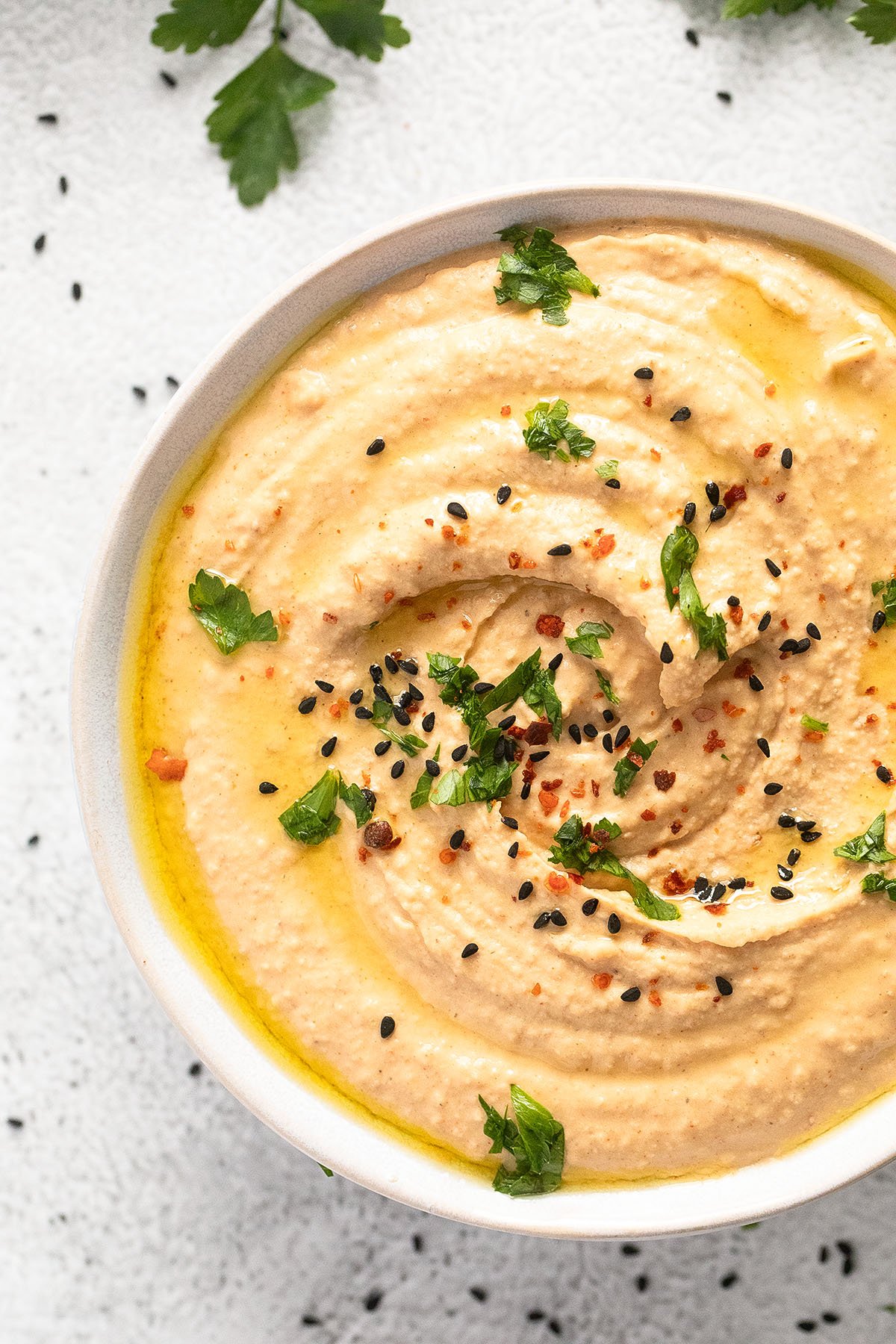 Check out the webstory for this recipe: How to make Butter Bean Hummus
More Quick Appetizers
Hungry for More Fast Recipes?
Sign up for our Newsletter to receive new, quick, and delicious recipes in your inbox occasionally! Find me sharing daily meal-time inspiration on Pinterest and Facebook
Give my quick recipes a try for your next family meal! Feel free to reach out if you need any assistance!
📖 Recipe
Creamy Butter Bean Hummus
Packed with healthy plant protein, this delicious butterbean hummus is perfect with pita bread, crackers, or fresh veggies.
Print
Pin
Share
Grow.me
Saved!
Rate
Equipment
Food processor or high-powered blender
Ingredients
1

can

butter beans

reserve the liquid, 14 oz/ 400 g, Note 2

2

tablespoons

olive oil

1

tablespoon

lemon juice

more to taste

2

tablespoons

tahini

2

garlic cloves

grated, optional, Note 3

1

teaspoon

fine sea salt

1

teaspoon

cumin

½

teaspoon

ground coriander

1

teaspoon

sweet paprika

½

teaspoon

hot paprika

½

teaspoon

smoked sweet paprika

¼

teaspoon

red pepper flakes

or to taste, Note 4

nigella seeds

to sprinkle on top
Instructions
Drain the beans but reserve the liquid. 1 can butter beans

Place butter beans, oil, lemon juice, tahini, garlic, spices, and ½ cup of the reserved liquid in the food processor.

2 tablespoon olive oil + 1 tablespoon lemon juice + 2 tablespoon tahini + 2 garlic cloves grated + 1 teaspoon salt + 1 teaspoon cumin + ½ teaspoon coriander + 1 teaspoon sweet paprika + ½ teaspoon hot paprika + ½ teaspoon smoked paprika + ¼ teaspoon red pepper flakes (or to taste) + ½ cup reserved liquid

Blend until very smooth, scraping the walls of the food processor a few times in between.

Add more liquid from the can, little by little, until the hummus reaches the desired consistency.

Adjust the taste with more salt and lemon juice if necessary.

Serve: Transfer to a bowl, sprinkle with nigella seeds and fresh herbs, and drizzle with olive oil just before serving.
Notes
The recipe makes 12.4 oz/ 350 g hummus, so one portion would be 35 g/ 1.2 oz. That is one slightly heaped tablespoon of hummus.
Beans: You can use canned or cook your own beans. In both cases, remember to reserve some of the can or cooking liquid.
The garlic is optional but so delicious. I only leave it out when the dip is meant to be taken in the lunch box to work or school. I always grate it first, even if it goes in the food processor.
Substitute with red chili flakes or cayenne pepper to taste. If using cayenne pepper, one small pinch should do it.
Nutrition
Serving:
1
heaped Tbsp
|
Calories:
75
kcal
|
Carbohydrates:
6
g
|
Protein:
3
g
|
Fat:
5
g
|
Saturated Fat:
1
g
|
Polyunsaturated Fat:
1
g
|
Monounsaturated Fat:
3
g
|
Sodium:
239
mg
|
Potassium:
156
mg
|
Fiber:
2
g
|
Sugar:
1
g
|
Vitamin A:
120
IU
|
Vitamin C:
1
mg
|
Calcium:
13
mg
|
Iron:
1
mg