Welcome to The Fast Recipe Food Blog, where you will find delicious, simple, tried-and-tested recipes for every occasion made quickly and with just a few ingredients. I aim to offer recipes suitable for busy people trying to feed a family in a healthy, tasty, and budget-friendly way.
"Fast recipes" is the motto. Simple techniques, short cooking times, making the most of the seasonal products, and your pantry ingredients. For instance, I hate buying a miso paste bag, using three tablespoons for soup, and throwing the rest away after I find it expired in the fridge again…
So, when presenting you with such a recipe, I will do my best to have enough of them to help you use that darn miso bag (or whatever else it is).
Most of us live hectic lives: full-time jobs, children, housekeeping, and social life.
I am fortunate enough to work full-time from home to always be there for my kids and structure my work schedule as I need to. But all the new tasks lead to working long hours in the evening and having less time to spend on elaborate cooking, long shopping trips, etc.
But that doesn't mean we don't eat well. Cooking is my passion, and if the time is short, it just means I must adapt. So, I have been collecting, cooking, developing, and improving hundreds of simple, yummy, and fast recipes using just a handful of ingredients. I can't wait to share them all with you!
About Adina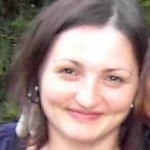 My name is Adina. I am a creator, writer, and photographer, creating and photographing recipes for my blogs and clients.
I started as a self-taught cook long ago. However, I have thoroughly improved my skills by taking many cooking and pastry training courses.

I've also run a small "wedding cake" business for almost 10 years, which I had to give up due to lack of time; it had become too much running a blog full-time and trying to find the time to make huge elaborate cakes at the weekend.
If you want to check my other blog, Where Is My Spoon, do so! You will find almost 2000 recipes there. I started that blog nearly 10 years ago, and it has brought me so much joy, recognition, and fulfillment.
Where Is My Spoon was featured in many important blogs, magazines, and websites:
Our blog The Fast Recipe was also featured in online publications:
I come from a family of excellent cooks; I have it in my blood, so to speak. From grandma (who raised me) to aunts and cousins, we all love to cook and bake, and we all do it well. Except for my sister… I don't know what went wrong there…
What to expect from The Fast Recipe?
Many short, simple, and super delicious recipes.
Relatively healthy, nutritious food, with the occasional splurge, of course. I like to keep track of what I am eating, but I do love cakes… and I think they can find their place in a balanced diet.
You can contact The Fast Recipe at yummy@thefastrecipe.com.
Recent Fast Recipes