Creamy, rich, vegan tahini pasta made with just a few ingredients and ready in about 15 minutes. Also very adjustable, you can add more ingredients according to what you have or what you crave.
Do you happen to have a jar of tahini in the back of your fridge? I always seem to have one. I can only buy large jars around here and they keep well for a long time, so there is always some sesame paste in the house.
Jump to:
Why Do I Like This Recipe
Perfect for making a quick tahini pasta dish on a late evening after work when you don't feel much like spending a long time in the kitchen, but you still want to eat something healthy and super tasty!
And this recipe is so quick and easy, you will end up making it again and again. Really! All you must do is cook the noodles. While they boil, stir the sauce ingredients. Mix everything together. Serve!
And if you are looking for more ideas for quick dishes, how about some Fried Spaghetti or a hearty plate of American Chop Suey?
What is tahini?
A Middle Eastern paste/condiment made from sesame seeds. The sesame seeds are ground into an oily paste like peanut butter. However, the taste is quite different. It doesn't have the sweet hint other kinds of nut butter have; it has an earthier, stronger flavor.
Butter made from toasted and hulled sesame seeds has a milder taste, while the one made from unhulled or raw seeds tends to be bitterer. I prefer the milder sort.
The best-known ways of using sesame butter are for making hummus and baba ghanoush. But you shouldn't stop there, it is such a wonderful and versatile ingredient. I just love a simple sauce to drizzle over falafels or any kind of Middle Eastern-inspired wrap, stuffed pita bread, chicken, vegetables, and so on.
I love to use it for making salad dressings, I sometimes add it to porridge or smoothies instead of another nut butter. And recently, this dish has become a favorite in our house as well.
What do you need?
Tahini:
I recommend buying it in ethnic shops, it probably costs half of what you would pay in a regular supermarket and even less compared with what you would pay in a posh health shop.
I always buy it in Turkish/Syrian shops in Germany, but you will also find it in Greek or Indian shops.
It usually comes in large containers (glass or plastic), but it keeps very well in the fridge for several months.
The oil will separate in the jar, so you will probably have a thin layer of oil on top. You must stir the paste well before removing some of it. That could become a little difficult if you keep the jar in the fridge, so it would be helpful to remember to remove the paste from the fridge about 15-30 minutes before using it. However, this is not always necessary. I've had brands of tahini that were easier to stir than others.
You could always sit the jar in a bowl of warm water to help the paste soften faster.
Pasta:
I often stir the sauce with whole wheat pasta, I think its taste and texture are a great match.
However, regular white pasta is perfectly fine as well.
I prefer short ones, but spaghetti or anything else is ok.
Other ingredients: freshly squeezed lemon juice, garlic, chili flakes, fresh parsley (or frozen), salt, and pepper.
What can I add to pasta tahini?
Mushrooms: I love them in this combination. However, I cook and serve them separately because both my kids refuse to eat mushrooms. Slice them and fry them in a little olive oil (or butter) for a few minutes until golden. Add a little salt and pepper. Either mix them with the noodles or pile them on top.
Peas: they are something the kids love. Add about one cup to the cooking pasta during the last 3-4 minutes of the cooking time.
Fresh spinach: about 2 handfuls of baby spinach are great. Mix with the drained and still very hot pasta to help it wilt.
Zucchini: halve and slice the zucchini. Fry in a little olive oil until golden, 3-4 minutes, stirring often. Add salt and pepper. Mix with the pasta or pile on top.
Roasted vegetables: my absolute favorite is broccoli roasted with olive oil, salt, and pepper until only very slightly charred around the edges. Other tasty roasted veggies are asparagus in spring, cherry tomatoes or red peppers in summer, pumpkin or red onions in autumn, and carrots or parsnips in winter. Or a combination of several veggies.
More herbs: basically, anything you like. Basil is super. Cilantro as well, provided you like it, many people don't. Throw in some chives if you have them or even dill. Each herb will impart the dish a slightly different flavor, but they are all lovely. I would not use dried herbs; they tend to be harsh if they are not cooked at all.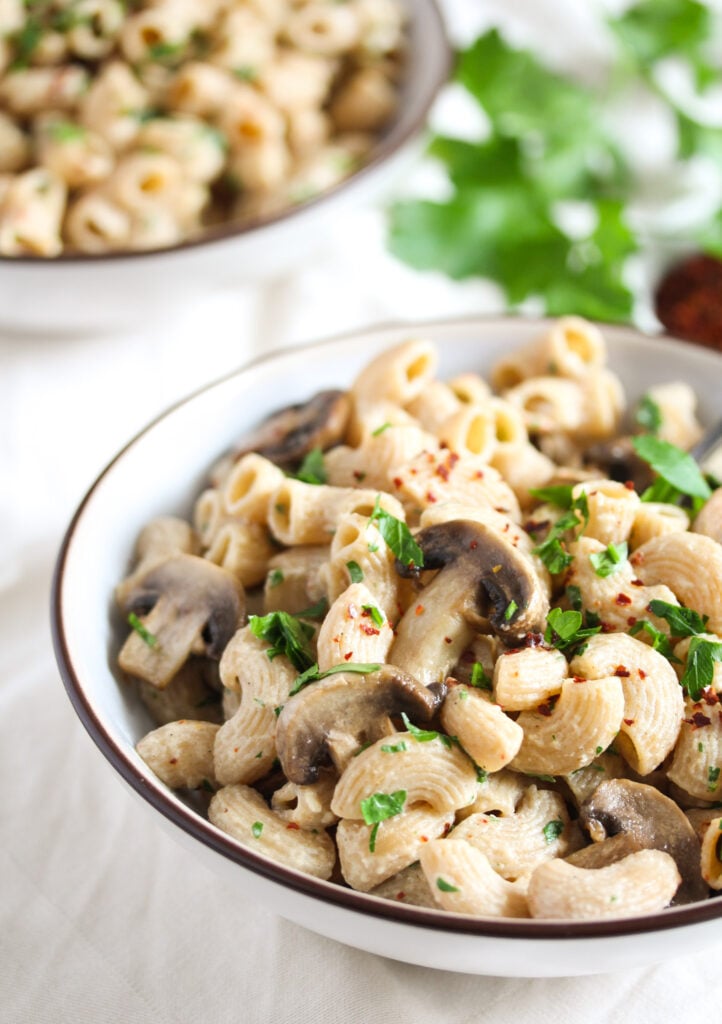 How to make tahini pasta?
Start boiling water for the noodles. To speed up the process, use hot water from the tap or water boiled in a kettle. Only add salt when the water boils, adding it from the beginning will slow down the cooking process and it might ruin your pots in the long run.
If you decide to add something else to the dish, prepare those additions now. If planning to add some roasted vegetables, you will have to start sooner as roasting needs its time.
Drain the noodles but reserve about ½ cup of the cooking water. You will not need it all though, just enough to make the sauce runnier.
When the pasta is almost ready, whisk the tahini paste with lemon juice, grated garlic cloves, salt, pepper, and chili flakes. The paste will seize at first, don't worry about it, it's perfectly normal, just keep whisking and add a little cooking water.
You will probably need about 5-6 tablespoons, enough to make it a bit thinner. It depends on the brand of paste you are using. Sturdier sorts need more water than thinner sorts.
Adjust the taste with more lemon juice, salt, and pepper. Stir in the chopped herbs.
Return the noodles to the pot and pour the sauce over it. Stir to coat well.
You can now add any other vegetables you've decided to use.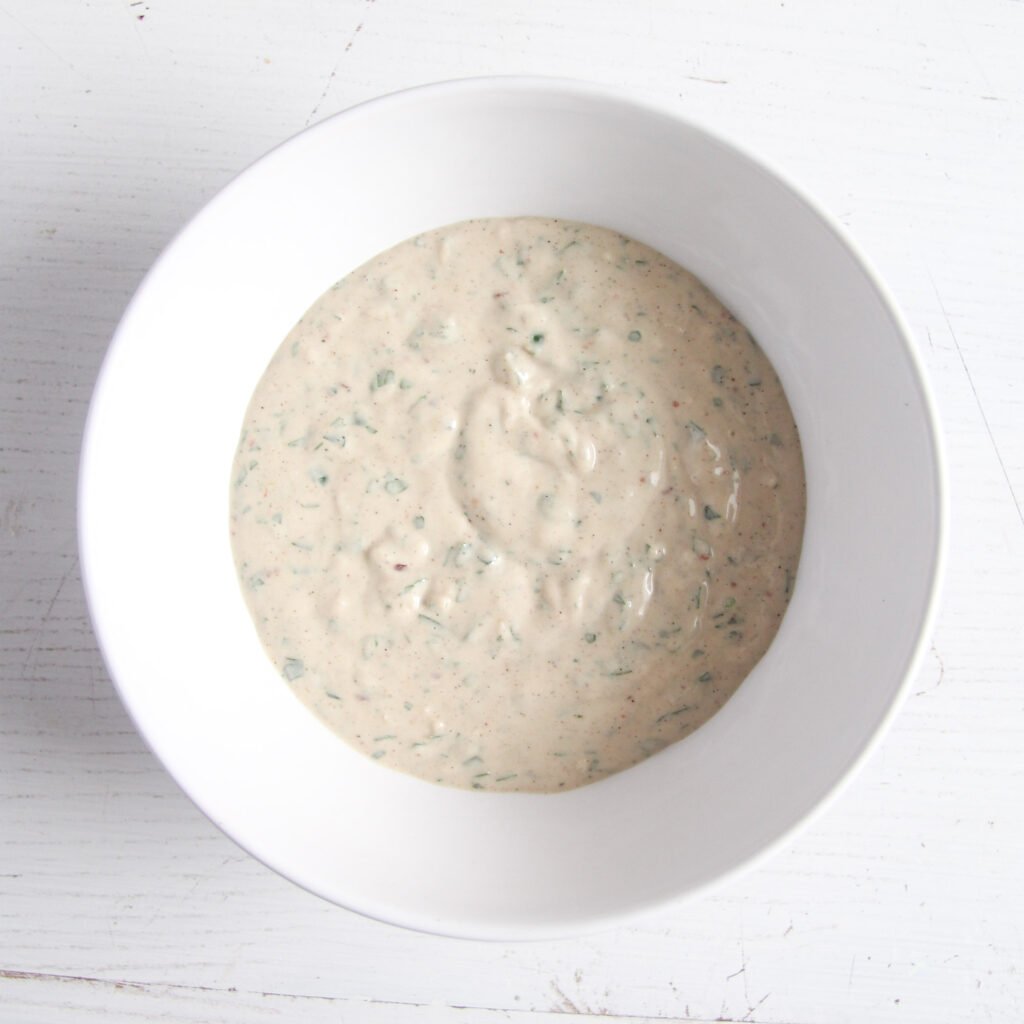 How to serve and store?
Serve immediately or let cool and serve as a pasta salad. If the sauce becomes stiff when cold, you can thin it with a small amount of milk, nut milk, or even oil. I usually serve pasta with tahini sauce with a fresh salad with vinaigrette or yogurt dressing.
The leftovers keep well in the fridge in an airtight container for 3-4 days. The pasta with tahini sauce would, theoretically, make a wonderful lunchbox dish, however, think about the garlic. If you are working in a room with other people, they might not appreciate the garlic note in the air. 😊 Better take it to a picnic.
More pasta recipes
Hungry for More Fast Recipes?
Sign up for our Newsletter to receive new, quick, and delicious recipes in your inbox occasionally! Find me sharing daily meal-time inspiration on Pinterest and Facebook
Give my quick recipes a try for your next family meal! Feel free to reach out if you need any assistance!
📖 Recipe
Creamy Tahini Pasta
Creamy, rich, vegan tahini pasta made with just a few ingredients and ready in about 15 minutes. Also very adjustable, you can add more ingredients according to what you have or what you crave.
Print
Pin
Rate
Ingredients
1

lb

whole wheat pasta

or regular

½

cup

tahini

4

tablespoons

freshly squeezed lemon juice

4

garlic cloves

½

teaspoon

fine sea salt

more or less to taste

¼

teaspoon

ground black pepper

more or less to taste

5

sprigs

parsley
Instructions
Start cooking the water for the pasta. Speed up the process by using hot water from the tap or boiling from the kettle. When it boils, add salt generously. Cook pasta according to the packet's instructions, it should be al dente, not mushy. Drain and reserve about ½ cup cooking water (you will not need it all, use as required). (Note)

Squeeze the lemon, grate the garlic and chop the parsley.

When the pasta is almost ready whisk the tahini, lemon juice, garlic, chili, some salt, and pepper. The sauce will seize at first. Slowly add some of the reserved cooking water, about 5-6 tablespoons or enough to thin the sauce a little.

Adjust the taste with more lemon juice, salt, and pepper if necessary. Chop the parsley and add it to the sauce.

Combine the pasta with the sauce, taste, and adjust again if necessary.
Notes
Additions:
Peas (about 1 cup): add them to the pasta pot during the last 3-4 minutes of the cooking time.
Mushrooms (about 250 g/ 8.8 oz) or zucchini (1 medium): slice and fry them in a pan with a little olive oil while the pasta cooks.
Spinach: add a couple of handfuls of baby spinach to the very hot, just drained pasta. The heat will help it wilt.
Roasted veggies of any kind: start preparing them before cooking the pasta, as they will need some time in the oven.
Nutrition
Serving:
1
/4 of the dish
|
Calories:
353
kcal
|
Carbohydrates:
42
g
|
Protein:
12
g
|
Fat:
18
g
|
Saturated Fat:
3
g
|
Polyunsaturated Fat:
14
g
|
Sodium:
284
mg
|
Fiber:
6
g
|
Sugar:
1
g