Air fryer asparagus is crunchy, delicious, and ready in less than 10 minutes, this makes the perfect super quick side dish.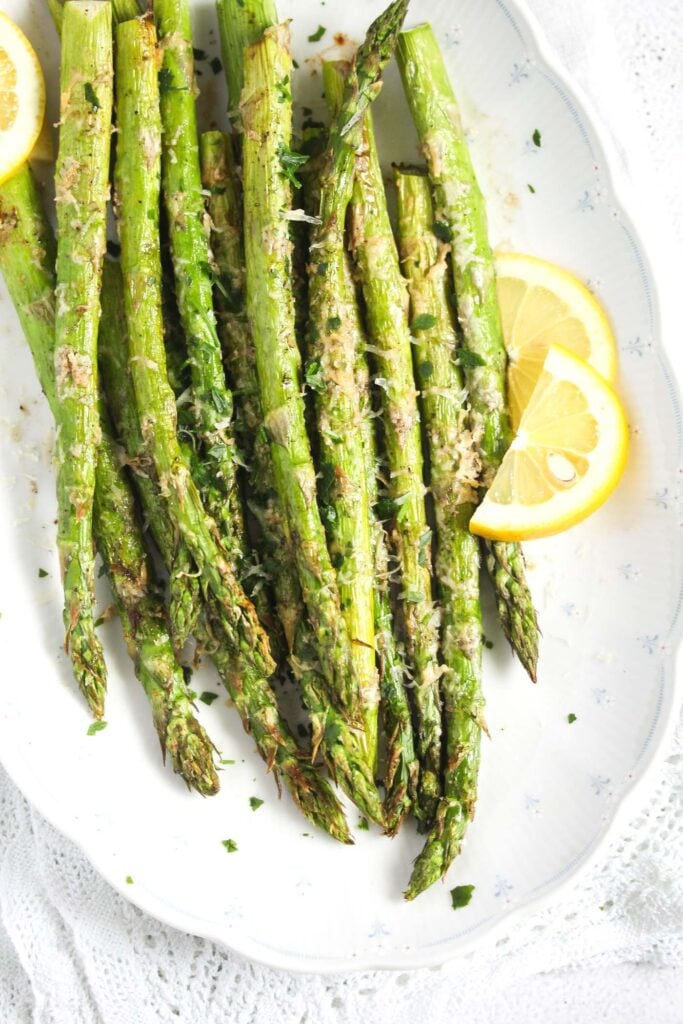 Jump to:
Speedy Delights
Cooking crispy tender asparagus in the air fryer is a good choice for a busy weeknight meal. You can serve the veggies as a side dish for pretty much anything. You can cut the spears into smaller pieces and mix them with pasta, olive oil, and more Parmesan or serve them with risotto.
If you like asparagus as much as we do, check out the Pan-Fried Asparagus and Eggs recipe.
You can serve them as they are with a slice of good sourdough bread or you can even cook them for breakfast and enjoy them with scrambled eggs, poached eggs, or an omelet.
For another fast recipe, have a look at these Quick Air Fryer Turkey Burgers!
Can you cook asparagus in the air fryer?
Not only you can use the air fryer for cooking asparagus, but for cooking lots of other vegetables as well. You should try eggplants, carrots, or mushrooms, these are some of my favorite veggies to cook in the fryer.
Why use the air fryer?
Easy: prepare the stalks, dump them in the basket, rub them with oil and spices, and add a little Parmesan (optional).
Fast: no need to preheat the machine. Dish ready in 6-7 minutes. You would need about 20 minutes to roast it in the oven.
Energy-saving: no need to preheat and have the oven on for more than 20 minutes for just a handful of vegetables. And honestly, when I am looking for a quick dinner or quick side dish, having to preheat the oven just seems like too much trouble…
Perfect results: the stalks are perfectly roasted, tender yet with the perfect bite to them, crispy on the outside and tasting just like they had been roasted.
Less oil needed: only about 1 teaspoon of olive oil, which is way less than I would use when I roast the spears in the oven.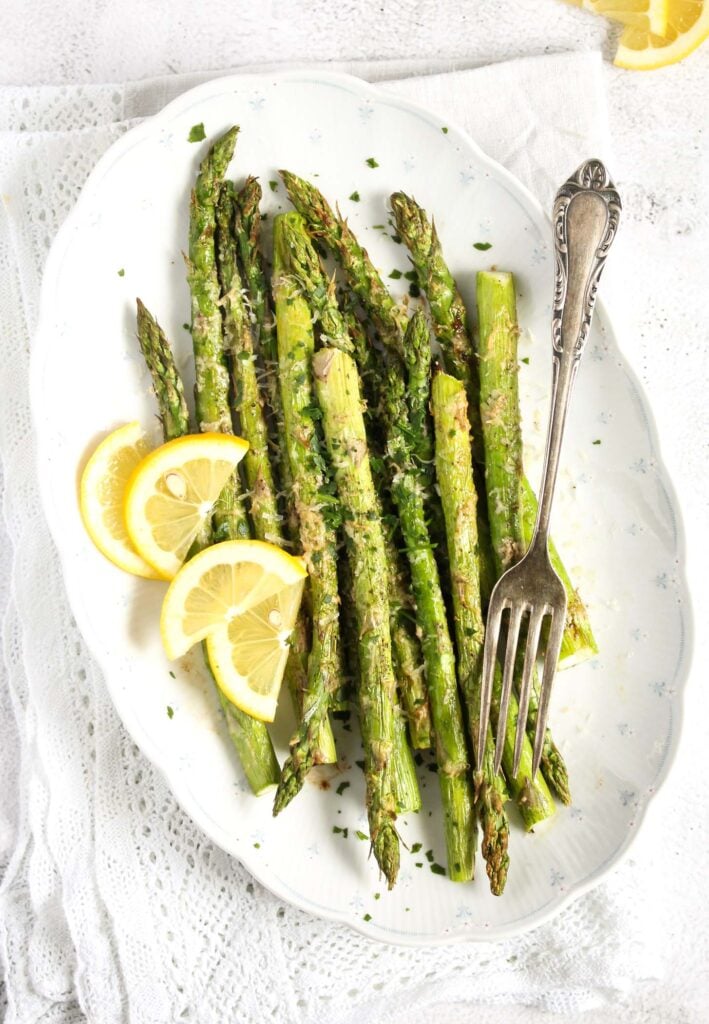 How to prepare asparagus for cooking?
The best way of ensuring that all the stalks will be evenly cooked is to use veggies that are all similar, especially in terms of thickness.
Wash the vegetables and pat them dry with kitchen towels, they should not be wet.
Trim the ends. I always snap them removing the thickest lower part of the stalk, it is usually quite woody, and you would not like to chew on it. You can also trim the ends with a knife.
Don't discard those ends! Freeze them and use them to make stock when you have enough of them. Use the stock for making soups or risotto.
Rub with olive oil. Pour 1 teaspoon of oil into the palm of your hand and rub the stalks well, making sure that each one is coated in a thin layer. Do this directly in the basket of the machine.
Sprinkle well with salt and pepper and rub again.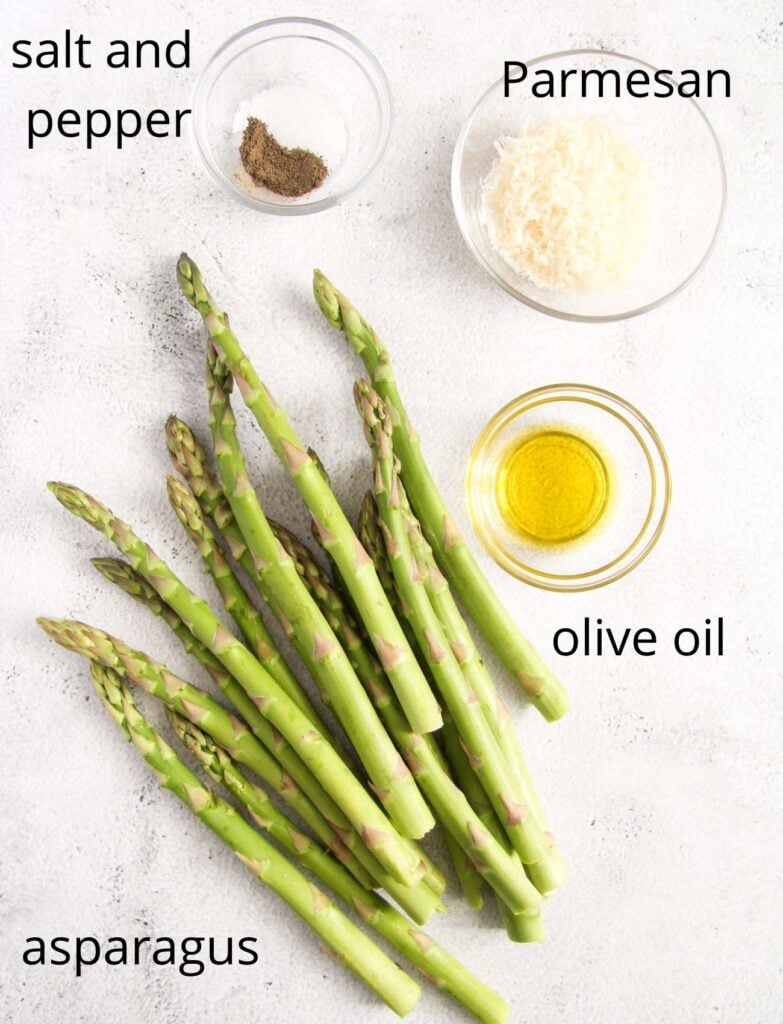 How to cook?
There is no need for preheating. My machine usually needs preheating, but it is completely unnecessary in this case.
Place all spears in the basket in a single layer, you should not overcrowd the basket. The air must circulate well to make the veggies crispy and that will not happen if you try to cook too many of them in one batch.
Sprinkle with Parmesan if desired.
Set the temperature to 190 degrees Celsius/ 370 degrees Fahrenheit.
Air fry for 7 minutes, slightly longer if the stalks are very thick.
There is no need to shake halfway.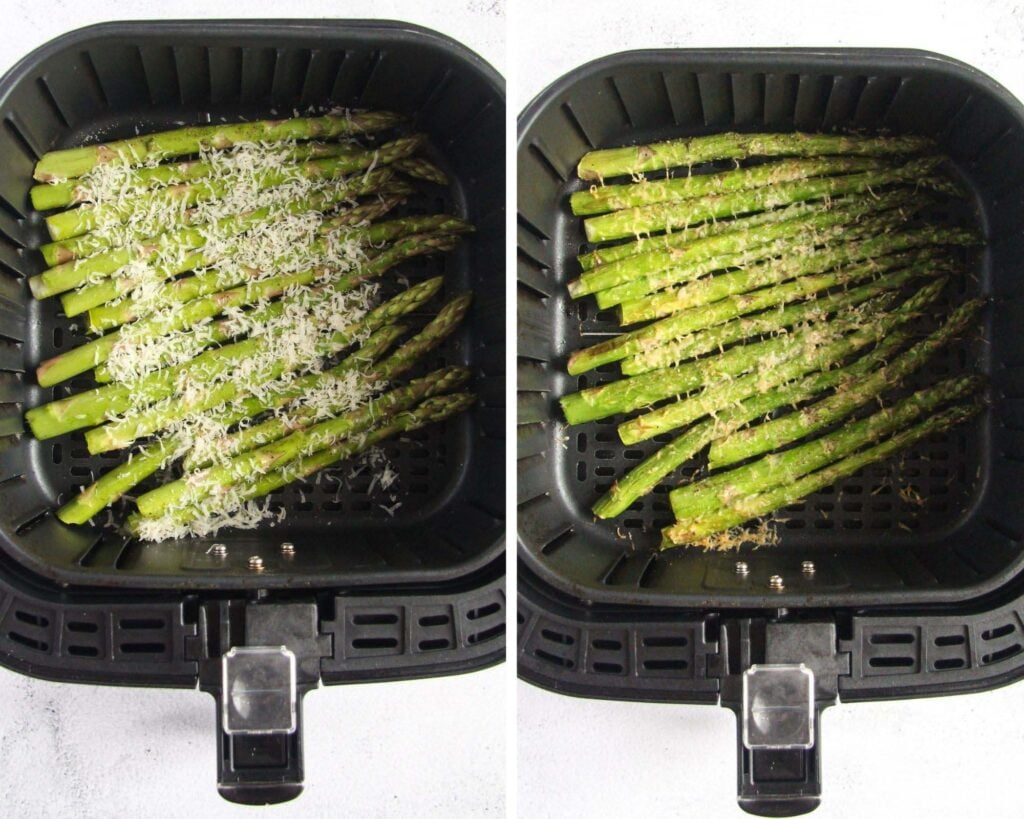 Make this dish vegetarian or vegan
For a vegetarian dish, use a vegetarian kind of hard cheese, Parmesan is made with animal rennet, so it's not suitable for vegetarians.
The cheese makes the dish wonderfully savory and hearty, but if you don't have it or don't want to use it, just a good sprinkle of salt and pepper and perfect as well. If you leave it out, the dish will be vegan.
How to serve?
Serve hot with chicken, steak, or fish, roasted asparagus in the air fryer is the perfect spring side dish.
Serve with eggs: poached, scrambled, or omelet. Toast a slice of good bread, and top it with eggs, and veggies. Sprinkle with more Parmesan if you like. Heaven!
Chop and mix with cooked pasta, some good extra virgin olive oil, and more Parmesan. You could add some finely chopped anchovies, sun-dried tomatoes, or fresh herbs as well.
Chop and mix with risotto.
Make potato salad. Add some hard-boiled eggs to the salad.
Serve with polenta and cheese.
Have it for breakfast with eggs (as mentioned above) and maybe some smoked salmon slices or fried bacon on the side.
How to store?
Just in case you have leftovers (which is highly unlikely), place them in an airtight container and store them in the fridge for up to 3-4 days. You can reheat the veggies in the air fryer for a couple of minutes.
If I happen to have 3-4 leftover stalks, I don't even bother reheating them. I eat them as a snack or stuff them in a cheese sandwich.
You could also serve with
Air Fryer recipes you might like
Hungry for More Fast Recipes?
Sign up for our Newsletter to receive new, quick, and delicious recipes in your inbox occasionally! Find me sharing daily meal-time inspiration on Pinterest and Facebook
Give my quick recipes a try for your next family meal! Feel free to reach out if you need any assistance!
📖 Recipe
Quick Air Fryer Asparagus
Air fryer asparagus, crunchy, delicious, and ready in less than 10 minutes, this makes the perfect super quick side dish.
Print
Pin
Rate
Ingredients
1

lb

asparagus

1

teaspoon

olive oil

¼

teaspoon

fine sea salt

to taste

1

pinch

ground black pepper

1

tablespoon

Parmesan

optional (Notes 1,2)
Instructions
Wash and dry the asparagus. Trim the woody ends (Note 3).

Place the spears in the basket of the air fryer. Rub well with the oil, salt, and pepper to coat all over. Arrange in a single layer.

Sprinkle with cheese if desired.

Air fry for 7 minutes, slightly longer (1-2 minutes) if the stalks are very thick. But make sure to check after 7 minutes already.

Serve immediately. You can sprinkle more cheese on top before serving.
Notes
Nutrition is calculated including the cheese.
Parmesan is not vegetarian, use a vegetarian hard cheese if desired. It is also optional; the air-fried asparagus tastes amazing with or without the cheese.
Freeze the trimmed ends and use them to make asparagus stock when you have enough of them. Or add to other homemade vegetable or meat stocks.
Nutrition
Serving:
1
/2 of the dish
|
Calories:
84
kcal
|
Carbohydrates:
10
g
|
Protein:
6
g
|
Fat:
4
g
|
Saturated Fat:
1
g
|
Polyunsaturated Fat:
2
g
|
Cholesterol:
2
mg
|
Sodium:
209
mg
|
Fiber:
5
g
|
Sugar:
3
g