Enjoy a comforting turkey orzo soup using leftover turkey. This easy, one-pot recipe features tender turkey, orzo pasta, and vegetables and is ready in under 40 minutes.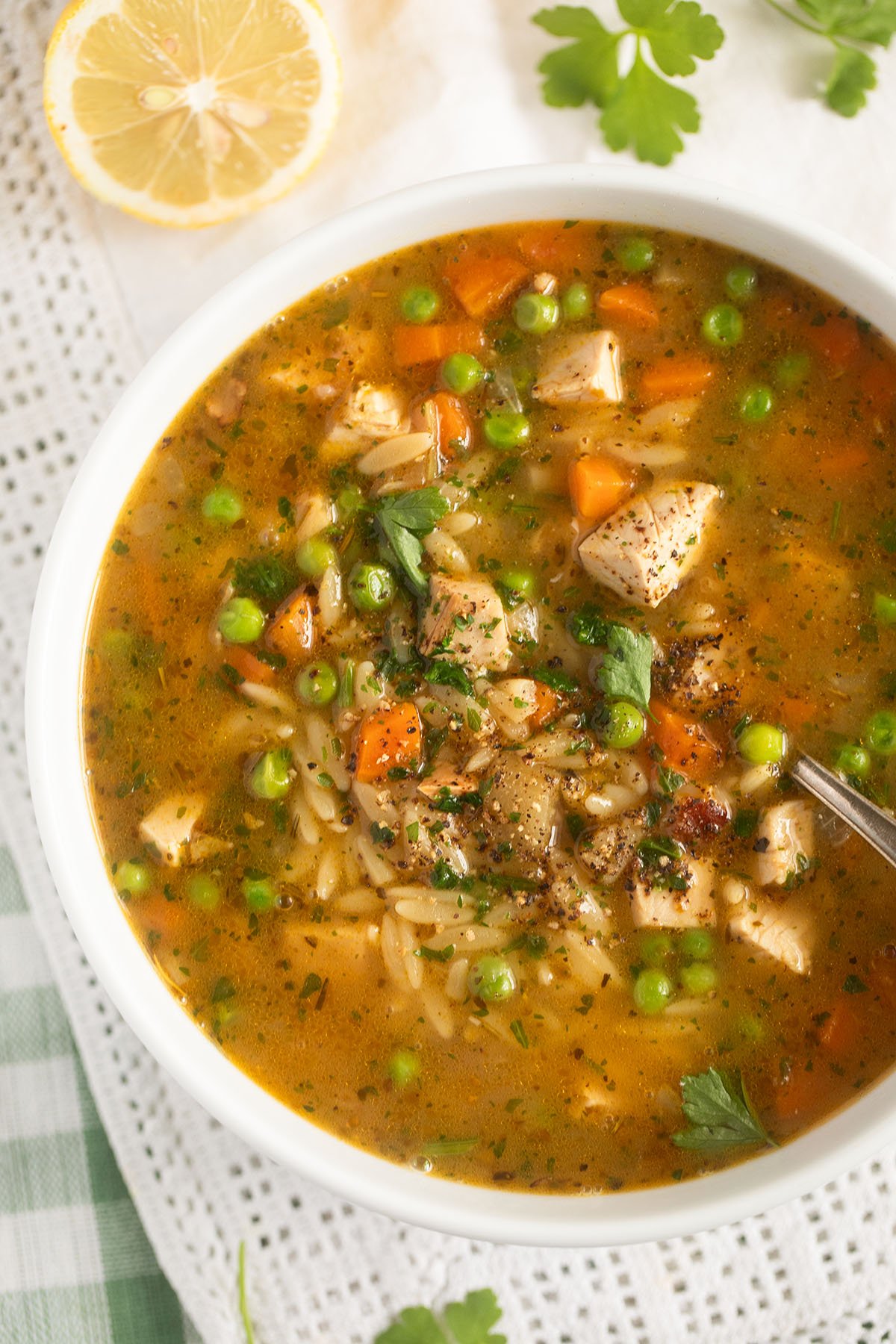 Looking for a delightful way to use up Thanksgiving leftovers? Try this comforting homemade turkey orzo soup! Packed with leftover holiday turkey, orzo pasta, veggies, and flavorful broth, this easy-to-make dish is perfect for this time of year and a hit with the whole family.
Use leftovers from making this juicy Brined Boneless Turkey Breast or delicious Turkey Legs in the Air Fryer, for instance.
Customize the orzo turkey soup with preferred herbs and spices for added flavor, and enjoy it with your favorite bread, this delicious soda bread, cornbread, or crackers for a satisfying meal!
Try more of our favorite fall and winter soups: Pumpkin Soup without Cream, Carrot and Broccoli, and 4-Ingredient Potato Soup.
Jump to:
🌟 Why should you make this turkey soup?
Leftovers: It makes the most of your holiday season turkey meat by transforming it into a delicious meal. This also means less prep work. Use other Thanksgiving dinner leftovers, such as cooked vegetables. 
Quick & easy: Ready in under 40 minutes, this one-pot wonder minimizes cleanup and is the perfect meal for those busy days.
Customizable: Add your preferred herbs, spices, or extra veggies. Swap turkey for other leftover meats as well.
📋Ingredients and Substitutions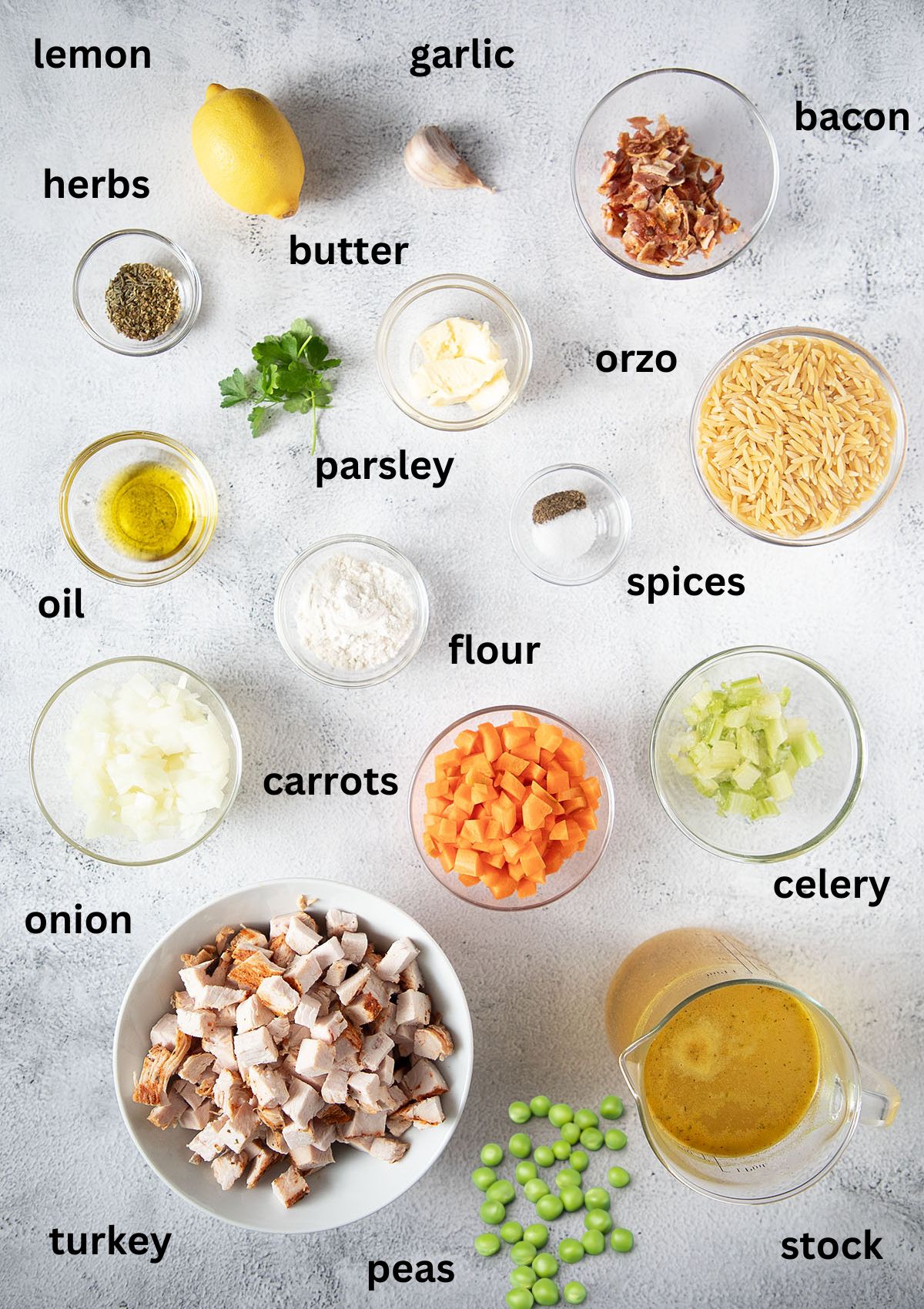 Leftover turkey meat: Dark or white meat, shredded or chopped.

Alternatively, make this easy orzo soup recipe with leftover or rotisserie chicken meat or ham from your holiday meal.

Orzo is a type of pasta similar in shape to rice grains. It's small, rice-shaped pasta, often used in soups, salads, or as a side dish. Despite its resemblance to rice, orzo is made from wheat flour, like traditional pasta, and it cooks up tender with a slightly chewy texture.

Alternatively, you can use other small pasta shapes, but make sure you cook them according to their package instructions.

Bacon or pancetta adds depth to the soup's flavor.
Vegetables: Onion, carrots, celery ribs, and other veggies you have on hand.
Stock: Homemade or store-bought chicken broth.

Alternatively, make your homemade turkey stock or turkey broth (the link opens in a new tab) if you have a leftover turkey carcass or bones.

Spices: Dried herbs like rosemary, oregano, salt, pepper, and fresh parsley.

Alternatively, use other dried herbs like thyme, bay leaves, marjoram, basil, or Italian seasoning. 

Fresh lemon juice for extra flavor.
Other ingredients: Olive oil, butter, all-purpose flour, fine sea salt, and ground black pepper.
👩🏻‍🍳How to Make Turkey Orzo Soup
Prep ingredients: Chop veggies, bacon, and turkey. Keep the turkey separated from the rest. 
Sauté bacon and onions in a Dutch oven or large pot for about 3 minutes.
Add vegetables and saute for another 3 minutes.
Stir in the flour, then gradually add stock. Add herbs and spices and simmer until soft. Cook pasta in the soup.
Add cooked turkey and peas during the last 5 minutes. Adjust with a squeeze of lemon juice, salt, and pepper.
🦃Variations
Spice it up: Add paprika, red pepper flakes, or cayenne pepper for a hint of spice.
Grains: Replace orzo with barley or quinoa for a different texture. Or use a mixture of white and wild rice instead of orzo (check the package instructions regarding cooking time; the rice will probably need longer).
Extra vegetables: Include additional vegetables like baby spinach, kale, or diced tomatoes for extra color and nutrients. You could dice sweet potatoes or butternut squash alongside the orzo for added texture.
More protein: Besides turkey, add cooked beans like cannellini or chickpeas to increase protein content and add substance to this tasty soup.
Cheese: Sprinkle the turkey orzo soup with freshly grated Parmesan just before serving.
❗️Helpful Tips
Texture control: If you prefer a thicker soup, use less stock to begin with. Conversely, add more broth if you want a thinner consistency.
Orzo addition: If you plan to cook this in advance, consider cooking the orzo separately and adding it to individual servings rather than in the pot. This prevents the pasta from soaking up too much broth if the soup is stored.
❓Recipe FAQ
How to store and reheat?
Let leftover soup with turkey come to room temperature and refrigerate in an airtight container (or the pot with a lid on top) for 2-3 days; reheat gently. Remember that the orzo may absorb more liquid over time, resulting in softer pasta and a thicker soup consistency. However, this change can enhance the flavors and texture, which some may find enjoyable, including myself.
Can I freeze orzo turkey soup?
Yes, but note that pasta tends to change texture after freezing and thawing. The orzo may become softer and absorb more liquid, altering the soup's consistency. If you're okay with potential texture changes, freeze the soup in airtight containers or freezer bags, leaving some space for expansion. Thaw it overnight in the refrigerator before reheating gently on the stovetop. 
🍽️Serving Suggestions
Crusty bread: Perfect for dipping. Or pair it with our Spinach Muffins or Soda Bread. 
Salad: Fresh greens complement the soup.
Grilled cheese: Classic pairing for dipping.
Biscuits or rolls are ideal for soaking up the soup.
Roasted veggies make a flavorful side dish.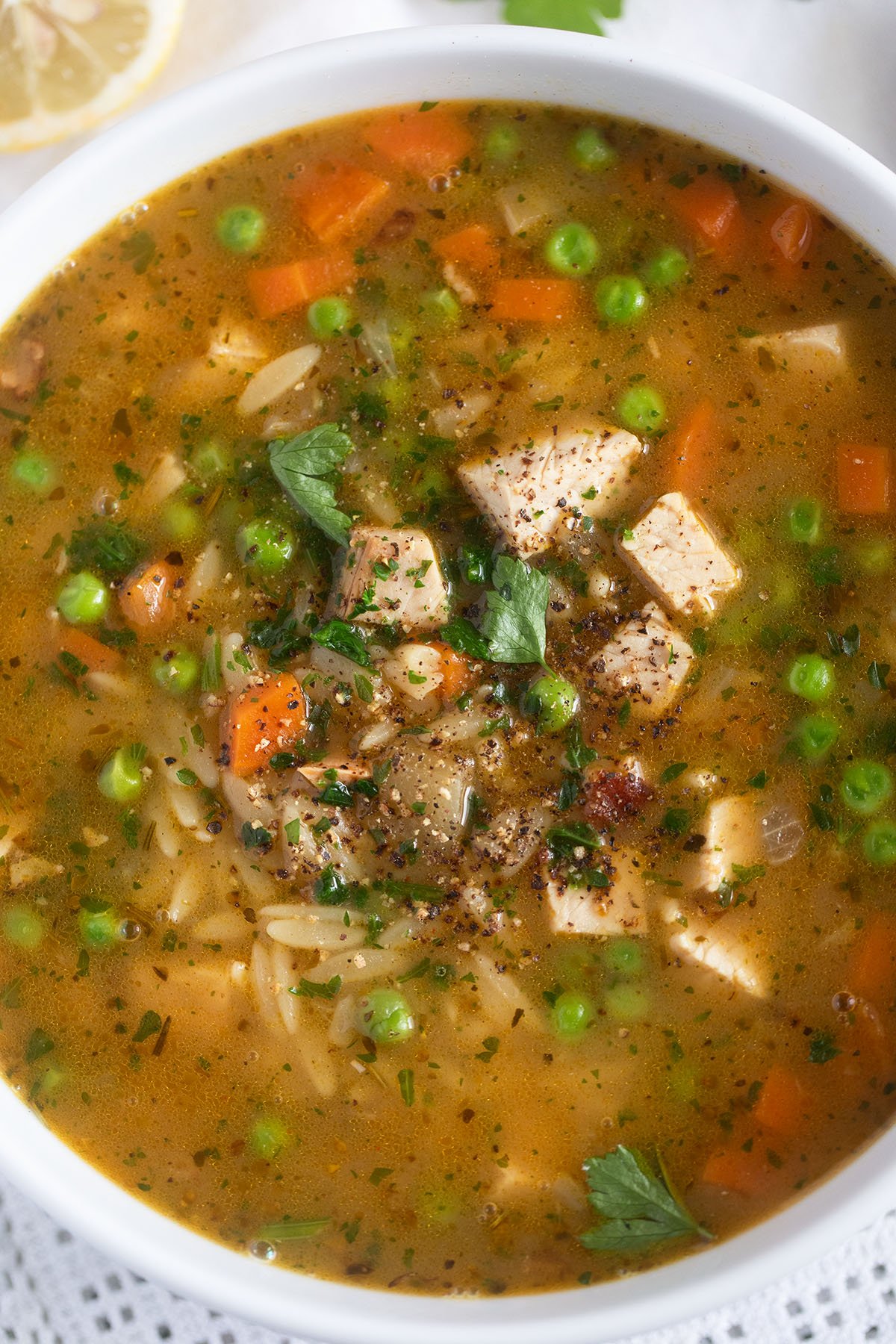 Hungry for More Fast Recipes?
Sign up for our Newsletter to receive new, quick, and delicious recipes in your inbox occasionally! Find me sharing daily meal-time inspiration on Pinterest and Facebook
Give my quick recipes a try for your next family meal! Feel free to reach out if you need any assistance!
📖 Recipe
Simple Turkey Orzo Soup
Enjoy this Turkey Orzo Soup using leftover holiday turkey for a delightful meal that warms both the heart and soul!
Print
Pin
Rate
Equipment
Dutch oven or large soup pot
Ingredients
2-3

cups

leftover turkey

300-400 g, Note 1

2

oz

bacon

or pancetta, 60 g

1

small

onion

2

celery stalks

2

medium

carrots

2

large

garlic cloves

2

tablespoons

butter

30 g

1

tablespoon

oil

2

tablespoons

all-purpose flour

15 g

5

cups

chicken stock

1200 ml Notes 2, 3

1

teaspoon

oregano

¼

teaspoon

rosemary

½

teaspoon

fine sea salt

½

teaspoon

ground black pepper

1

cup

orzo

200 g, Note 4

1

cup

peas

leftovers or frozen, 150 g

1

tablespoon

lemon juice

freshly squeezed, more to taste

a small bunch of

parsley
Instructions
Prepare the ingredients, but keep the turkey separated from the vegetables. Shred or cube the turkey, and finely dice bacon and onion. Chop carrots, celery, and garlic and keep them separated from the rest.

2-3 cups leftover turkey

/ 300-400 g +

2 oz bacon

/ 60 g +

1 small onion

+

2 celery stalks

+

2 medium carrots

+

2 large garlic cloves

Saute: Heat the oil and the butter. Cook the bacon and the onions for 3 minutes. Add all the vegetables, and a pinch of salt for another 3 minutes or until softened.

2 tablespoons butter

/ 30 g +

1 tablespoon oil

Sprinkle the flour on top and stir continuously until the flour is lightly golden, 1-2 minutes. Slowly pour in the stock while whisking. Add dried herbs, salt and pepper.

2 tablespoons all-purpose flour

/ 15 g +

5 cups chicken stock

/ 1200 ml +

1 teaspoon oregano

+

¼ teaspoon rosemary

+

½ teaspoon fine sea salt

+

½ teaspoon ground black pepper

Simmer: Bring to a boil, lower the heat, and simmer the soup, partially covered, for about 5 minutes or until the vegetables are almost done.

Add orzo and cook, uncovered, for about 10 minutes or until al dente. Check the package instructions for orzo to ensure the optimal cooking time. Add the shredded turkey and the peas during the last 5 minutes of the cooking time so that it has the chance to reheat. Stir often, as the pasta tends to stick to the bottom of the pot.

1 cup orzo

/ 200 g +

1 cup peas

/ 150 g

Adjust the taste with lemon juice, salt, and pepper, and stir in the parsley.

1 tablespoon lemon juice
Notes
Turkey: You can use anything between 2 and 3 ½ cups of shredded or diced turkey, either dark or white meat (whatever and how much you happen to have). Alternatively, you can make the orzo soup with leftover chicken or ham.
Stock: Homemade or store-bought chicken broth or stock. Alternatively, make your homemade turkey stock or turkey broth if you have a leftover turkey carcass.
Nutrition
Serving:
1
portion from 4
|
Calories:
652
kcal
|
Carbohydrates:
52
g
|
Protein:
35
g
|
Fat:
33
g
|
Saturated Fat:
12
g
|
Polyunsaturated Fat:
5
g
|
Monounsaturated Fat:
14
g
|
Trans Fat:
0.3
g
|
Cholesterol:
115
mg
|
Sodium:
924
mg
|
Potassium:
797
mg
|
Fiber:
4
g
|
Sugar:
8
g
|
Vitamin A:
8701
IU
|
Vitamin C:
10
mg
|
Calcium:
66
mg
|
Iron:
3
mg