This Lebanese lentil soup is the kind of soup you could eat 3-4 days in a row without complaining - an easy recipe for a rich, nourishing, healthy, and flavorful one-pot meal.
A spicy and delicious Lebanese lentil soup made with cupboard ingredients and ready in about 30 minutes. Make a big pot and keep reheating it; it will get better every day.
Jump to:
Why is this one of my favorite lentil soup recipes?
I use spices in very liberal quantities whenever I cook this dish.
The pulses are incredibly nutritious; they are a great source of plant protein, and they are full of fiber, iron, and folate.
A great recipe for the whole family; my kids love it just as much as we do.
Budget-friendly
And if you like soups with pulses, you should also try this delicious Panera Black Bean Soup, Chicken and Cabbage Soup, or the Creamy Sweet Potato and Pumpkin Soup.
Or, for more Middle Eastern flavors, try our Easy Thermomix Falafel, Best Hummus without Garlic, or Falafel Sandwich.
What do you need?
You will only need a handful of ingredients, basic ingredients that you probably have in your cupboard all the time. That's what makes this hearty Lebanese red lentil soup so perfect for weeknight dinners when you just don't have the time and energy to go shopping anymore.
Cupboard ingredients: Red lentils, onions, garlic cloves, extra virgin olive oil, canned tomatoes, vegetable or chicken stock. Chicken bouillon or vegetable broth cubes are fine. I prefer to use low sodium and adjust the taste with salt the way I like it.
Spices: Ground cumin, ground coriander, red pepper flakes or cayenne pepper, oregano, rosemary, salt, and black pepper.
The only fresh ingredients are lemon juice and parsley.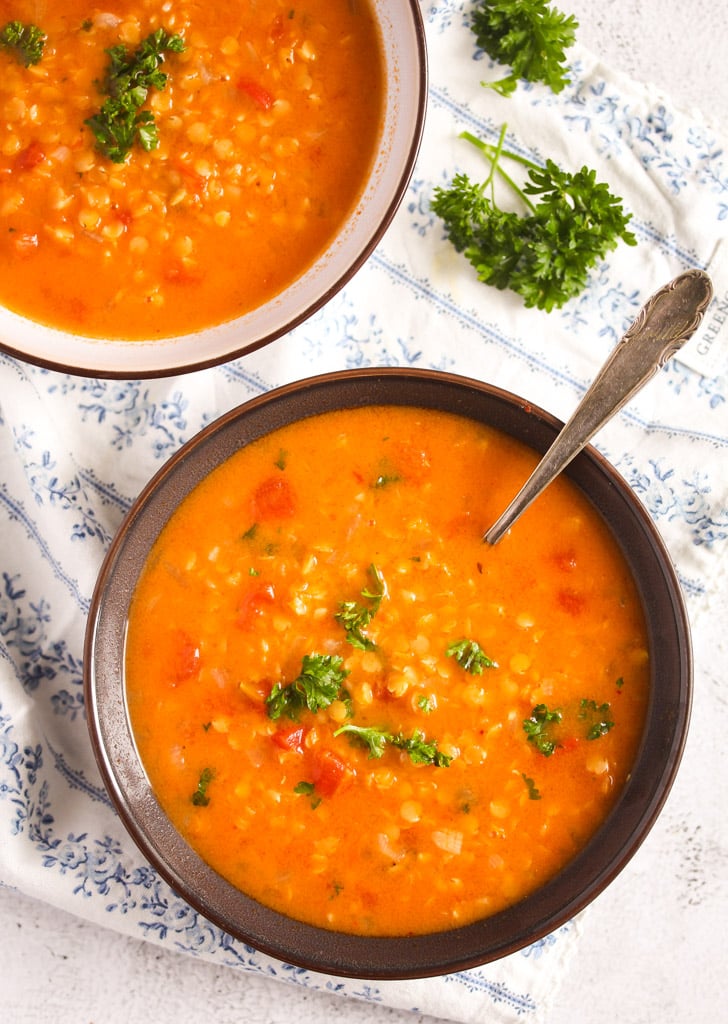 What kind of lentils do I need?
Whole or split red lentils
You can use either whole or split lentils. Remember that the whole ones need a longer cooking time, while the split ones are cooked after about 15 minutes. When cooked with split lentils, the dish will be thicker, as they will disintegrate slightly. However, both versions are equally delicious.
Can I use another kind of lentils?
Theoretically, you can, although this recipe is typically made with red ones. Other types of lentils, like green, brown or yellow lentils, make a great soup as well. However, I don't recommend black pulses; they keep their shape a little too well and don't soften like the other sorts; they are better suited to make salads.
Can I use canned pulses?
You can, but I don't recommend it. Dried ones only need about 10 minutes longer to cook; they are much cheaper and taste so much better.
How to make Lebanese lentil soup?
Use a large, heavy-bottomed pot; my standard pot is a Dutch oven.
Chop onions, carrots, and garlic but keep the garlic separated from the rest. You will have to start cooking the onion and carrots first and only add the garlic later.
Cook the onions and the carrots until softer. (1)
Stir in the garlic for another minute, add the spices and stir a little more. (2)
Add the canned tomatoes and stock. (3)
Wash the pulses thoroughly in a sieve. Add them to the soup, and bring them to a boil. (4)
Simmer soup on medium-low and simmer for 15-20 until the lentils are soft. You will have to check; whole lentils need about 25-30 minutes of cooking time, while the split ones are already done after about 15 minutes. (5)
Blend very slightly; the soup should not be smooth but thickened and still slightly chunky.
Add lemon juice, salt, and pepper to taste. (6)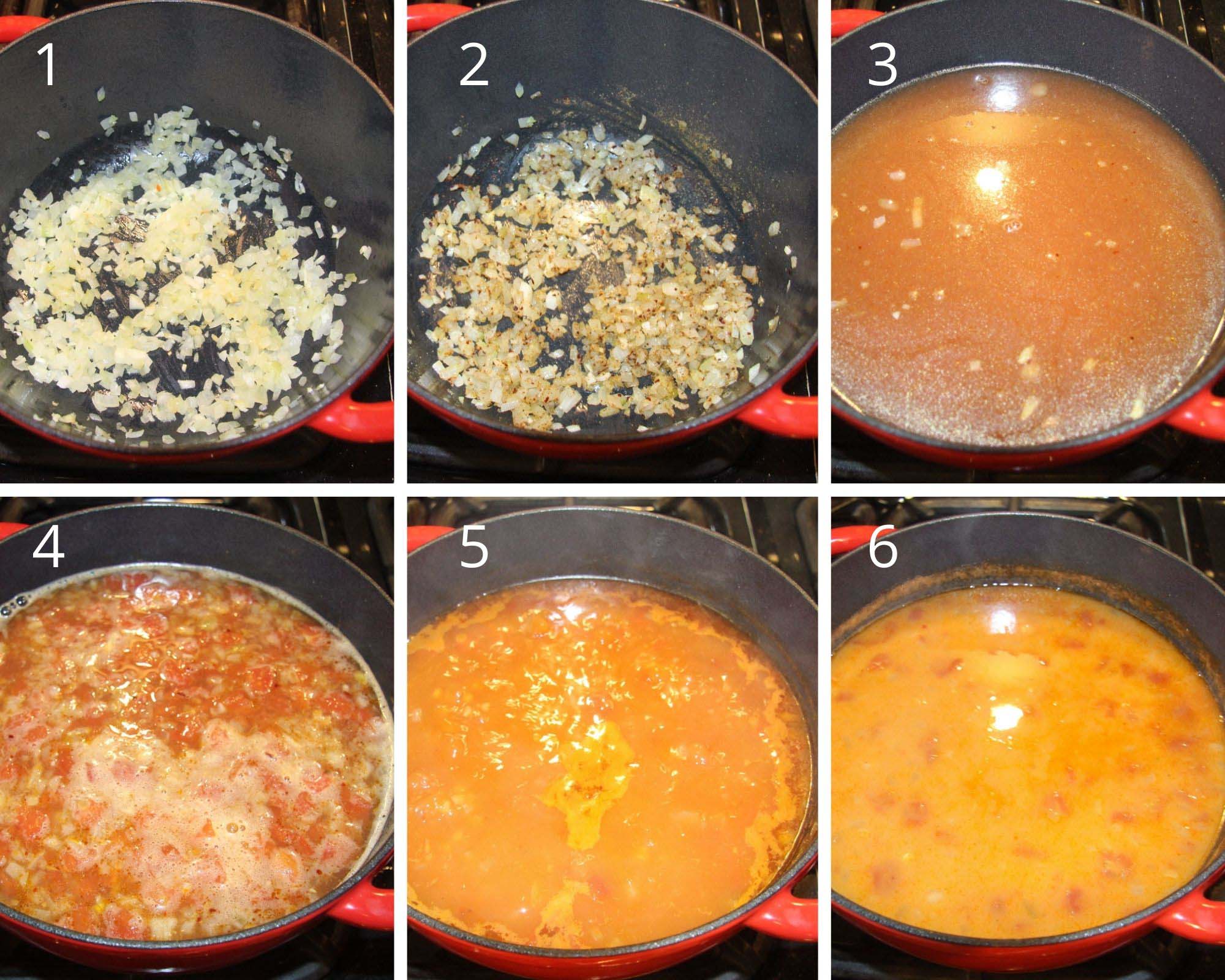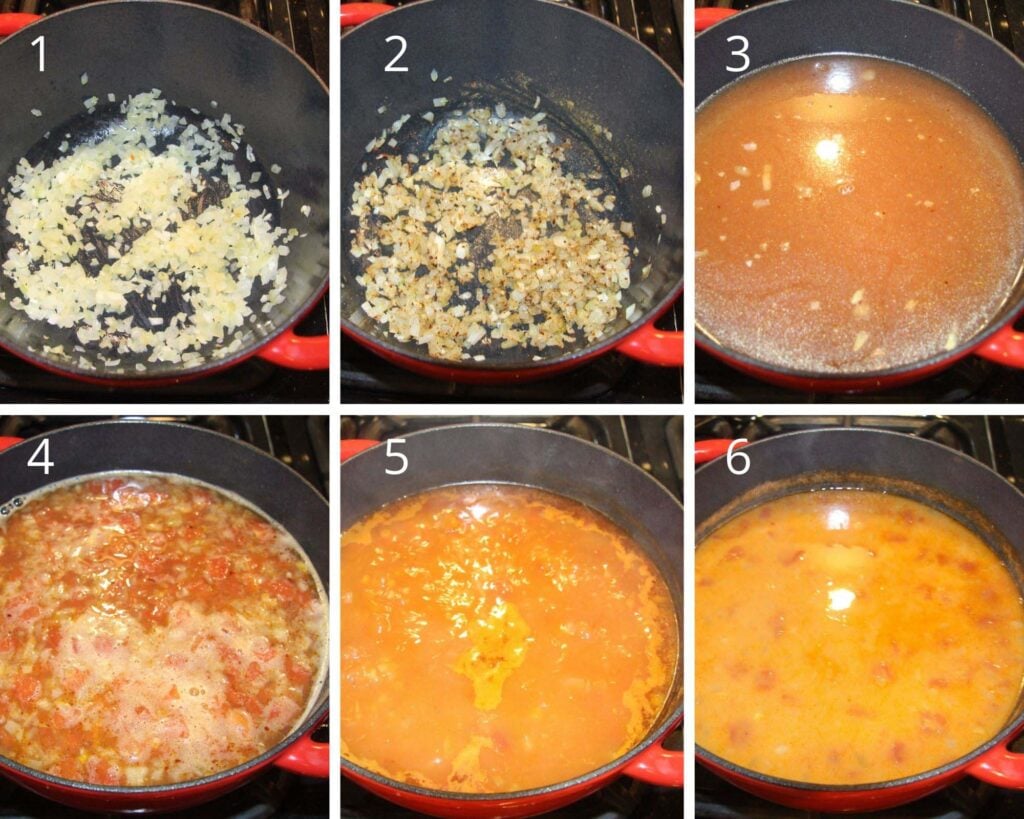 Tips
Adjust the amount of stock to suit your taste. For example, if you like a thicker dish, use only 3-4 cups of stock; you can always add an extra cup at the end to thin it as desired.
As mentioned above, using split pulses makes for a thicker, creamier soup. Whole ones need a longer cooking time (about 25-30 minutes, as instructed in the recipe), and they will not disintegrate so much in the soup. I used whole lentils when I took the pictures, but I often cook this recipe with split ones.
The lentils break down and thicken the dish naturally, but blend with an immersion blender if you want an even smoother, thicker texture.
Add some other vegetables. I love adding potatoes or sweet potatoes together with the pulses and a good handful of spinach or chopped kale leaves towards the end of the cooking process, as they will only have to wilt in the hot liquid.
Recipe FAQ
How to store and reheat?
Keep: in the fridge, covered, for 4-5 days.
Reheat: on the stovetop, covered, stirring occasionally. You can also reheat it in the microwave for a few minutes and maybe stir halfway through.
Can I freeze it?
Freeze: This simple soup freezes very well. Let come at room temperature, place in an airtight container, freeze for up to 6 months, and defrost in the fridge or on the counter. Add a little water, if necessary, when reheating. 
How to serve?
Serve the Middle Eastern lentil soup immediately or reheat it. I honestly think it tastes better after each reheating, that's why I always make a big pot, and we eat the food for about three days in a row.
The dish is very filling; it makes a complete meal on its own. We only need a piece of bread with it: either regular bread, pita bread, crusty baguettes, sourdough, or flatbread.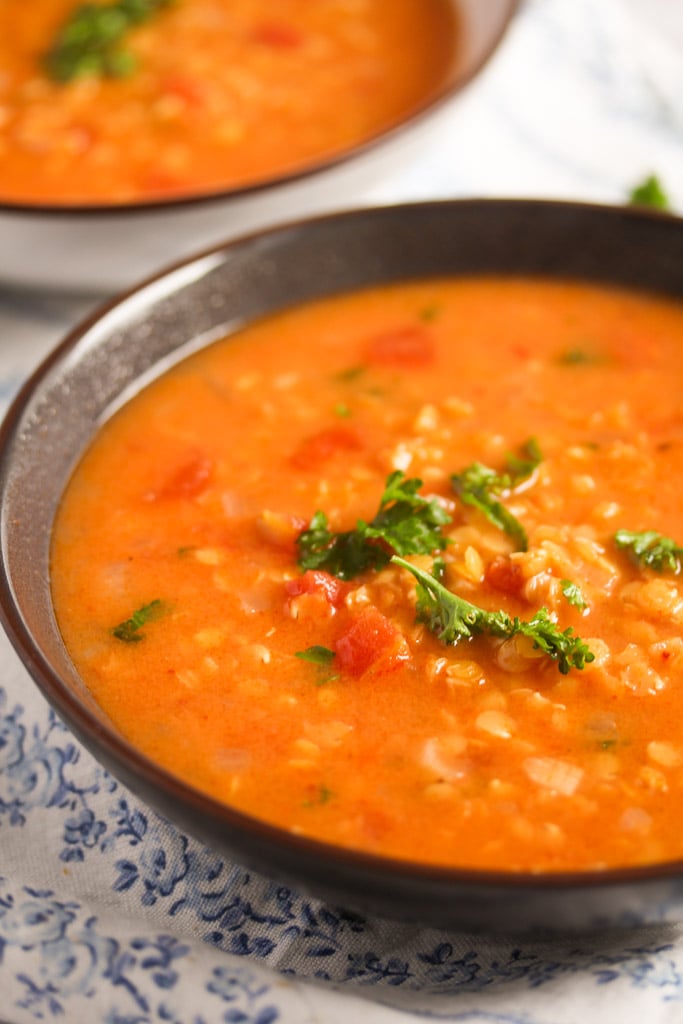 More Vegetarian Meals
Hungry for More Fast Recipes?
Sign up for our Newsletter to receive new, quick, and delicious recipes in your inbox occasionally! Find me sharing daily meal-time inspiration on Pinterest and Facebook
Give my quick recipes a try for your next family meal! Feel free to reach out if you need any assistance!
📖 Recipe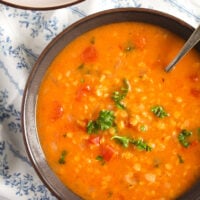 Easy Lebanese Lentil Soup
This Lebanese lentil soup is the kind of soup you could eat 3-4 days in a row without complaining - an easy recipe for a rich, nourishing, healthy, and flavorful one-pot meal.
Print
Pin
Rate
Equipment
Large soup pot

Immersion blender
Ingredients
2

tablespoons

olive oil

1

onion

medium, finely chopped

2

carrots

medium, diced

3

garlic cloves

grated

2

teaspoons

oregano

1

teaspoon

rosemary

1 ½

teaspoon

cumin

1

teaspoon

coriander

½

teaspoon

red pepper flakes

1

can

crushed tomatoes

14 oz/ 400 g

5

cups

vegetable stock

or chicken stock, 1.2 liter

1 ½

cup

split red lentils

270 g, rinsed, Note 1

½

teaspoon

fine sea salt

or Kosher salt, Note 2

1

tablespoon

lemon juice

more to taste

chopped parsley

olive oil

to drizzle
Instructions
Chop 2 onions and 2 carrots. Grate 3 garlic cloves finely but keep them separated from the rest.

Sauté: Heat 2 tablespoons olive oil in a large heavy-bottomed pot. Cook onions and carrots for 3-4 minutes or until softer. Add the finely chopped garlic and stir for 1 minute. Add the spices and stir for 1 minute.2 teaspoons oregano + 1 teaspoon rosemary + 1 ½ teaspoon cumin + 1 teaspoon coriander + ½ teaspoon red pepper flakes

Add 1 can of crushed tomatoes, 5 cups of vegetable stock, 1 ½ cups of lentils (rinsed), and ½ teaspoon of fine sea salt (Note 2).

Simmer lentil soup: Bring to a boil, turn the heat down to medium-low and simmer for 15-20 minutes or until the lentils are soft.

Blend the soup shortly with an immersion blender. It should be somewhat smooth but slightly chunky.

Adjust the taste with salt, pepper, and 1 tablespoon lemon juice. Taste again and add a bit more lemon juice if necessary. Sprinkle with parsley and drizzle with a little olive oil before serving.
Notes
Split or whole red lentils. Whole ones need a longer cooking time, while the split lentils are cooked after about 15 minutes. A soup cooked with split lentils will be thicker, as they will disintegrate slightly.
If using table salt, start with less and add more to taste.
Nutrition
Serving:
1
portion from 4
|
Calories:
386
kcal
|
Carbohydrates:
60
g
|
Protein:
20
g
|
Fat:
8
g
|
Saturated Fat:
1
g
|
Polyunsaturated Fat:
1
g
|
Monounsaturated Fat:
5
g
|
Sodium:
1655
mg
|
Potassium:
1138
mg
|
Fiber:
25
g
|
Sugar:
11
g
|
Vitamin A:
6083
IU
|
Vitamin C:
19
mg
|
Calcium:
119
mg
|
Iron:
8
mg