This simple recipe for a flavorful carrot and celery soup is made with basic ingredients and ready in about half an hour.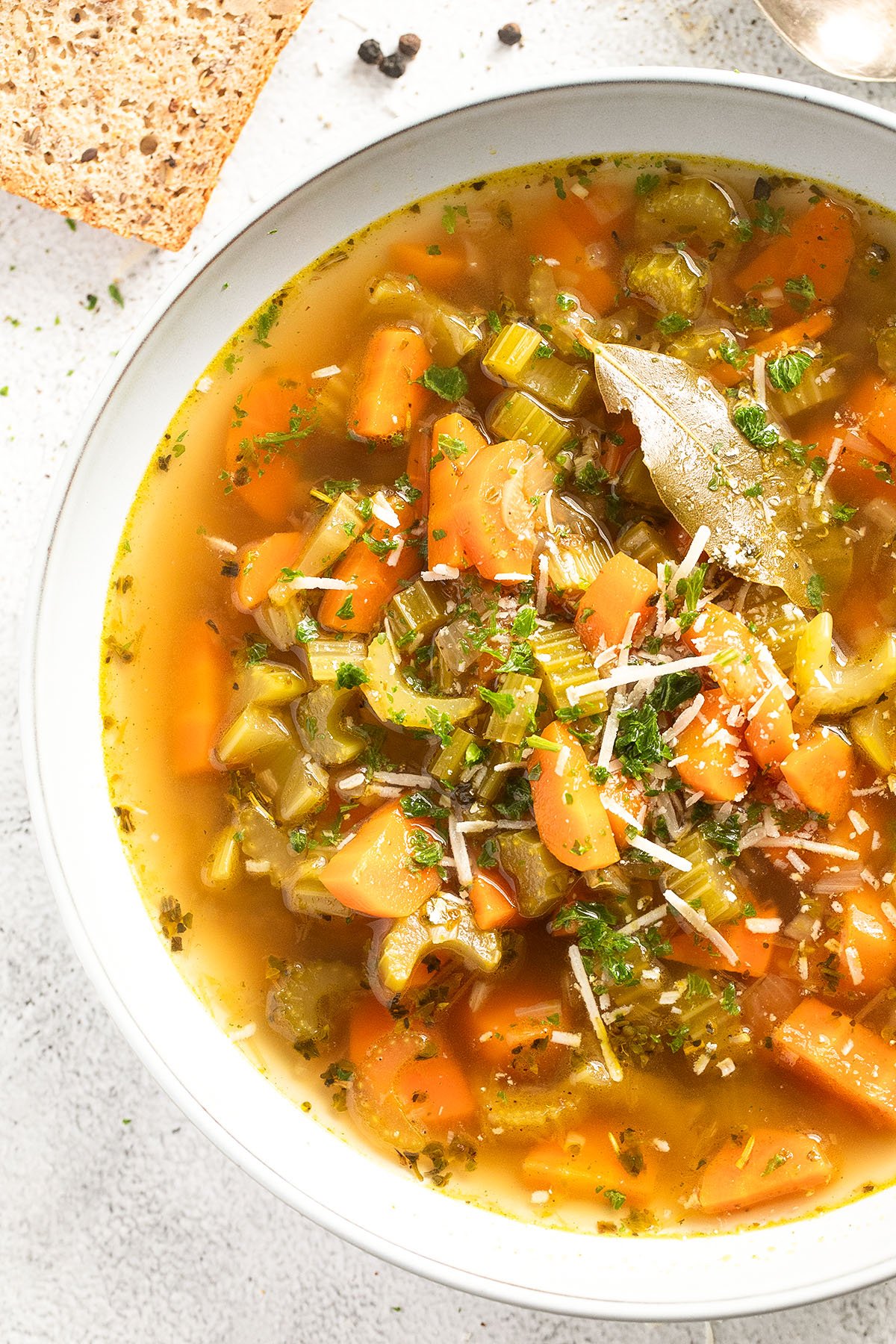 Savor the flavors of a delightful carrot and celery soup! This comforting, quick, and delicious vegetable soup is the perfect dish to whip up when you're seeking a wholesome and cozy meal, whether enjoyed as a light lunch or a satisfying dinner.
Jump to:
Why should we eat more soup?
Versatile: Soups can be customized to suit your taste and needs. Whether you prefer clear broths, chunky stews, creamy bisques, or vegetable-based soups, the choice is vast.
Economical: They are made with inexpensive ingredients like vegetables, legumes, and grains. A simple soup is a great way to utilize leftover vegetables, meats, or grains, reducing food waste and maximizing your grocery budget.
Bulk cooking and meal prep: Almost any pot of soup can be cooked ahead of time and stored for several days in the fridge.
Weight management: They are typically high in water content and low in calorie density; they can help fill you up with fewer calories.
Check out more simple recipes, like this Leek and Potato Soup, Panera Black Bean Soup, or the Carrot Pumpkin Soup.
Recipe ingredients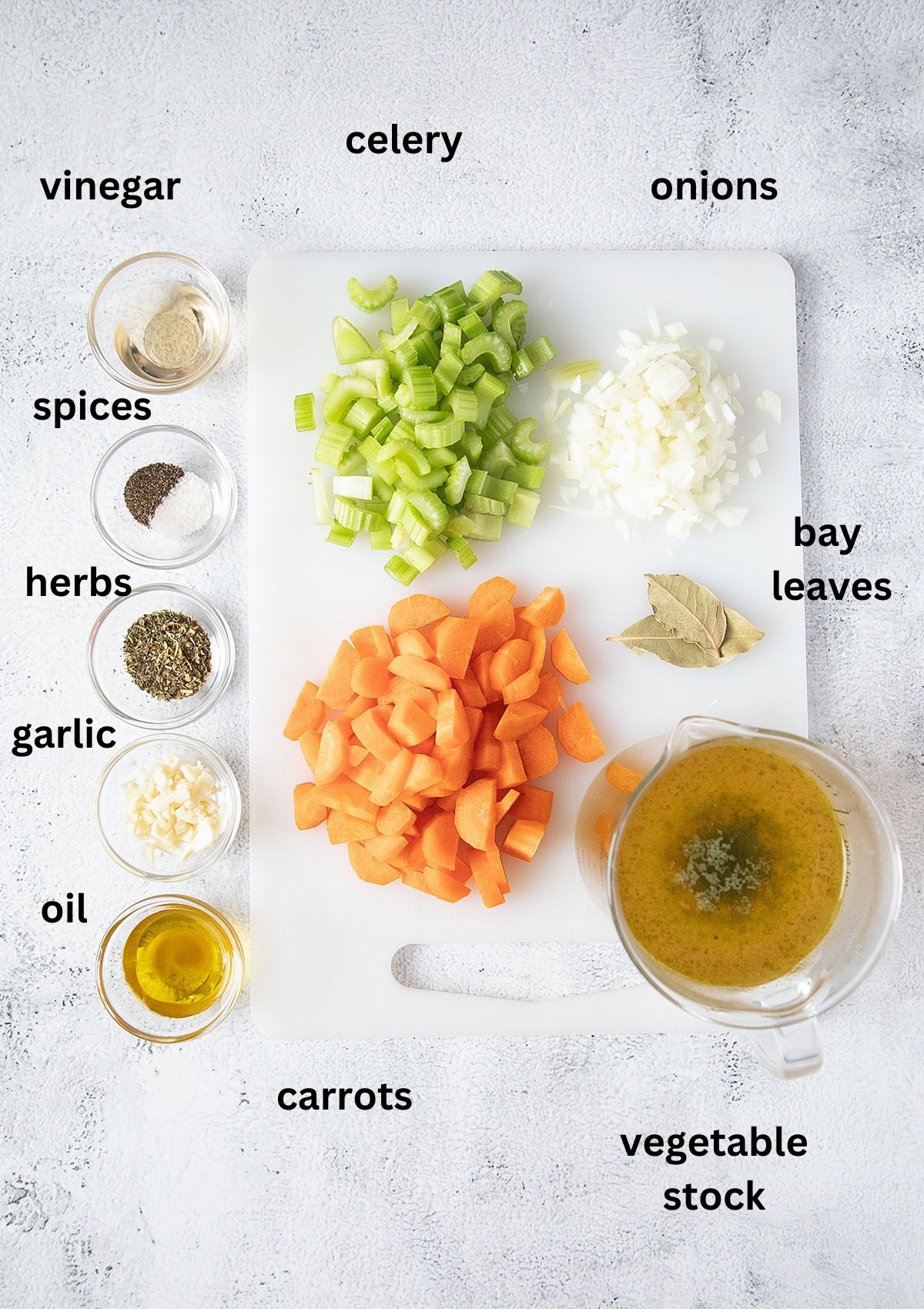 Carrots: Naturally sweet vegetables packed with beta-carotene, vitamins, and minerals.
Celery stalks: Crunchy, green vegetables with a slightly bitter and refreshing taste, adding a delightful texture and herbal flavor to the soup.
Aromatics: Onion and garlic complement the sweetness of the carrots.
Olive oil for sautéing the onions, garlic, carrots, and celery.
Vegetable broth or stock: Homemade or store-bought; bouillon cubes are ok. Chicken stock is also great if you don't care to keep the soup vegan or vegetarian or if that's all you have on hand.
Herbs and spices: Bay leaves, Italian seasoning, fine sea salt or kosher salt, and ground black pepper.

Substitute the Italian seasoning with a bit of thyme, oregano, and rosemary. You could also use herbs de Provence or another dried herbs mix.
Add a pinch of red pepper flakes or cayenne pepper for some heat.

Vinegar: I use white balsamic vinegar to cut through the sweetness of the carrots and lift the flavors. You can replace it with white wine vinegar or apple cider vinegar.
Additions
Potatoes: I often add 1-2 medium potatoes, especially if I want to make a creamier soup.
Other vegetables include parsnip, rutabaga, leeks, green beans, and peas.
White beans like navy beans or cannellini are a great carrot and celery soup addition.
Extra protein: Cooked chicken or turkey is excellent if you have some leftovers. Chop or shred them and add them to the soup during the last 5 minutes of cooking.
Fresh herbs such as fresh parsley, thyme, dill, or chives.
How to make carrot celery soup?
This recipe is made in just a few simple steps. You will need a large pot or a Dutch oven.
Prepare the vegetables: Clean and chop the fresh carrots, celery, onion, and garlic, but keep them separated.
Sauté onions on medium heat for 2 minutes and then garlic for another minute (1).
Sauté carrots and celery for about 8 minutes (2).
Add vegetable stock and seasoning, and simmer the carrot and celery soup for 10 minutes or until the vegetables are soft (3).
Adjust the taste with salt, pepper, and a little vinegar.
We usually leave the celery and carrot soup chunky, but you can blend it with an immersion blender if you like.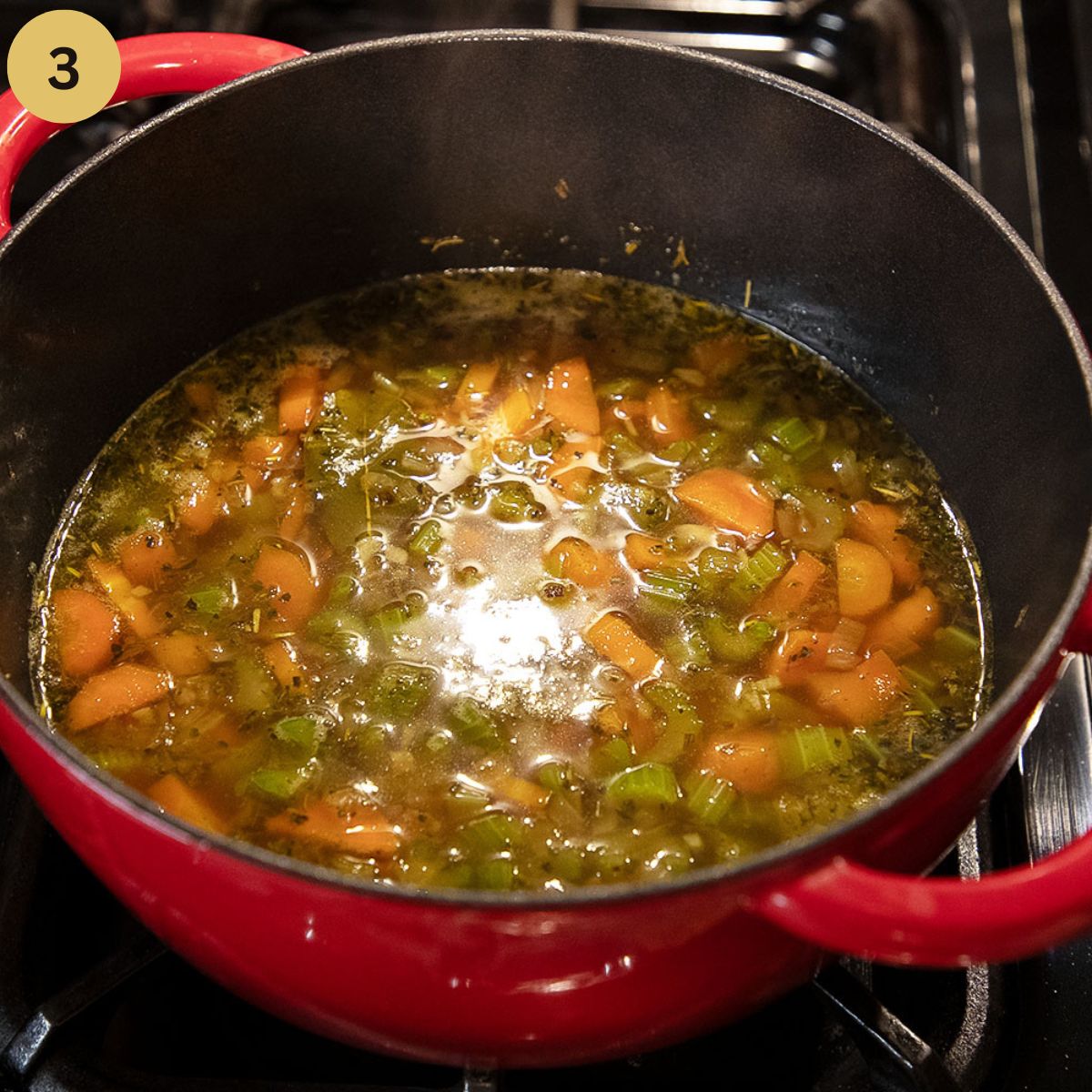 Expert Tips
Balance the sweetness of the carrots with a bit of acidity, in this case, a few teaspoons of white balsamic vinegar.
Sautéing the vegetables before adding the broth helps develop the soup's depth and richness.
Don't overcook: To retain the vibrant color, flavor, and nutrients of the carrots and celery, avoid overcooking them. Cook until they are tender but still have a slight bite. Overcooked vegetables can result in a mushy texture and loss of flavor.
Recipe FAQ
Can I make carrot and celery soup ahead of time? 
Yes. Allow the soup to come to room temperature, then store it in an airtight container in the refrigerator for 3-4 days. Reheat gently on the stovetop before serving.
Can I use chicken broth instead of vegetable broth? 
Yes, you can use chicken broth if that's what you have on hand and you don't intend to make a vegan or vegetarian soup.
Can I add other vegetables? 
Sure. You can add other vegetables like potatoes, leeks, or parsnips to enhance the flavor and texture. Just ensure that the vegetables you choose have similar cooking times.
Can I make a creamy version of this carrot celery soup recipe? 
Yes. You can blend the soup as it is or add some heavy cream or coconut milk and then blend and gently reheat it. 
How to store and reheat?
Refrigerate leftover soup in an airtight container for 3-4 days.
Freeze in an airtight container for up to 3 months. However, remember that the vegetables' texture may slightly change upon thawing. Defrost in the fridge.
Reheat on the stovetop or the microwave.
What to serve with it?
Bread: Crusty bread, such as a baguette or a rustic sourdough loaf. The bread can be sliced or torn into pieces, perfect for dipping into the soup. Or serve it with garlic bread for extra flavor.
Serve some spreads or dips with the bread. Try our Hummus without Garlic or the Cream Cheese Ball.
Cheese and crackers: Create a cheese and cracker platter to complement the soup.
Grilled cheese sandwich or any other sandwich you like. Try our Turkey Sandwiches, for instance.
Quiche, tart, or frittata to make this a satisfying, full meal.
Salad on the side. How about a simple green salad with mixed greens, cherry tomatoes, cucumbers, and a light vinaigrette dressing?
Or check out our article on What to Serve with Potato Soup; you will find more ideas there.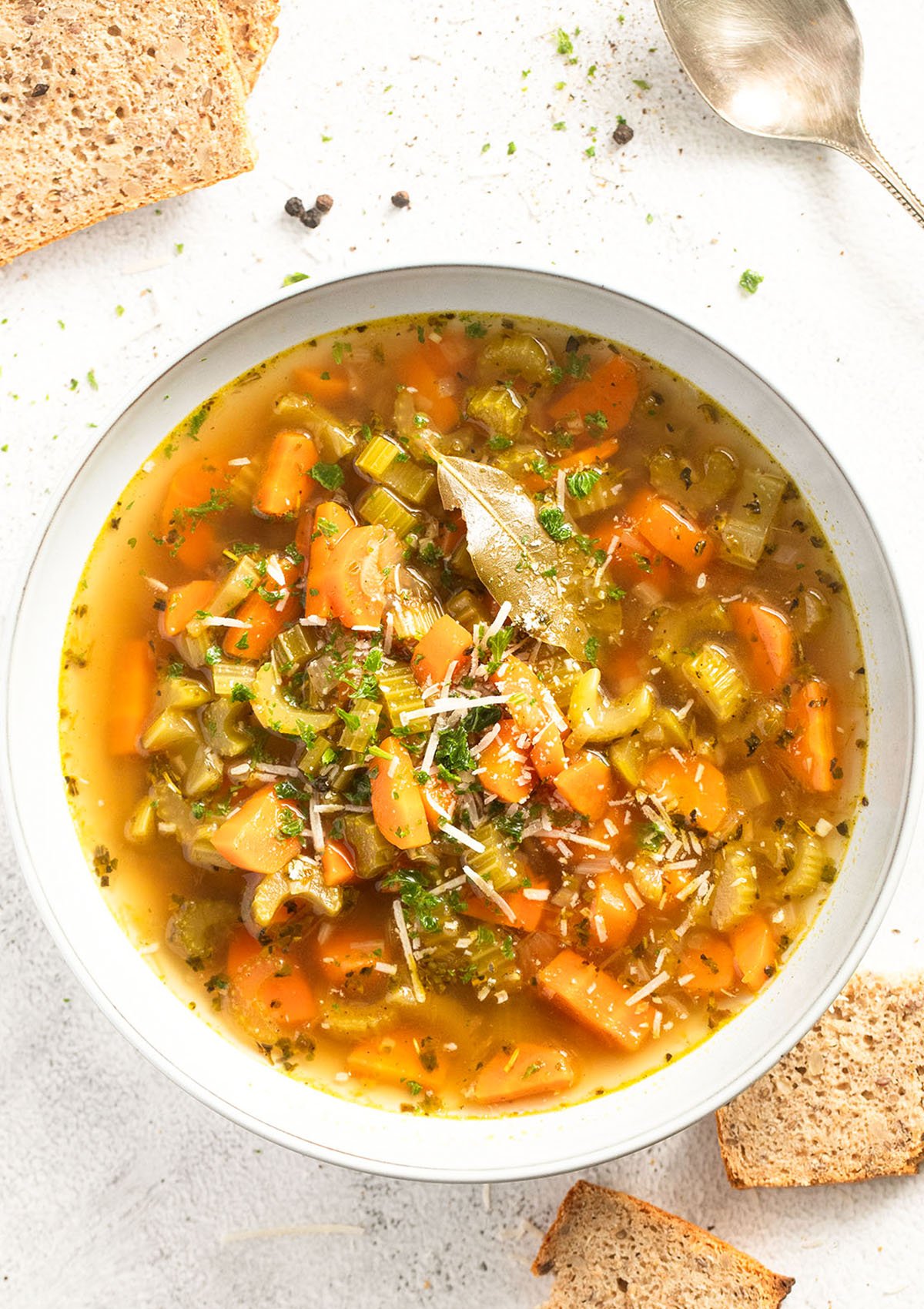 Check out the web story for this soup: Give this Carrot and Celery Soup a try
More Favorite Soups
Hungry for More Fast Recipes?
Sign up for our Newsletter to receive new, quick, and delicious recipes in your inbox occasionally! Find me sharing daily meal-time inspiration on Pinterest and Facebook
Give my quick recipes a try for your next family meal! Feel free to reach out if you need any assistance!
📖 Recipe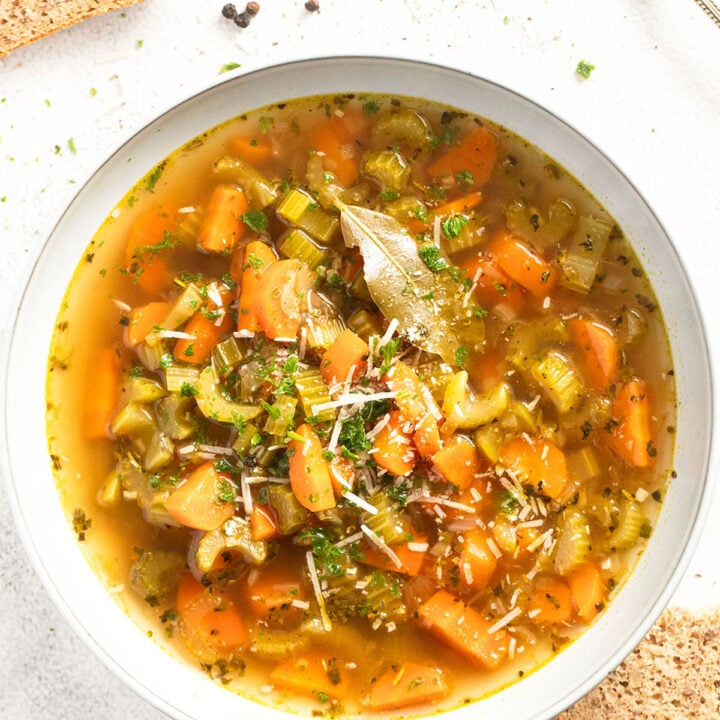 Simple Carrot and Celery Soup
In just around 30 minutes, you can prepare a delicious carrot and celery soup using just a few basic ingredients.
Print
Pin
Share
Grow.me
Saved!
Rate
Ingredients
2 ½-3

cups

carrots

chopped , 450 g/ 1 lb

2

cups

celery

250 g/ 9 oz

1

medium

onion

2

garlic cloves

1

tablespoon

olive oil

3

cups

vegetable stock

750 ml, Note 1

2

bay leaves

1

teaspoon

Italian seasoning

2-3

teaspoons

white balsamic vinegar

Note 2

fine sea salt

or kosher salt

ground black pepper
Instructions
Prepare the ingredients: Clean and chop the carrots, celery, onion, and garlic, but keep them separated. 2 ½ cups chopped carrots (1 lb/450 g) + 2 cups chopped celery (250 g/ 9 oz) + 1 medium onion + 2 garlic cloves

Cook onions: Heat the oil in the pot. Cook onions until slightly softer (about 2 minutes), add garlic, and stir for another minute. 1 tablespoon olive oil

Add carrots and celery, stir well, and sauté for about 8 minutes.

Simmer soup: Pour in the stock, add bay leaves and seasoning. Cover the pot and simmer the soup for about 10 minutes or until the vegetables are soft but not mushy. 3 cups/ 750 ml stock + 1 teaspoon Italian seasoning + 2 bay leaves

Adjust the taste with salt, pepper, and a little vinegar. We usually leave the celery and carrot soup chunky, but you can blend it if you like. salt and pepper to taste + 2-3 teaspoon white balsamic vinegar to taste
Notes
Stock: Chicken stock is great as well.
Vinegar: Substitute white balsamic vinegar with white wine vinegar or apple cider vinegar.
Nutrition
Serving:
1
portion from 4
|
Calories:
98
kcal
|
Carbohydrates:
15
g
|
Protein:
2
g
|
Fat:
4
g
|
Saturated Fat:
1
g
|
Polyunsaturated Fat:
1
g
|
Monounsaturated Fat:
3
g
|
Sodium:
814
mg
|
Potassium:
449
mg
|
Fiber:
4
g
|
Sugar:
8
g
|
Vitamin A:
14181
IU
|
Vitamin C:
9
mg
|
Calcium:
66
mg
|
Iron:
1
mg