Amazing honey sriracha Brussels sprouts, roasted in the oven and ready in about 30 minutes, this way of cooking sprouts will become a regular.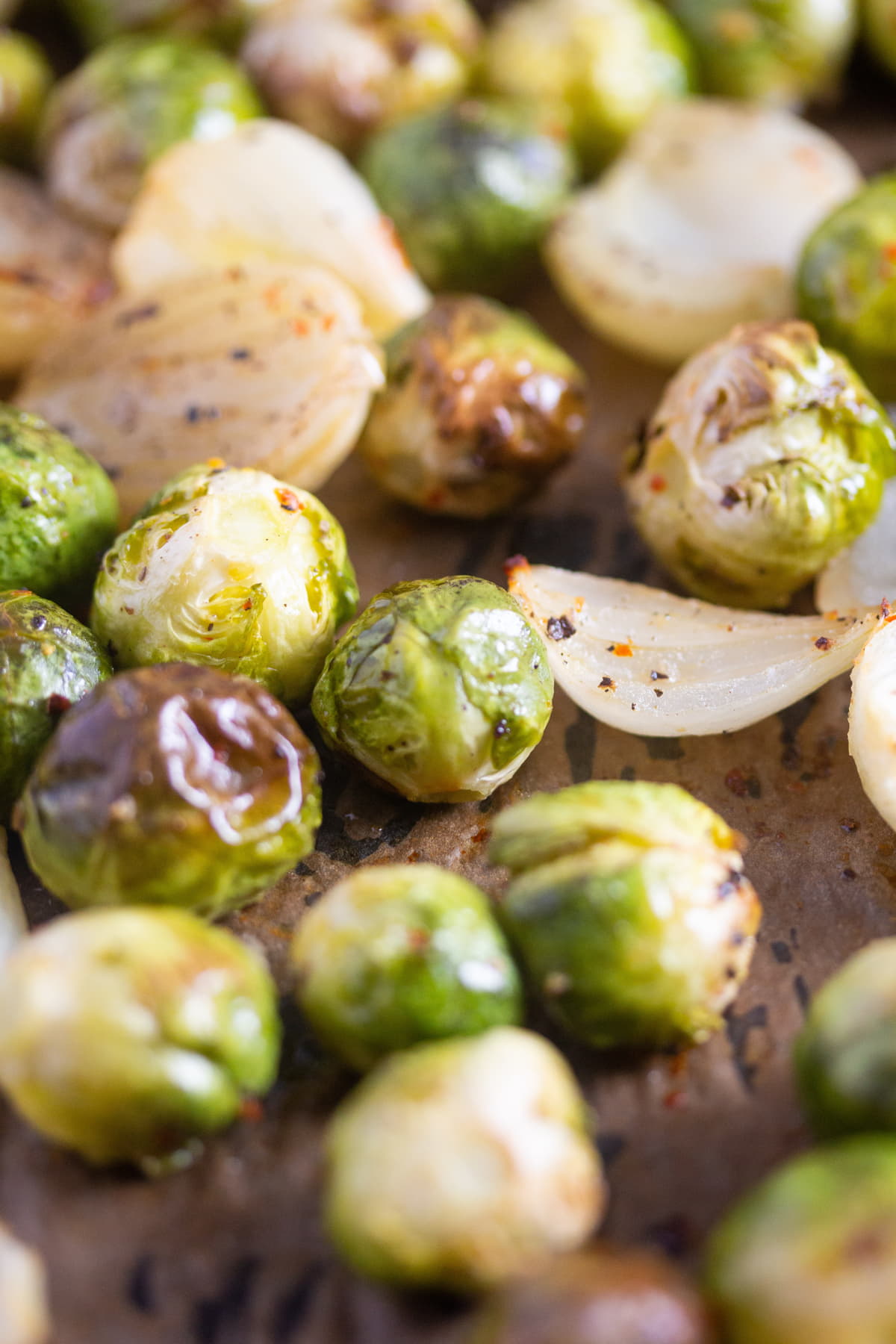 Roasting honey sriracha Brussels sprouts is my favorite way of cooking them. But, there's this thing about Brussels sprouts. They can be exquisite when cooked properly but can turn bad if you cook the life out of them. Me, I'd rather have a salad of raw sprouts than a bowl of overcooked, mushy sprouts...
It can hardly get any worse when it comes to vegetables than overcooked sprouts that you can mash with your fork. But bake them and coat them with this spicy sauce, and you will become addicted to this super healthy and delicious recipe. And if you like to use honey for savory dishes, try these amazing Pan-Fried Pork Belly Bites.
Jump to:
Why will you love this way of cooking sprouts?
The veggies are roasted and not cooked to mush. Crispy, flavorful, hot, and sweet. The shallots add a bit of contrast; they are softer, sweeter, and comforting.
You will only need a few ingredients.
Equipment: one roasting tin and one small bowl.
Fast: you will need about 30 minutes, prep time included; it depends on how quickly you clean the vegetables.
Recipe ingredients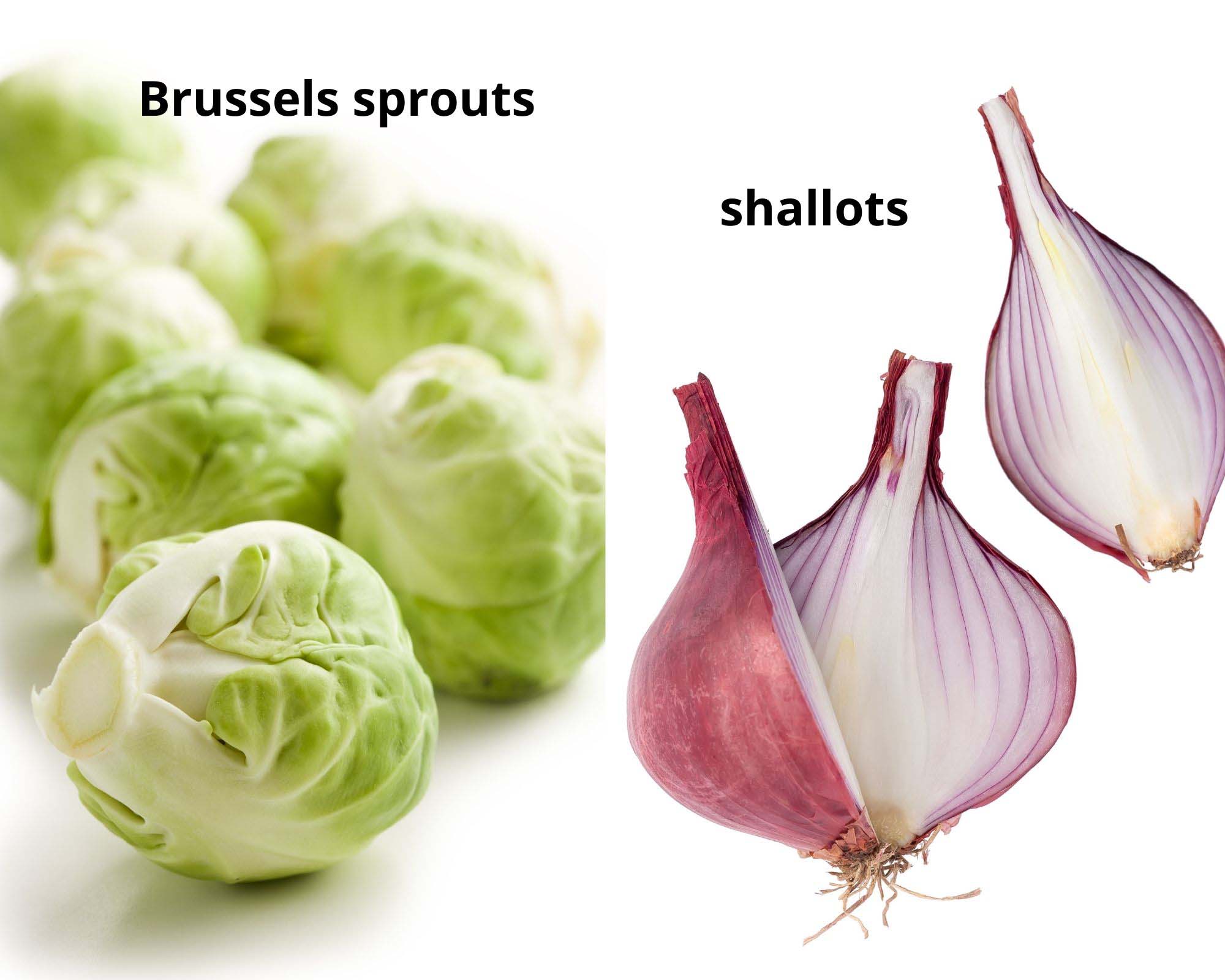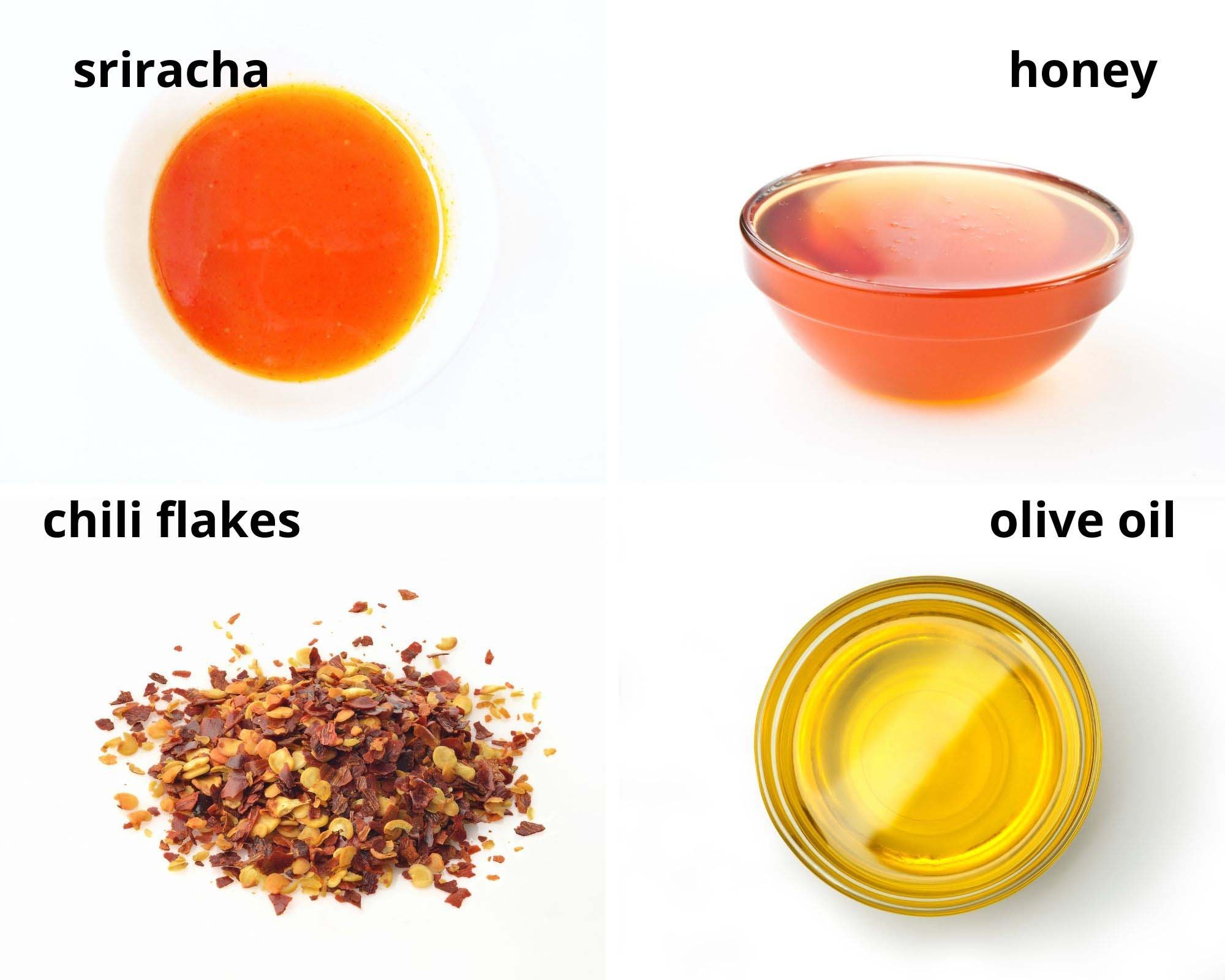 Brussels sprouts: fresh vegetables. Frozen ones are not great for roasting; they are too watery and will not get crispy in the oven.
Honey: clear, runny honey.
Sriracha: a sweet, tangy, and hot sauce made from chili peppers with a touch of vinegar, sugar, garlic, and salt. It comes in smaller or larger plastic bottles, and it keeps well in the fridge if you take care of cleaning the top of the bottle every time you use it.
Chili: I use red chili flakes because we like this dish hot. However, if you think the sriracha might be enough for you, you can use fewer chili flakes or leave them out altogether.
Other ingredients: salt and olive oil.
How to make the recipe?
How to clean Brussels sprouts?
Rinse well in a colander under running water, moving them around with your hands to make sure that you remove all the dirt.
Trim: Use a small knife to trim off only the top, the stem end of the vegetables.
Remove outer leaves: Once you have removed the top of the stem, it will be very easy to remove the blemished and loose leaves.
Halve them, if too large, from top to bottom, making sure that each half is still attached to a small part of the remaining stem. If you remove the stem completely, the leaves will fall apart. I left them whole for this recipe; they were so small and cute. Otherwise, I would normally halve them.
Recipe steps
Preheat the oven to 425 degrees Fahrenheit (220 degrees Celsius). Line a large sheet pan with parchment paper.
Clean and cut sprouts. Clean and halve shallots. Place onto the prepared baking sheet in a single layer (1).
Season: Drizzle with olive oil, sprinkle with chili flakes, and fine sea salt (or Kosher salt). Rub well with your hands to coat the veggies with the oil and the spices.
Roast for about 15 minutes or until almost done.
Stir sauce: In the meantime, mix honey, sriracha, and a pinch of salt in a small bowl.
Coat veggies with sauce: Pour the honey sriracha sauce over the vegetables and toss well to coat.
Finish roasting: Return to the oven and roast for another 3 to 5 minutes until the vegetables are crunchy and golden brown (2).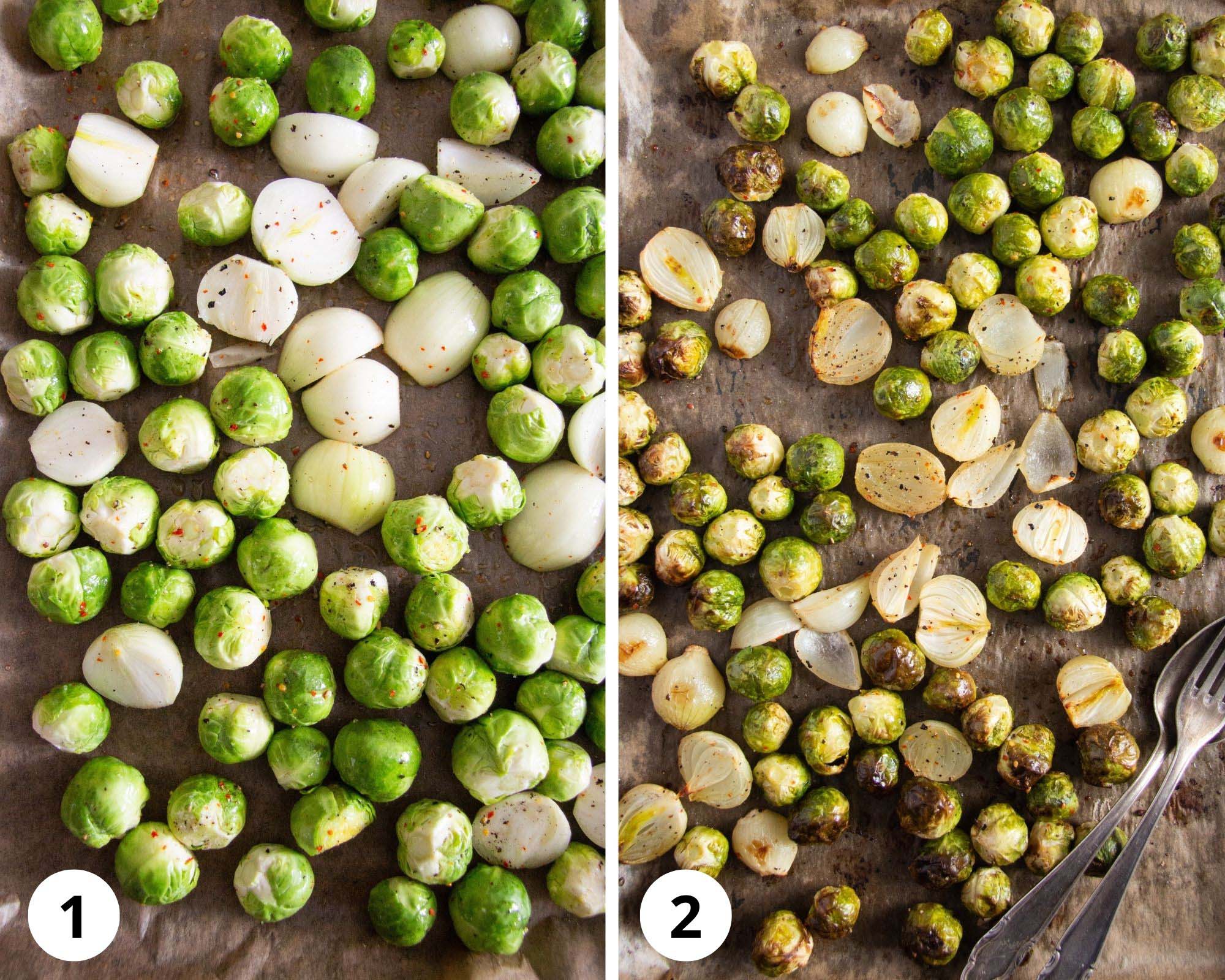 How to serve?
Main dish: Serve as a vegetarian main dish with mashed potatoes on the side. You might want to add a fried egg on top. Delicious!
Bowl: Or make a big bowl with couscous, rice, or cooked wheat, spicy sprouts and shallots, fried or poached egg, greens, feta cheese, and whatever else you like. Instead of eggs, add some cooked chicken or tofu.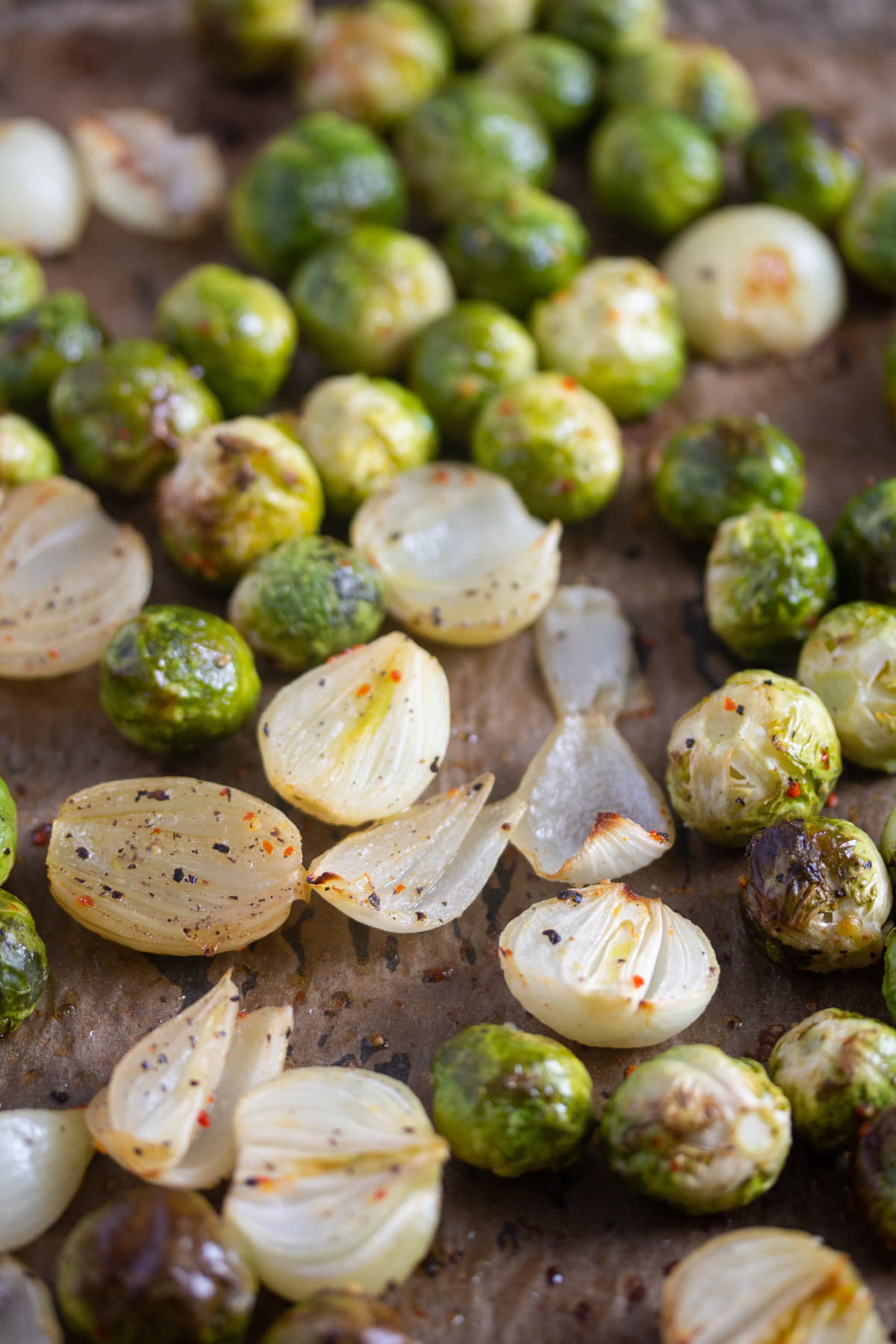 Expert tips and FAQ?
Can I use frozen veggies?
As mentioned above, I would not use them. Frozen ones are great for boiling or in a soup but are not that great when roasted; they remain soft and watery.
Can I use onions instead of shallots?
Yes, use small onions. Halve or quarter them, depending on size.
Can I use maple syrup?
You can sub honey with maple syrup, date, or agave syrup.
How about leftovers?
Refrigerate in an airtight container for up to 3 days. The dish is not suitable for freezing.
Can I reheat leftovers?
Reheat in the oven at 350 degrees Fahrenheit (180 degrees Celsius) for about 10 minutes or until hot.
You can also serve the leftovers at room temperature; they are delicious.
Can I cook them in the air fryer?
Yes, but you might have to do it in 2 batches or halve the recipe.
Cook in the preheated air fryer at 400 degrees (200 degrees Celsius) for about 10 minutes until done. Toss with the sauce and cook for another 2 minutes until crispy.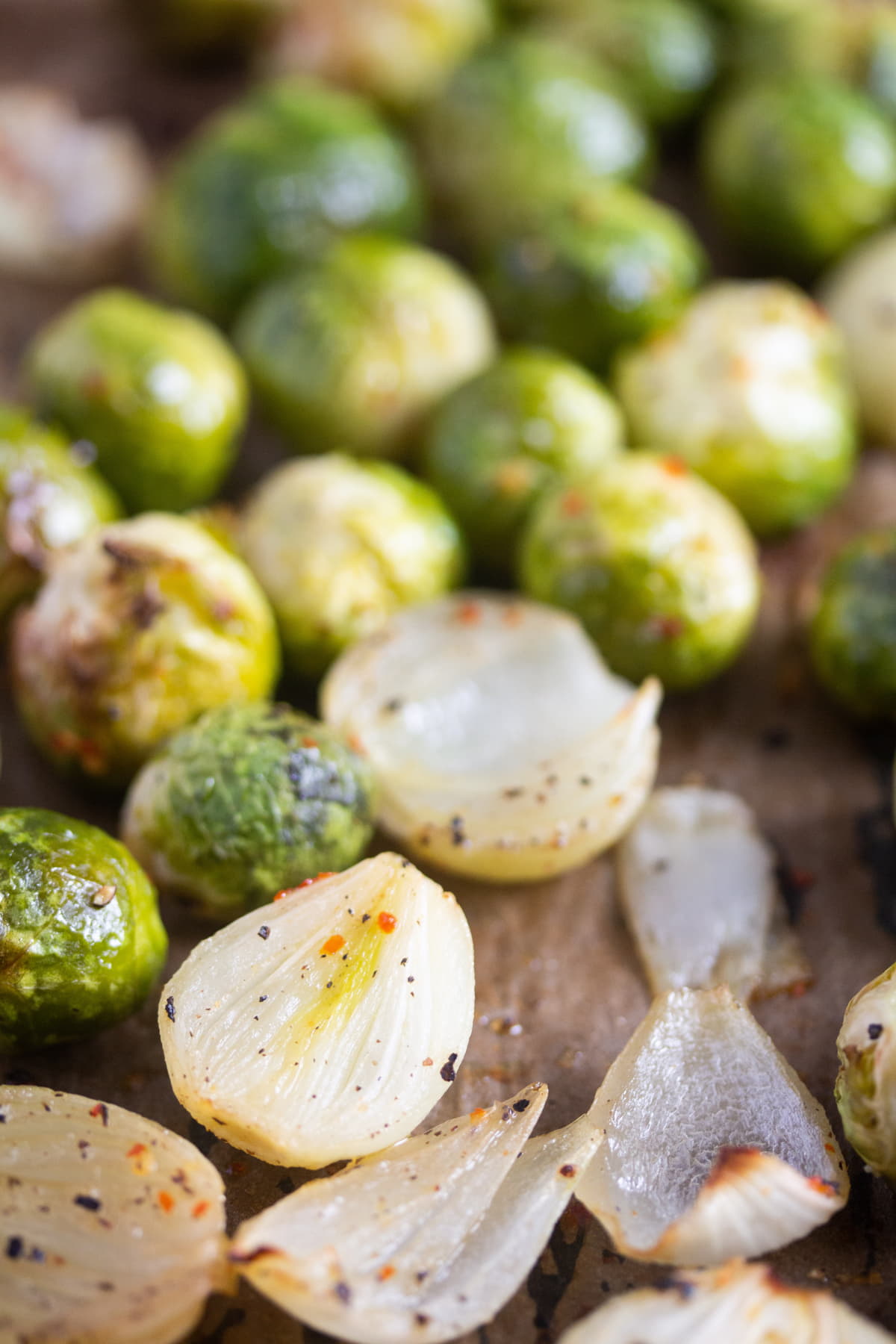 More Spicy Dishes
Hungry for More Fast Recipes?
Sign up for our Newsletter to receive new, quick, and delicious recipes in your inbox occasionally! Find me sharing daily meal-time inspiration on Pinterest and Facebook
Give my quick recipes a try for your next family meal! Feel free to reach out if you need any assistance!
📖 Recipe
Honey Sriracha Brussels Sprouts
Amazing honey sriracha Brussels sprouts, roasted in the oven and ready in about 30 minutes, this way of cooking sprouts will become a regular.
Print
Pin
Share
Grow.me
Saved!
Rate
Ingredients
Vegetables:
1.7

lbs

Brussels sprouts

750 g, Note 1

9

oz

shallots

250g, Note 2

2

tablespoons

olive oil

¼ - ½

teaspoon

chili flakes

to taste (Note 3)

1

teaspoon

sea salt or Kosher salt
Sauce:
2

tablespoons

honey

2

tablespoons

sriracha sauce
Instructions
Preheat the oven to 220 degrees Celsius/ 425 degrees Fahrenheit. Line a baking tray with baking paper.

Clean the Brussels sprouts by removing their outer leaves. Trim off the stem and halve the sprouts, if necessary. If the sprouts are tiny, leave them whole. Peel and halve the shallots. Place vegetables on the prepared baking dish.

Season: Pour the olive oil on top of the vegetables. Sprinkle them with chili flakes and salt. Massage the vegetables to coat them with them all over.

Roast for about 20 minutes.

Sauce: In the meantime, mix honey and sriracha in a small bowl. Pour over the vegetables and toss well to coat.

Return to the oven and roast for another 3 to 5 minutes, until the vegetables are crunchy and golden brown. Serve immediately.
Notes
Frozen and defrosted Brussels sprouts are not suitable for this recipe.
Sub with small onions.
Use chili flakes according to your heat tolerance. If you feel the sriracha sauce is hot enough for you, leave out the chili flakes or use only a tiny sprinkle.
Nutrition
Calories:
225
kcal
|
Carbohydrates:
37
g
|
Protein:
8
g
|
Fat:
8
g
|
Saturated Fat:
1
g
|
Polyunsaturated Fat:
1
g
|
Monounsaturated Fat:
5
g
|
Sodium:
823
mg
|
Potassium:
981
mg
|
Fiber:
9
g
|
Sugar:
18
g
|
Vitamin A:
1504
IU
|
Vitamin C:
174
mg
|
Calcium:
107
mg
|
Iron:
4
mg