Enjoy our spicy tuna sandwich! Packed with flavorful tuna and crunchy corn, it's a tangy delight between two slices of bread. Perfect for a satisfying meal that you can take with you wherever you go.
Are you tired of the same old lunch routine? Looking for a quick and delicious meal that packs a punch? Look no further than our mouthwatering Spicy Tuna Sandwich!
It's perfect for an easy lunch, snack in between, or dinner; it's a family-friendly recipe, versatile, affordable, and super quick to make.
And if you like, you can also use our Mexican Tuna Salad to make a spicy tuna sandwich.
Jump to:
Why will you love this tuna sandwich?
Taste and texture: Tender chunks of tuna paired with the satisfying crunch of corn, all tossed in a spicy dressing that's just the right amount of heat.
Simple ingredients: All you need are simple and readily available ingredients like canned tuna, corn, green onions, a touch of mayo, and a dash of hot sauce.
Quick: Making the tuna salad and sandwiches takes less than half an hour. If you prepare the salad in advance (it keeps well), you can fix your lunch sandwiches before you go to work in just a few minutes.
Perfect for On-the-Go: Its portable nature makes the spicy tuna sandwich an excellent choice for picnics, office lunches, or those busy days when you need a quick bite between appointments.
Recipe ingredients and substitutions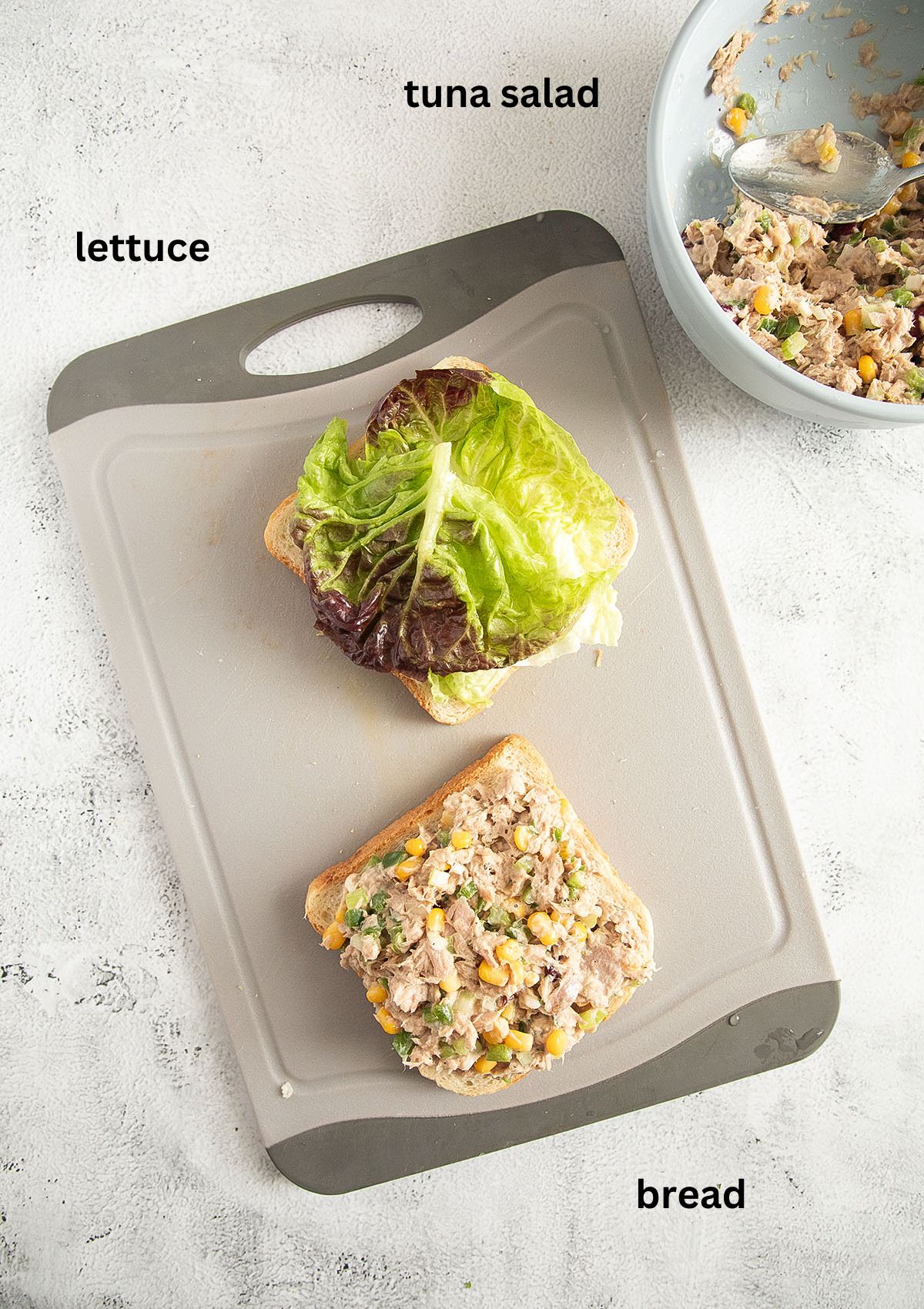 Canned tuna is the hearty and protein-rich base for our spicy tuna salad and sandwich. I use canned tuna in water, but tuna in oil is also delicious, just more calorie-laden. In both cases, drain the tuna well before making the salad.
Corn: Sweet and crunchy canned corn kernels complement the spiciness of the other ingredients.
Green Onions, also known as scallions, enhance the taste and create a satisfying crunch. You can replace them with 1 - 2 tablespoons of finely chopped red onions.
Mayonnaise: It binds the ingredients together. You can use full-fat mayonnaise or a slightly fat-reduced version.

Substitute the mayonnaise with softened cream cheese or cream cheese spread if you like; we love it and do that often. If you're using block cream cheese, let it soften beforehand, and then blend it thoroughly with a small amount of milk until it reaches a spreadable texture like that of mayonnaise.

Hot sauce gives the salad its signature kick. I often use Sriracha, but you can easily replace it with another hot sauce. I've successfully made this spicy tuna salad with habanero, peri-peri, or sweet hot chili sauce.
Lime juice brightens up the flavors. You can replace it with lemon juice.
Cilantro or fresh parsley are both excellent.
Bread: Choose your favorite type of bread – whether it's soft, crusty, or whole-grain. I used white sandwich bread this time, but whole wheat, multi-grain, and sourdough bread are also perfect.

You could also spread the salad on bagels, croissants, rolls, brioche, or hamburger buns.

Toppings: Fresh and crunchy lettuce leaves are always a must. Alternatively, you have the option to enhance your spicy tuna sandwich with a variety of other ingredients.
Additions
Dijon mustard: Spreading a layer of mustard on the bread can add an extra kick of flavor.
Avocado slices: Their buttery flavor and texture pair beautifully with the spiciness of the tuna salad.
Sliced tomatoes provide a refreshing contrast to the spicy tuna filling.
Sprouts: Fresh sprouts, like alfalfa or broccoli sprouts. Do try them; they are perfect for this sandwich.
Roasted red peppers: Pat them dry with a paper towel before making the sandwich.
Fresh cucumber slices: A simple and perfect addition.
Pickles or pickled jalapeños: Our favorite pickles for sandwiches are sweet and sour pickled cucumber, but feel free to use any variety you like.
Cheese: A slice of your favorite cheese, such as cheddar, gouda, pepper jack, or Swiss.
Bacon: It might sound strange to combine fish with crispy bacon, but it really works.
Hard-Boiled egg slices are always a good idea when making a sandwich.
How to make a spicy tuna sandwich?
Make the tuna salad: Combine all the ingredients required for the salad.
Make the sandwich: Toast the bread, spread the salad on top, add lettuce and all your favorite toppings.
Cut the sandwiches in half.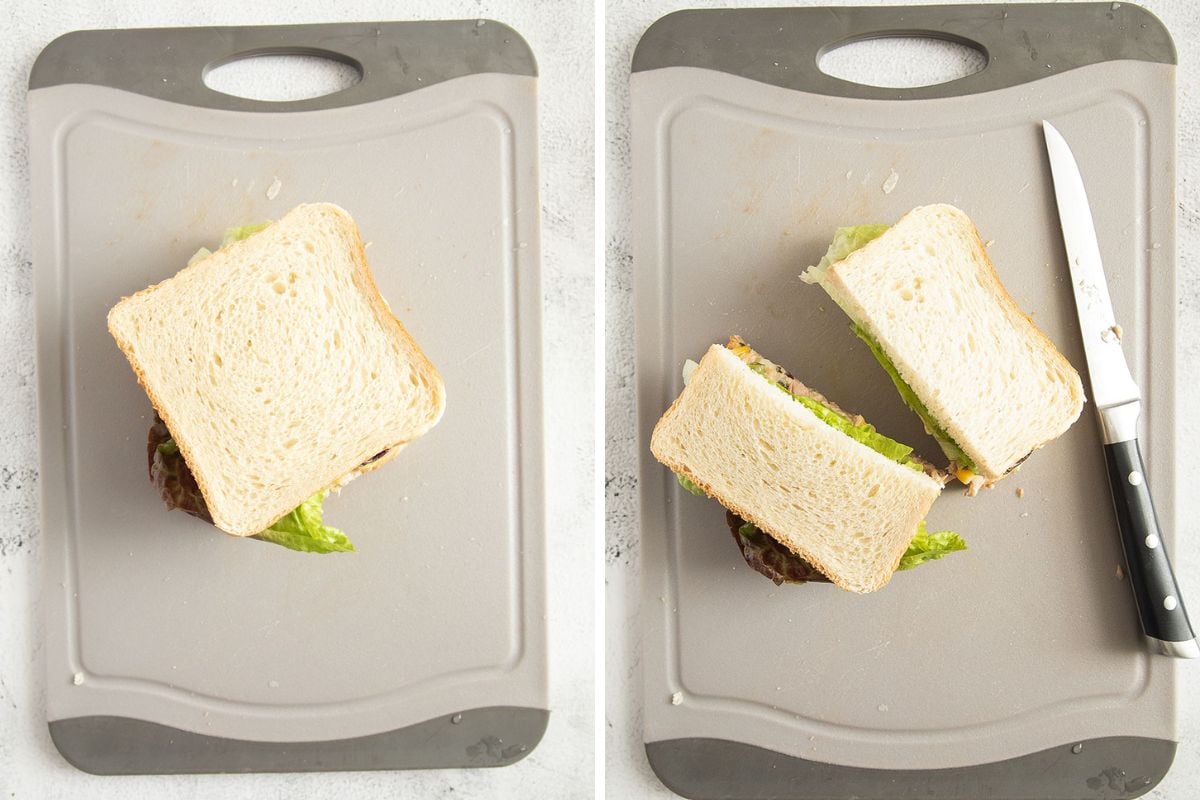 Expert Tips
Make the tuna salad as spicy as you like - put in a bit of hot sauce, taste it, and add more if you want it hotter. Keep doing this until it tastes just right for you.
Arrange the ingredients carefully - putting fragile things like avocado slices on the tuna keeps them from getting squished.
Tomatoes and avocado: I usually skip the tomatoes and avocado when making a sandwich for work or a trip. Tomatoes can make the bread wet, and avocado can turn brown if it sits for a while.
Recipe FAQ
Can I prepare the tuna salad in advance?
Yes, you can prepare the tuna salad in advance. Just keep it refrigerated until you're ready to use it.
What type of bread works best for the sandwich?
The choice of bread is flexible. Whole wheat, white, sourdough, wraps, bagels, rolls, and buns can work well.
How long can the assembled sandwich stay fresh for travel?
If you're planning to take the sandwich on a trip, it's best to assemble it shortly before eating to avoid sogginess. However, if you need to pack it in advance, refrigerate it and consider leaving out ingredients like tomatoes and avocado until you're ready to enjoy.
How can I prevent the bread from becoming soggy?
Consider toasting the bread lightly before assembling the sandwich. You can also place lettuce leaves between the bread and the tuna to create a barrier.
How to store?
Leftover tuna salad keeps well in an airtight container in the refrigerator for 3-4 days. If you notice any unusual odor, discoloration, or signs of spoilage, it's best to err on the side of caution and discard the tuna salad.
The spicy tuna sandwiches should be consumed within hours after assembling them.
More Sandwiches
Hungry for More Fast Recipes?
Sign up for our Newsletter to receive new, quick, and delicious recipes in your inbox occasionally! Find me sharing daily meal-time inspiration on Pinterest and Facebook
Give my quick recipes a try for your next family meal! Feel free to reach out if you need any assistance!
📖 Recipe
Spicy Tuna Sandwich
Savor our delicious tuna sandwich! Bursting with flavor and crunch, it's a perfect meal to take on the go.
Print
Pin
Share
Grow.me
Saved!
Rate
Ingredients
Tuna salad:
1

can

chunky tuna in water

drained 5 oz/ 150 g

1

cup

canned corn kernels

drained

¼

cup

green onions

finely chopped

3

tablespoons

mayonnaise

Note 1

1

tablespoon

hot sauce

adjust to taste, Note 2

1

tablespoon

lime juice

fine sea salt

or kosher salt, to taste

ground black pepper

2

tablespoons

cilantro

chopped optional Note 3
Spicy tuna sandwich Notes 4,5
6

slices

bread

Note 6

3-6

lettuce leaves

cucumber

slices, fresh or pickled, optional

avocado

sliced, optional

tomatoes

sliced, optional

salt and pepper
Instructions
Tuna salad:
Combine the drained and flaked tuna, drained corn kernels, and chopped green onions in a mixing bowl. 1 can tuna + 1 cup corn + ¼ cup green onions

Whisk together the mayonnaise, hot sauce, and lime juice in a small bowl until well combined. Adjust the amount of hot sauce to taste. 3 tablespoon mayonnaise + 1 tablespoon hot sauce + 1 tablespoon lime juice + salt + pepper to taste

Pour the dressing over the tuna and corn mixture. Gently toss everything together until the ingredients are evenly coated. If using cilantro, fold it into the salad. 2 tablespoon cilantro

Season the salad with salt and pepper to taste.
Tuna sandwich:
Toast the bread if desired. 6 slices bread

Spoon a generous amount of the spicy tuna and corn salad onto the slices. Spread it evenly to cover the surface.

Add the lettuce leaves and layer slices of tomato, avocado (if using) on top. Sprinkle a pinch of salt and pepper. 3-6 lettuce leaves + any additional toppings

Top with the remaining slices of bread to create three sandwiches. Gently press down on the sandwiches to help everything hold together. If you prefer, you can slice the sandwiches in half to make them easier to handle.

Serve immediately or wrap them well for an on-the-go meal.
Notes
Mayonnaise: For a lower-fat but just as delicious version of the tuna salad, replace the mayo with softened cream cheese. Mix the cream cheese with about ½ - 1 tablespoon of milk until it has a consistency similar to mayonnaise.
Hot sauce: I used Sriracha this time. But I've successfully made this tuna salad with habanero hot sauce, peri-peri sauce, and sweet hot chili sauce. I recommend always adding hot sauce to taste.
Herbs: If you don't like cilantro, you can leave it out or replace it with parsley.
Tuna sandwiches: Based on the recipe, which makes about 1 ½ cups and serves about 2 as a salad, you can estimate the number of sandwiches you can make. If you use about ½ cup to ⅔ cup for a sandwich, you could make around 2 to 3 sandwiches with the given amount of tuna salad. Adjust the quantities based on your preferred sandwich size and filling thickness.
Toppings: See the blog post for more topping ideas.
Bread: I used sandwich bread, but any kind of bread you like is perfectly ok. Sourdough or whole wheat bread is even better, but you could also use bagels, rolls, toasted brioche, or hamburger buns. Or serve the salad on crispbread or crackers.
Nutrition
Serving:
1
sandwich
|
Calories:
359
kcal
|
Carbohydrates:
40
g
|
Protein:
19
g
|
Fat:
15
g
|
Saturated Fat:
2
g
|
Polyunsaturated Fat:
8
g
|
Monounsaturated Fat:
3
g
|
Trans Fat:
0.04
g
|
Cholesterol:
26
mg
|
Sodium:
604
mg
|
Potassium:
379
mg
|
Fiber:
4
g
|
Sugar:
6
g
|
Vitamin A:
2069
IU
|
Vitamin C:
14
mg
|
Calcium:
99
mg
|
Iron:
4
mg