Learn how to make mac and cheese without milk; it's creamy, delicious, easy, and ready in about 15 minutes. Comfort food at its best!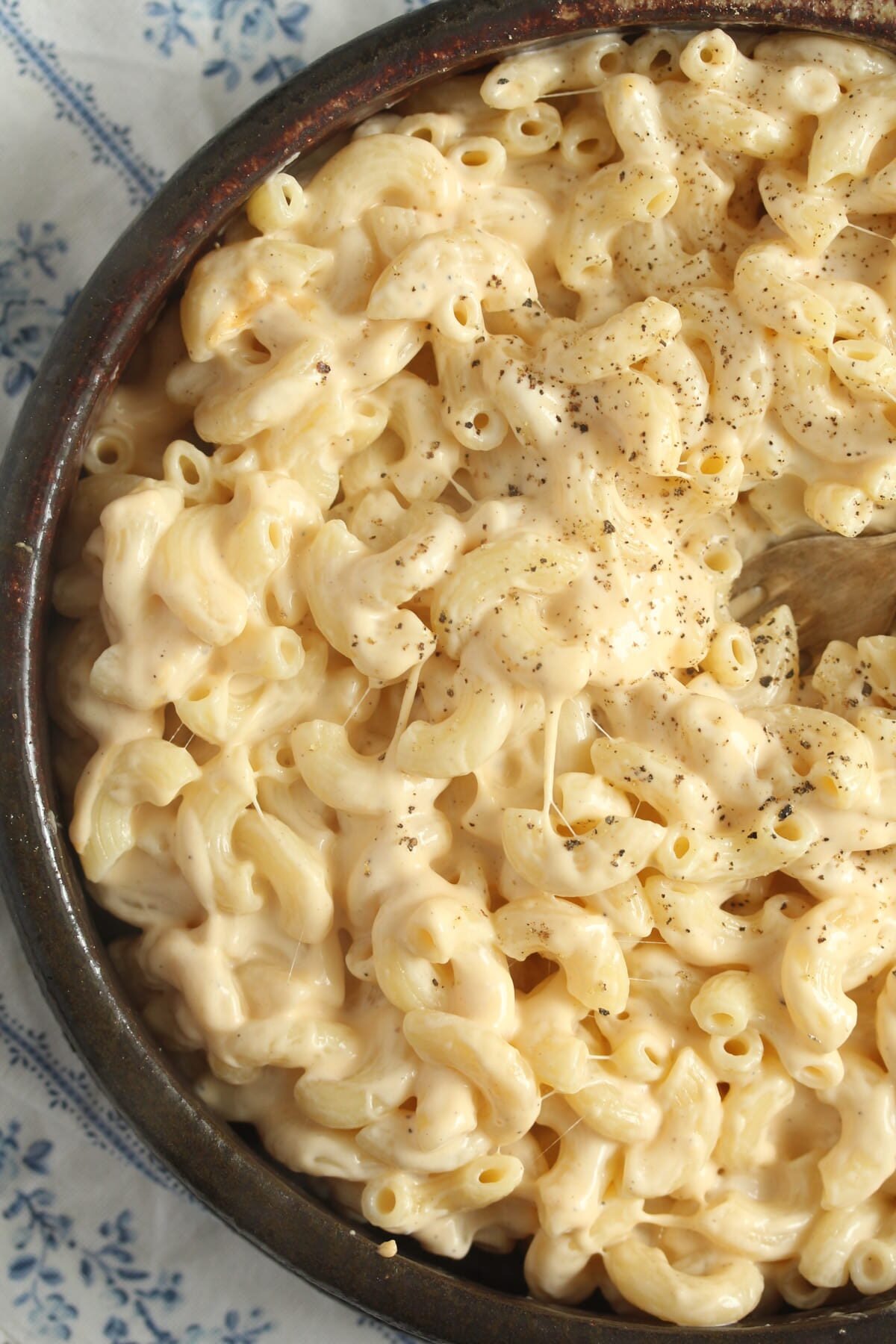 Do you crave macaroni, but you don't have any milk left? Don't worry about it! This Mac and Cheese without Milk recipe is just as tasty and you can have the same creamy consistency without any milk at all.
There's not a month gone by without me cooking some kind of macaroni and cheese recipe. We all love it; it's quick and always delicious. From a traditional Mac to baked versions and then to emergency versions like this Simple Mac and Cheese without Flour, or today's No Milk Mac and Cheese. For more pasta recipes, have a look at 10 Fast Pasta Recipes.
Jump to:
Why do we all love this recipe?
So delicious, creamy, and comforting. Definitely something for cheese lovers!
Made from scratch: No box is involved, yet you will not need more time to cook this recipe than to use a box.
There is no weird stuff inside: The recipe is made with real food, no cheese powder, no added chemicals, or things you can't even pronounce.
Super quick: Not much time involved; only count the time you need to cook the pasta.
Budget recipe: The ingredient list is short, and they are all cheap and common ingredients.
Kid-friendly: Should you happen to have picky eaters in the house, you can't go wrong with a creamy mac n cheese dish.
Recipe ingredients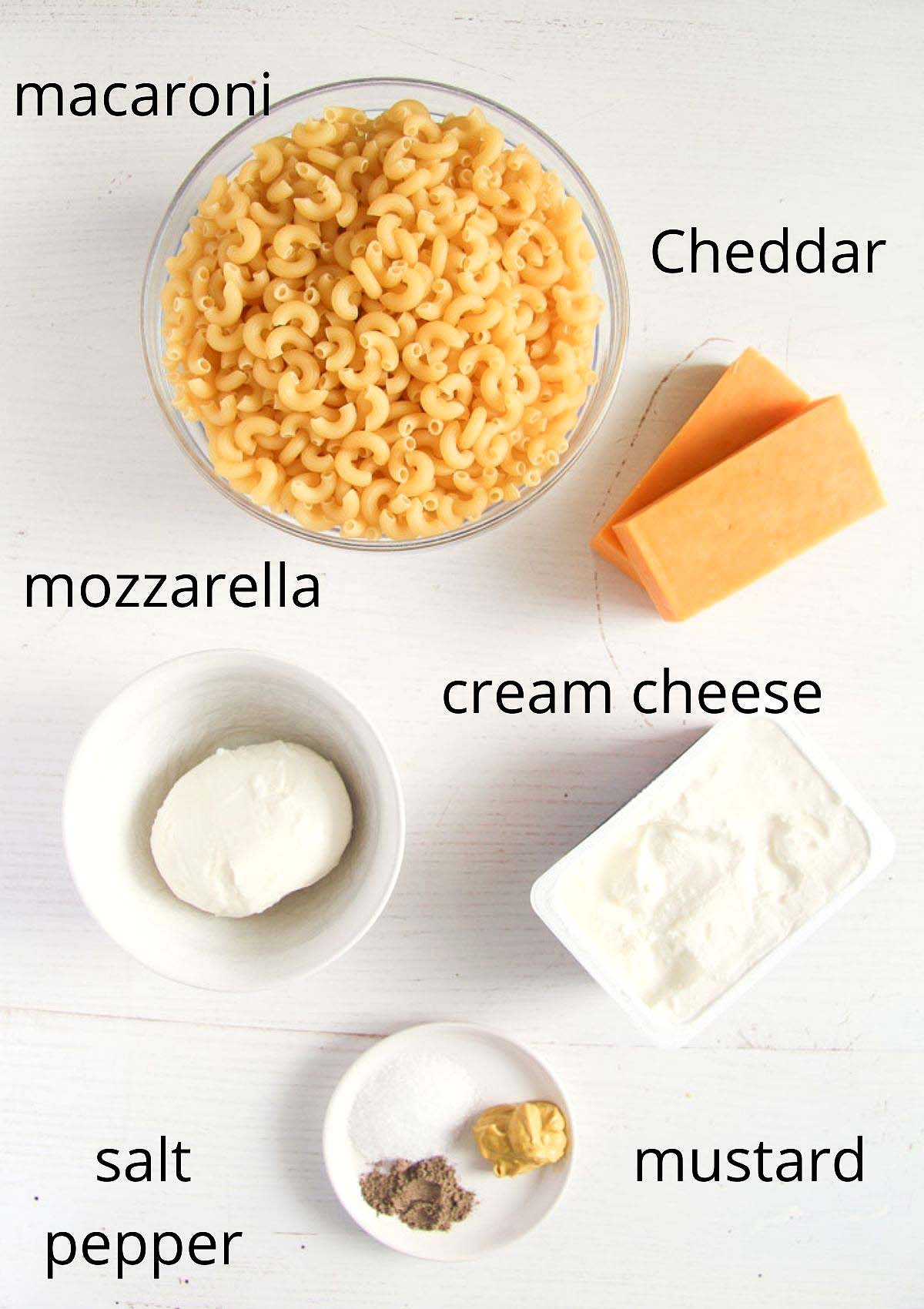 Pasta: 1 lb elbow macaroni is perfect. But any other kind of short pasta will do just fine.
Dairy products:
A mixture of sharp Cheddar (for the taste), mozzarella (for the stretch), and cream cheese (for the creaminess).
However, I often cook this dish with a mixture of leftovers I happen to have in the refrigerator. You could also throw in some Gouda, Swiss, American cheese, Provolone, Gruyere, Fontina, Parmesan cheese, or whatever you like or happen to have.
Other ingredients: A little bit of Dijon mustard or something similar, salt, and black pepper.
How to make Homemade Macaroni and Cheese without Milk?
Cook the pasta: Set the water to cook the macaroni in a large pot. Add salt generously. Cook pasta al dente according to the packet's instructions.
Save about 1 cup of cooking water. Drain well (1).
Cheese sauce: Grate cheese (2).
Heat a large saucepan shortly. Add all the ingredients, except the pasta, and melt on low heat for about two minutes, stirring almost constantly until you have a smooth, creamy sauce (3).
Combine: Add drained noodles and about ¼ - ½ cup of the reserved pasta water. Stir well to combine.
Adjust the taste with more salt and pepper if necessary. Serve immediately (4).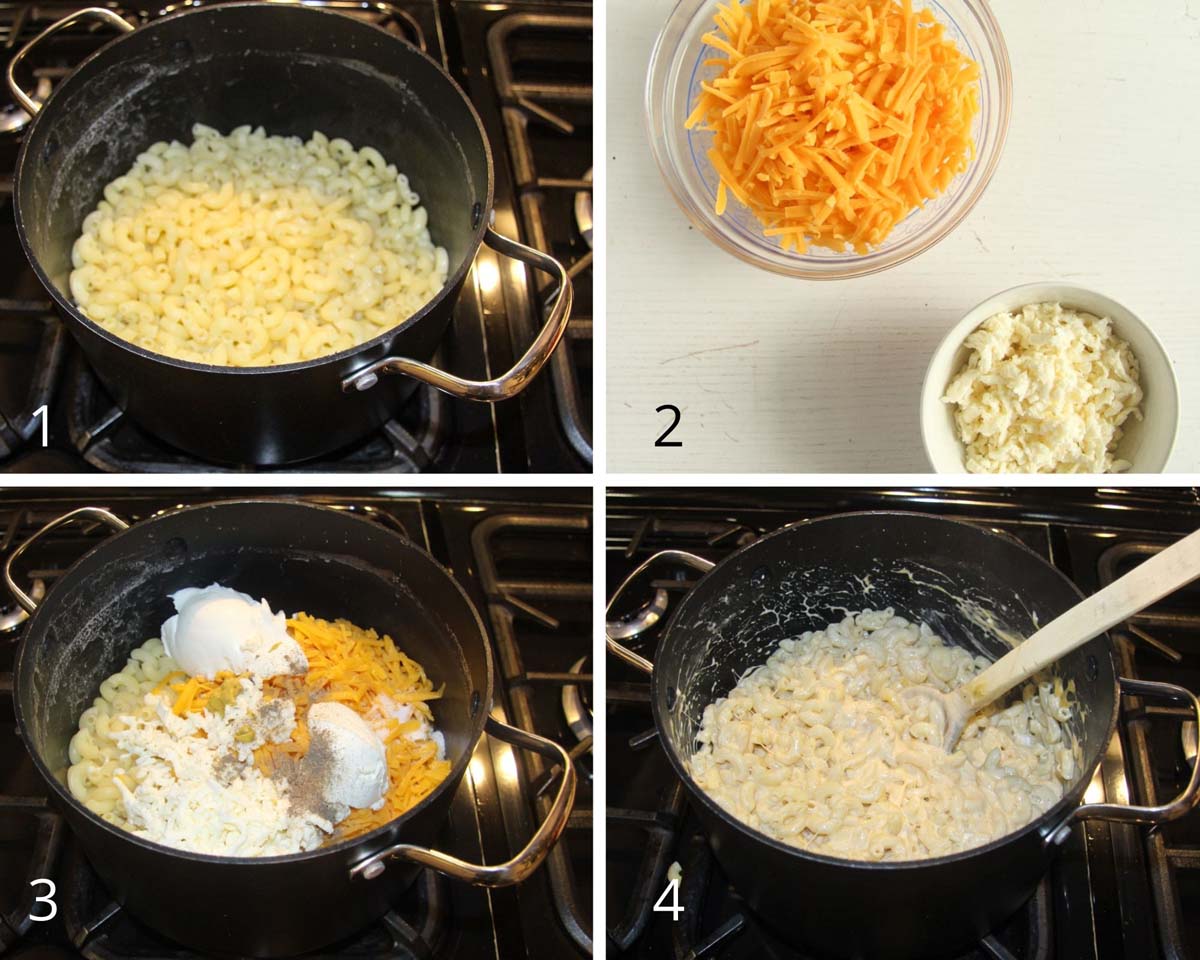 Tips & Notes
Best tip: Don't use pre-shredded cheese; the anti-caking agents will prevent it from melting properly, and the sauce will be grainy.
Use boiling water from a kettle to speed things up when cooking the macaroni.
Don't overheat the sauce; it should not come to a boil at all. If that happens, the ingredients might separate. Instead, keep stirring and remove the pan from the heat if it gets too hot. Continue stirring off the heat until the mixture is creamy.
Looking for mac and cheese sidekicks? Check out our post: What to Pair with Mac and Cheese.
Recipe FAQ
Can I add anything else?
How about some crumbled bacon? You can also add some chopped green onions, chopped cherry tomatoes, or grated garlic. In this case, heat a little olive oil or butter in the pan before adding the cheese, and saute the vegetables for about 1 minute (garlic) or 2 minutes (green onions, tomatoes) before adding the rest of the ingredients.
Can I bake this dish?
Preheat the oven to 350 degrees Fahrenheit (180 degrees Celsius) while the noodles are cooking. Cook the pasta for about 2 minutes less than indicated on the package; it will continue cooking in the oven. Make the sauce and combine the ingredients as instructed.
Pour the contents of the pan into a lightly buttered baking dish. Sprinkle with a handful of bread crumbs. Bake the casserole dish for about 15-20 minutes or until golden and bubbly. Let rest for 5 minutes, then serve.
Can you make macaroni and cheese without milk?
YES, you can absolutely make the best mac & cheese without regular milk! There are many good substitutes for milk in this macaroni n cheese classic recipe. You can find below some dairy or non-dairy alternatives!
With what can I substitute milk in mac and cheese?
Some milk alternatives in mac and cheese are:
For dairy-free: Coconut Milk, Rice Milk, Almond Milk, Soy Milk, Oat Milk, Coconut Cream, etc..
Dairy alternative: Half and Half, Cream Cheese, Butter, Roux, Heavy Cream, Yoghurt, Sour Cream, Powdered Milk and others
How to serve?
Our favorite way: immediately, in deep bowls, in front of the telly… it is the kind of meal born to be eaten while watching TV.
Main dish: You can make a green salad on the side if something healthy must be. As a main, it will be enough to serve four people. Six would be ideal, but that's never happening in our house.
Side dish: It should be enough for eight. Now that Thanksgiving is approaching consider serving homemade mac and cheese without milk with roast turkey, roast chicken or pork, sausages, and so on.
Can I make this ahead?
You could, but it's not really worth it, as this creamy mac only takes 15 minutes to cook and it tastes best when served immediately.
How do you reheat mac and cheese without milk?
Reheat in the microwave or stovetop before serving. I prefer the microwave in this case because reheating on the stove might cause the sauce to stick to the bottom of the pan. If you reheat on the stovetop, do it in a nonstick pan; add a splash of milk (if you happen to have some now), a little bit of chicken broth, or water, and stir almost constantly until reheated. If you happen to have other milk substitutes in the house, such as almond, soy, or oat milk, add a splash of any of those.
Can you freeze this?
Let cool completely and freeze in an airtight container or a freezer bag (press the contents flat in the bag) for up to 3 months.
Defrost in the fridge overnight or on the stovetop for a few hours.
Reheat in the microwave, on high, stopping and stirring every minute. If you reheat from frozen, it will take a bit longer; keep going. If reheating on the stovetop, use a nonstick pan, add a little extra liquid, and stir constantly but gently while reheating.
How to thin out mac and cheese without milk?
If you want to reheat the leftovers or your cheese sauce is too thick and you want to thin the mac-n-cheese add a little bit of chicken broth or water and stir almost constantly. Of course, there are other milk substitutes to thin your macaroni and cheese - add some almond, soy, oat, rice, or coconut milk. You can check all the milk substitutes above!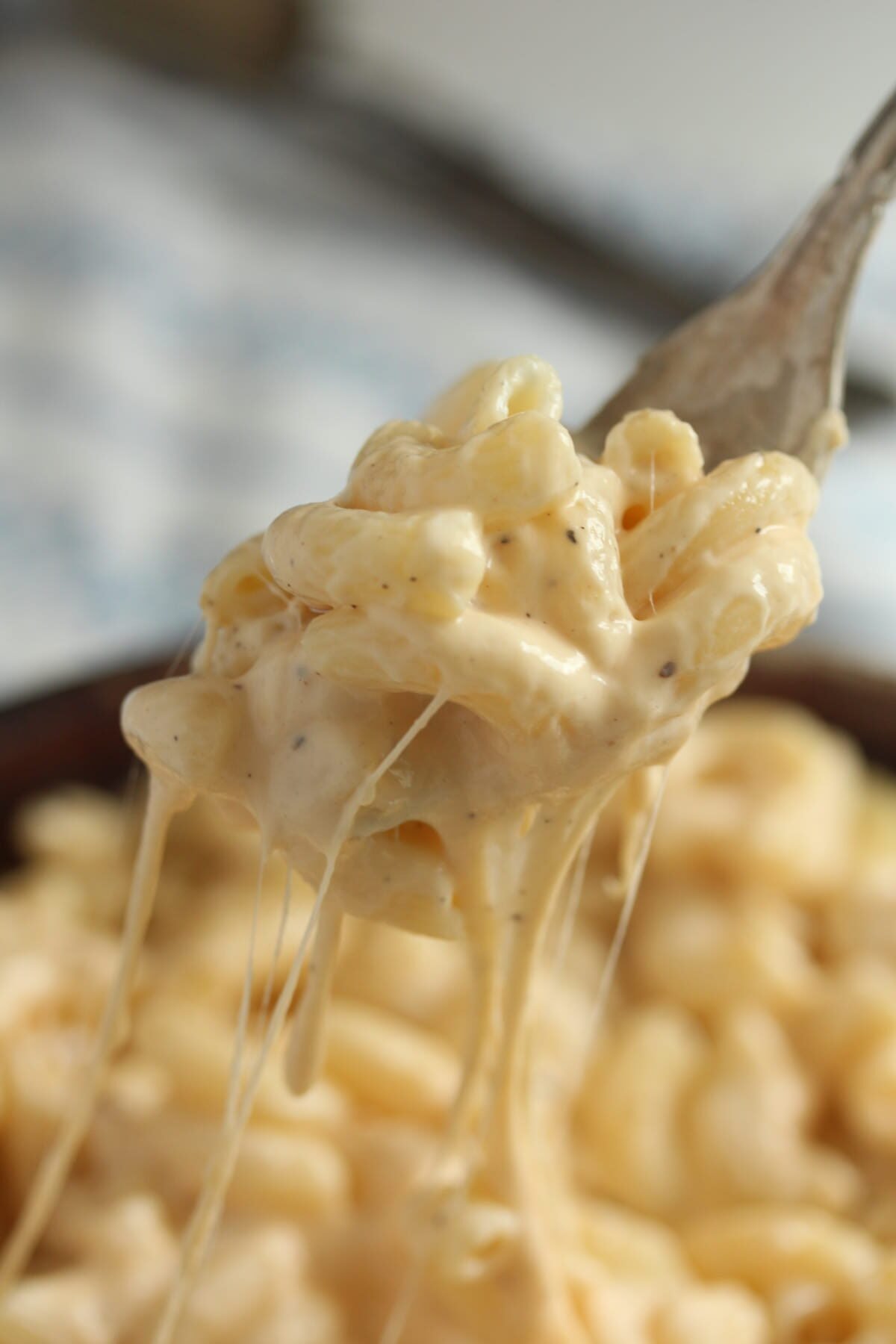 More mac n cheese recipes
Hungry for More Fast Recipes?
Sign up for our Newsletter to receive new, quick, and delicious recipes in your inbox occasionally! Find me sharing daily meal-time inspiration on Pinterest and Facebook
Give my quick recipes a try for your next family meal! Feel free to reach out if you need any assistance!
📖 Recipe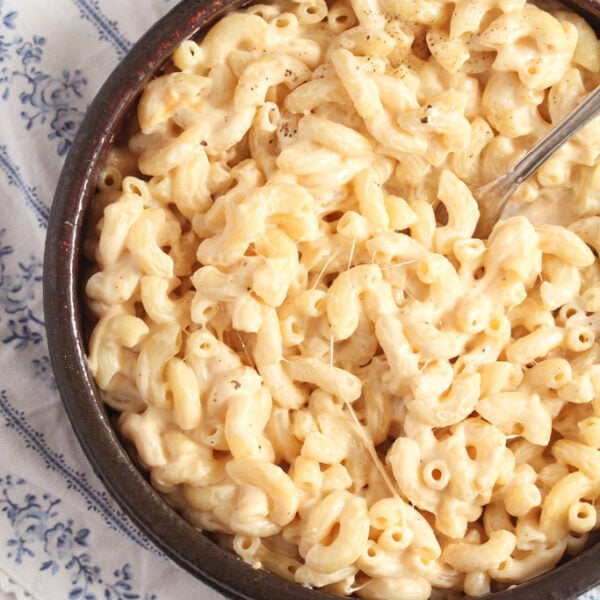 Mac and Cheese without Milk
Quick and easy mac and cheese without milk recipe; a creamy, delicious meal ready in about 15 minutes. Comfort food at its best! 
Print
Pin
Rate
Ingredients
1

lb

elbow macaroni

Note 1, 2

8

oz

Cheddar cheese

about 2 cups (Note 3)

4

oz

mozzarella

about 1 cup

8

oz

package cream cheese

1

teaspoon

Dijon mustard

fine sea salt

to taste

ground black pepper

to taste
Instructions
Cook pasta: Bring a large pot of water to a boil, add salt generously. Cook macaroni according to the packet's instructions. Reserve about 1 cup of pasta water. Drain well.

Melt cheese: Shortly before the pasta is cooked, heat a large saucepan. Add grated cheese, cream cheese, mustard, some salt, and pepper. Melt cheese on low heat, constantly stirring, for about 2 minutes. Don't overheat the mixture.

Combine: Add drained pasta and about ¼ - ½ of the reserved pasta water (as needed for a creamy consistency) and stir to combine. Adjust the taste with more salt and pepper if necessary. Serve immediately.
Notes
Any other short pasta shape will be fine.
Don't forget to reserve some pasta water before draining the noodles.
You can use other cheese sorts as well - for example, Gouda, Fontina, Swiss, Provolone, and so on.
Nutrition
Calories:
929
kcal
|
Carbohydrates:
88
g
|
Protein:
39
g
|
Fat:
46
g
|
Saturated Fat:
27
g
|
Polyunsaturated Fat:
2
g
|
Monounsaturated Fat:
12
g
|
Cholesterol:
144
mg
|
Sodium:
733
mg
|
Potassium:
410
mg
|
Fiber:
4
g
|
Sugar:
5
g
|
Vitamin A:
1522
IU
|
Vitamin C:
1
mg
|
Calcium:
632
mg
|
Iron:
2
mg