Learn how to make crispy air fryer gnocchi, a delicious 2-ingredient dish ready in less than 15 minutes. Mix them with your favorite pasta sauce or pesto for a quick and comforting dinner.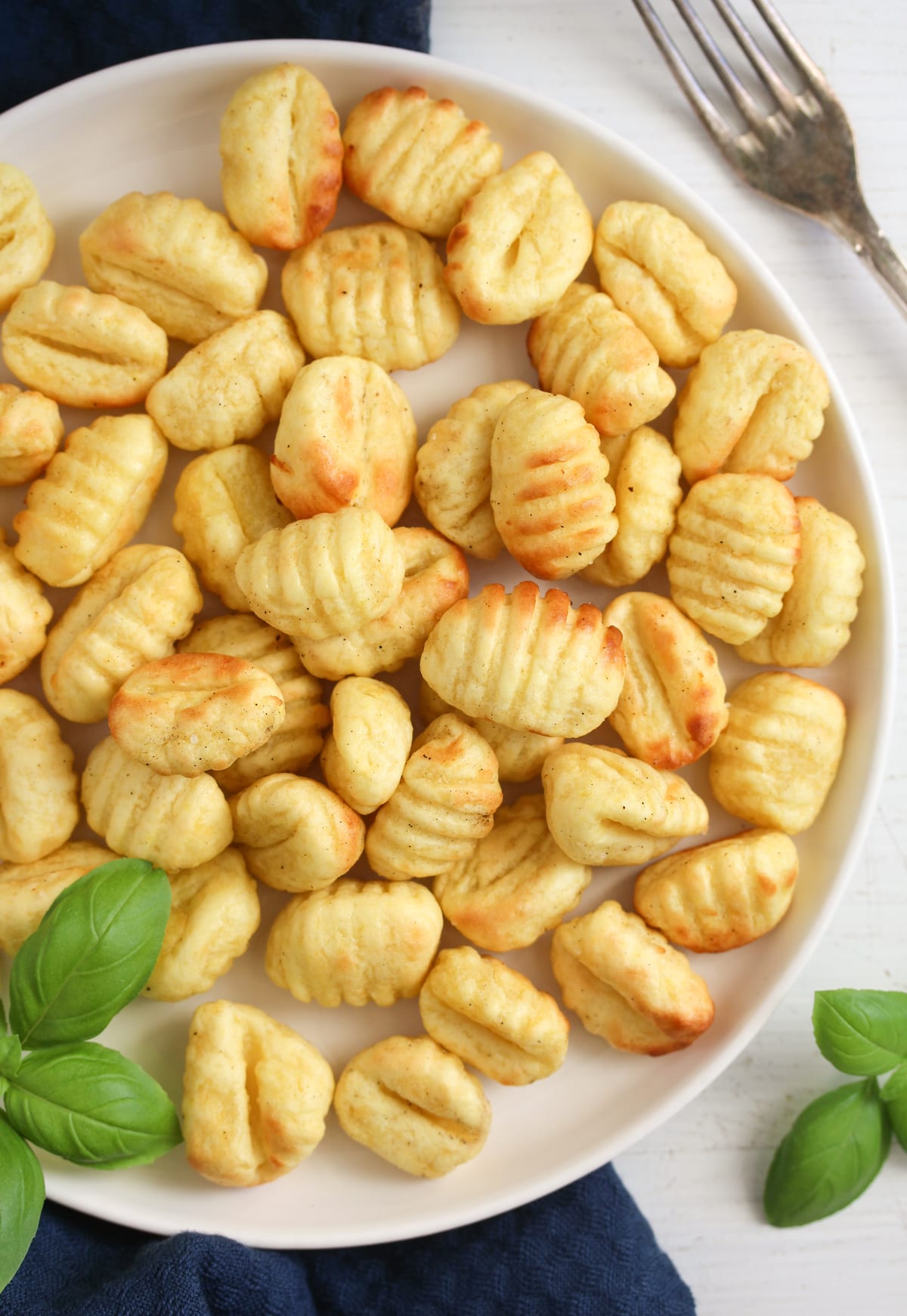 Crispy on the outside and soft inside, slightly golden brown and so comforting, these air fryer gnocchi have become a family favorite. We do love gnocchi, mind you, so it's not difficult to love these or any dish including them.
But being able to have them ready so quickly, without having to bring a large pot of water to a boil, and crispy on top of everything, it's just great!
And if you like gnocchi just as much as we do, have a look at our recipes for Creamy Pesto Gnocchi, Gnocchi Gorgonzola, or Simple Fried Gnocchi. And keep in mind that you can use today's air fryer gnocchi to mix with pesto or Gorgonzola sauce.
Jump to:
What is the best about the gnocchi?
Texture: Crispy and soft, quite addictive actually, you won't be able to stop eating them.
Versatile: Have them as a main dish with a sauce or dressing and a salad, as a side for something else, or as a quick snack in between.
Fast: Ready in less than 15 minutes.
Cheap: Only two ingredients: the dumplings and a touch of oil.
Recipe ingredients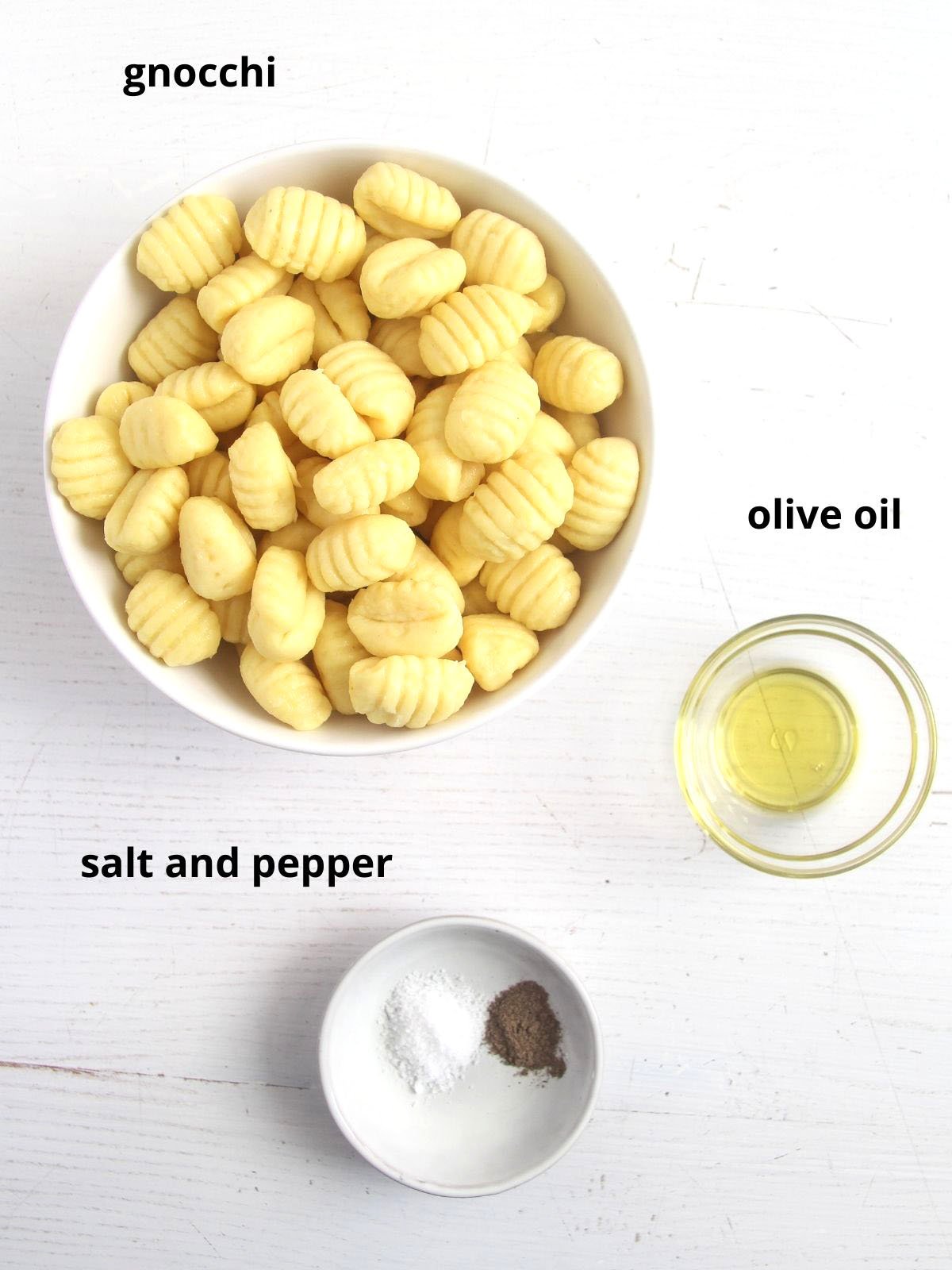 Gnocchi:
You can air fry frozen, shelf-stable, or chilled, fresh gnocchi. Most of the time, I use the chilled ones, but the other two options are also excellent.
Olive oil:
Just a bit of olive oil helps the dumplings get nice and crispy and achieve a lovely golden color. You can also use cooking spray or vegetable oil, but I prefer olive oil.
Otherwise, you will need some salt and black pepper. And some freshly grated Parmesan if you like; it's terrific if you grate it on the hot dumplings.
Recipe steps
Preheat the machine if necessary; some of them need it, some do not. Mine needs 3 minutes of preheating.
Toss the dumplings with the oil and a little seasoning in a large bowl to coat them. Place gnocchi into the air fryer basket (1).
Air fry them at 390 degrees Fahrenheit (190 degrees Celsius). Give them a good shake every 3 minutes or so (2).
Season with salt and pepper.
How long to cook them?
Chilled: 8-10 minutes
Frozen: 10-12 minutes
Shelf-stable: 10-12 minutes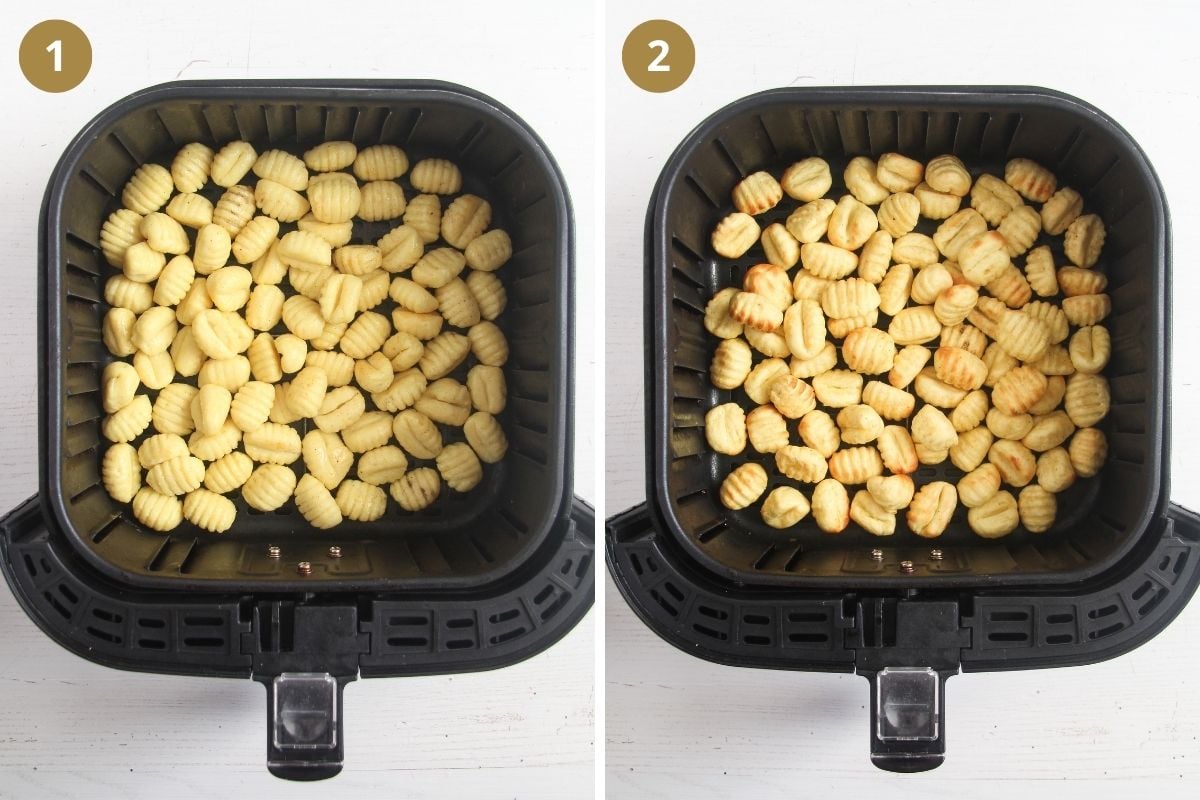 How to serve them?
Main meal:

Serve them with your favorite sauce, freshly grated Parmesan cheese, and fresh basil. For instance, something like the Hearty Marinara Sauce, Neapolitan Sauce, or another tomato sauce like Sugo.
Try them with this Easy Chicken Pomodoro Recipe, for example. Or toss them with pesto, cheese (try a mac and cheese sauce), sour cream, or crème Fraiche.
Mix them with roasted broccoli, cauliflower, or Brussels sprouts for a vegetarian meal. Or with lightly steamed spinach, halved cherry tomatoes, a little cream, cream cheese, or extra-virgin olive oil and balsamic vinegar.
Side dish for chicken or fish.
Snack: with salsa, hot sauce, sweet sauce, or even sweet sprinkled with a bit of sugar and cinnamon.
Expert Tips and FAQ
Unlike other foods cooked in the air fryer, the dumplings don't have to lay in a single layer. Just don't forget to toss them a few times in between.
Air fryers might be different so the cooking time might vary. Make sure to check after 7-8 minutes already, they should be crispy on the outside and just a little golden, not too dark. If the dumplings are cooked for too long, they will get chewy.
You can add other seasonings. Try some garlic powder, chili, or Italian seasoning. We even had them with curry powder and loved them.
Recipe FAQ
What are gnocchi?
They are a type of Italian pasta or dumplings. The best-known, traditional gnocchi are made with potatoes, but you can also make these beautiful dumplings with semolina, flour, Ricotta, or vegetables like cauliflower, pumpkin, and so on.
Do I need to pre-boil them?
No, just cook them directly from the freezer, fridge, or bag.
How to store them?
Refrigerated in an airtight container for about 3-4 days. Reheat them in the microwave or the preheated air fryer for about 3-4 minutes, shaking the basket occasionally. I also like them at room temperature; I don't always reheat them.
Freeze them for up to 2 months in an airtight container or a freezer bag. You don't need to defrost them; just reheat them from frozen. However, depending on the sort of gnocchi you have, they might change their texture after freezing.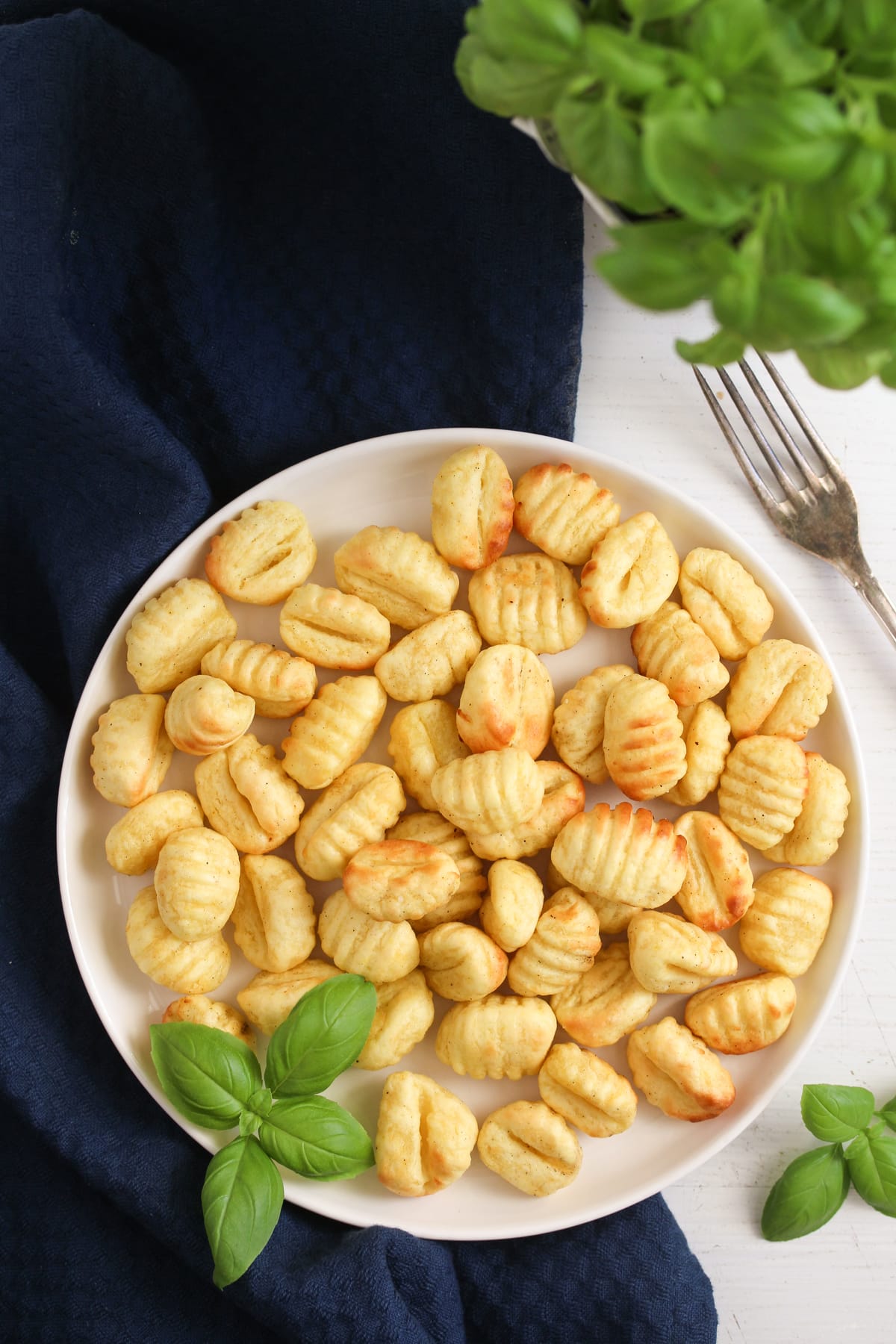 More Air Fryer Recipes
More Pasta Recipes
Hungry for More Fast Recipes?
Sign up for our Newsletter to receive new, quick, and delicious recipes in your inbox occasionally! Find me sharing daily meal-time inspiration on Pinterest and Facebook
Give my quick recipes a try for your next family meal! Feel free to reach out if you need any assistance!
📖 Recipe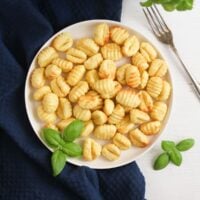 Crispy Air Fryer Gnocchi
Learnhow to make crispy air fryer gnocchi, a delicious 2-ingredient dish ready inless than 15 minutes. Mix them with your favorite pasta sauce or pesto for aquick and comforting dinner.
Print
Pin
Rate
Ingredients
1

bag of gnocchi

Note 1,2

1

tablespoon

olive oil

fine sea salt and freshly ground black pepper
Instructions
Preheat the air fryer (if requested by the instruction manual).

Toss gnocchi, olive oil, and a little salt and pepper. Place them in the air fryer basket.

Air fry them at 390 degrees Fahrenheit (200 degrees Celsius), shaking every 3 minutes or so, until crispy and lightly golden.
Cooking time (Note 3):
Chilled: 8-10 minutes

Frozen: 10-12 minutes

Shelf-stable: 10-12 minutes

Add more salt and pepper to taste. You can also sprinkle them immediately with Parmesan.
Notes
You can use chilled, frozen, or shelf-stable potato gnocchi.
Between 12 – 16 oz (350 – 450 g), that might vary according to the brand. The nutrition is calculated for 16 oz (450 g) gnocchi.
The cooking time depends on the kind of gnocchi you are cooking and the air fryer. Please start checking after 7-8 minutes already.
Nutrition
Calories:
287
kcal
|
Carbohydrates:
54
g
|
Protein:
6
g
|
Fat:
6
g
|
Saturated Fat:
1
g
|
Polyunsaturated Fat:
1
g
|
Monounsaturated Fat:
3
g
|
Sodium:
513
mg
|
Potassium:
1
mg
|
Fiber:
3
g
|
Calcium:
30
mg
|
Iron:
5
mg