No time to cook tonight? Try one of our fast pasta recipes; they go faster than delivery, and are healthier, cheaper, and more delicious!
Quick Pasta Dishes
What to cook when you are out of time? Pasta! It's the first thing that comes to mind. Each and every time. OK, some cheese on a good slice of bread is fast and tasty as well, but it's not really cooking; most of the time, I want something warm and comforting.
So, pasta it is. There are many ways of making a quick and delicious sauce for tossing with freshly cooked, hot pasta shapes. Here are some of my favorite recipes.
10 fast pasta recipes, all the sauces are made while the noodles are cooking on the stove. All recipes are good value, using few and relatively cheap ingredients. And you might not even have to go shopping to cook any of them; pantry/freezer/fridge ingredients rule these days.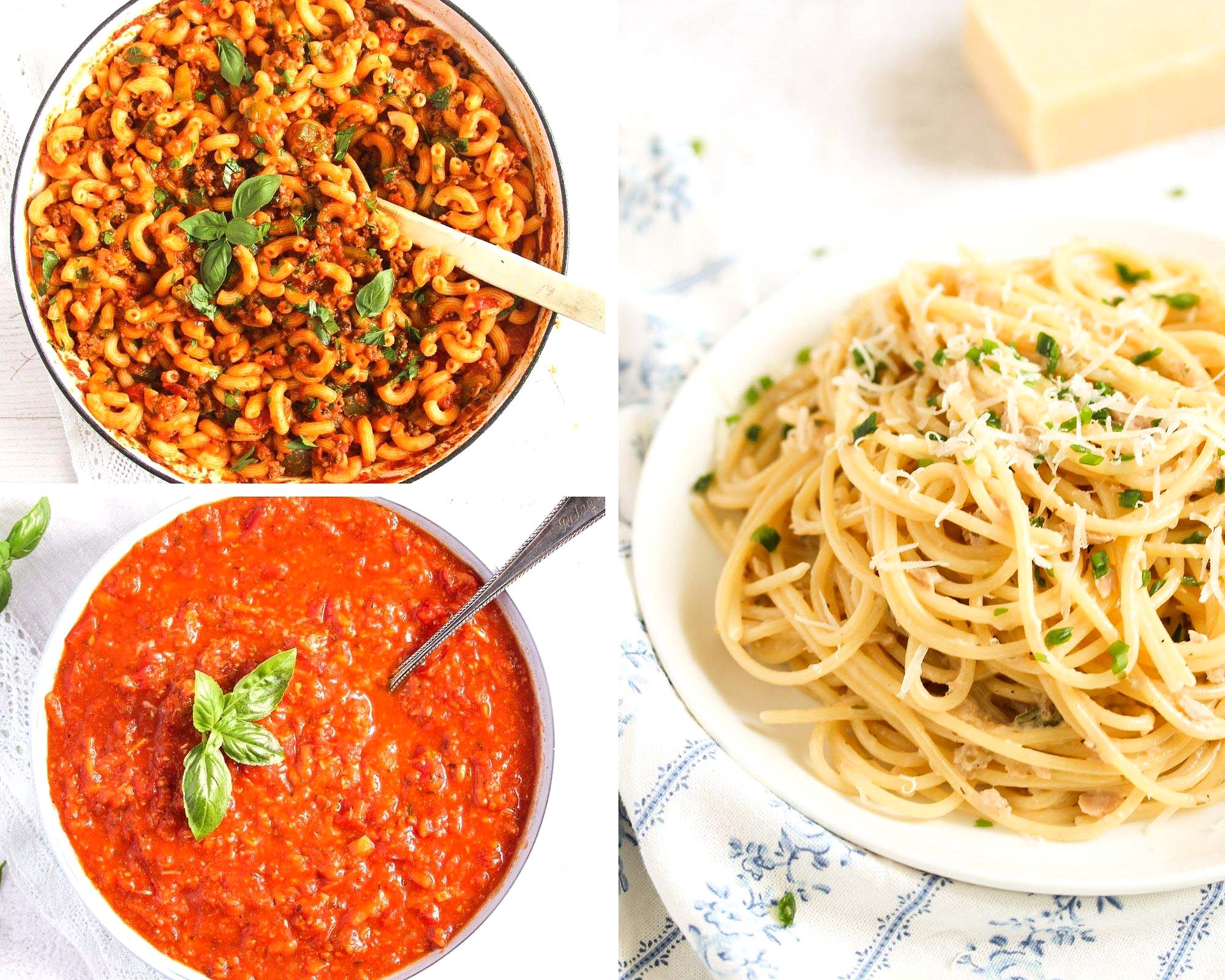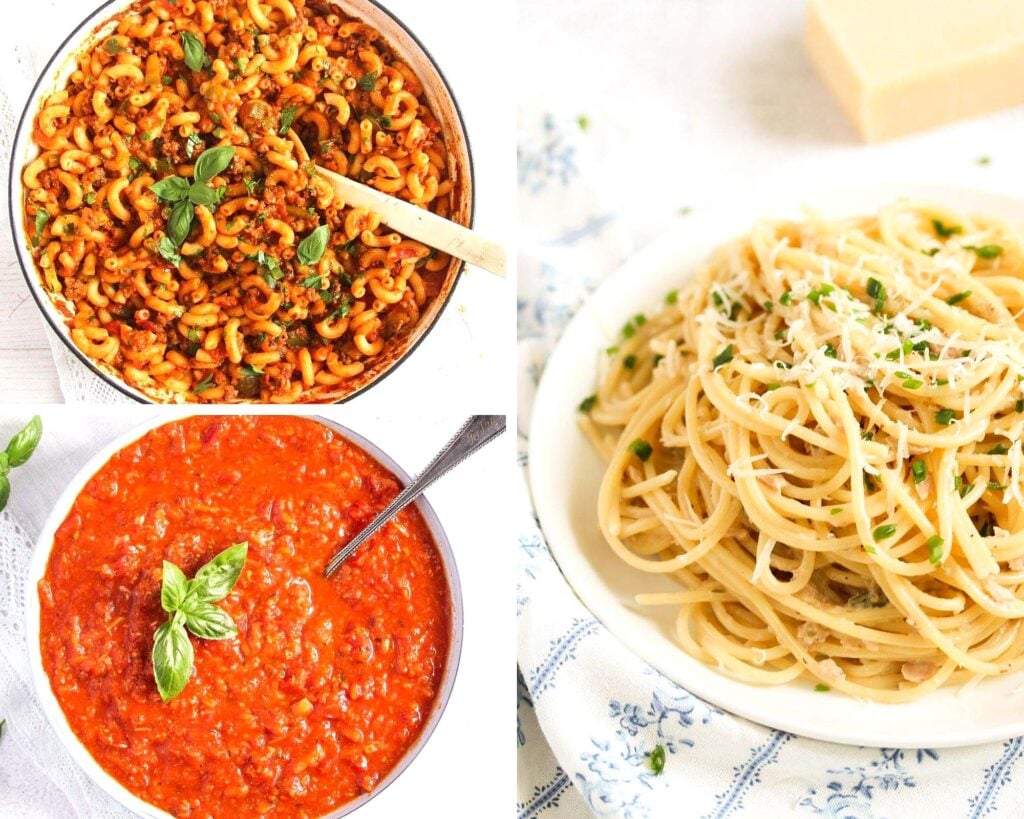 Pantry ingredients:
Pasta
Any kind of shape you like. I tend to buy noodles in bulk most of the time. Not that I go and buy a big pack, but when I think there is not much left in the pantry, I tend to buy 5 x spaghetti and 5 x other shapes, 2x whole wheat, and 2 x Asian-style noodles.
I always include macaroni; they seem to be what the kids love best besides spaghetti. And although you can make cheesy noodles with absolutely any other kind, they don't feel right when they are not macaroni.
Some wide noodles like tagliatelle or fettuccine are always on the list, they look elegant, and I love to serve them with ragu or meat sauces.
And then the more "boring" penne or fusilli, unspectacular but fitting for most anything.
To think about it, I assume I have my way of choosing noodles for a particular sauce. Macaroni + cheese, spaghetti + carbonara or cream, penne + tomato sauce, tagliatelle + meat sauce, whole wheat + roasted vegetables, and so on.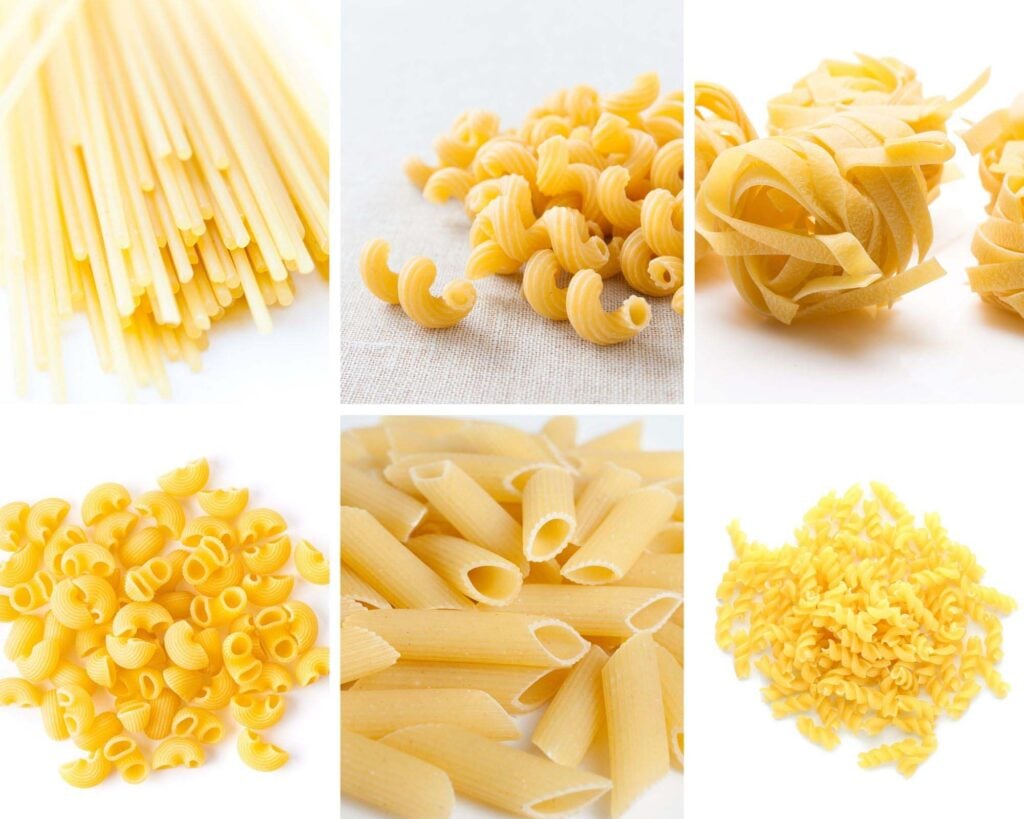 Dairy
Hard cheese:
Parmesan: Always freshly grated from a wedge, it makes all the difference. Parmesan keeps well in the fridge, and a little of it goes a long way, it has a very intense flavor, and you will not need much to make any pasta dish shine.
Pecorino: Another type of hard cheese. Not as popular as Parmesan (and a bit more expensive), but so delicious.
Vegetarian alternative: Vegetarian hard cheese. Parmesan and Pecorino are not vegetarian as they are both made with animal rennet.
Other types of cheese:
Mozzarella, Cheddar, Gouda, Feta, or other cheeses that can be grated and added to noodle dishes are always good to have in the fridge.
They keep well if vacuum-packed; keep an eye on them and try to use them within an appropriate period once you've opened the package.
Cream cheese:
While I don't use a lot of pure cream for cooking (except for carbonara), I use a lot of cream cheese. It makes the sauce creamy and delicious but has fewer calories than heavy cream.
I seldom use full fat unless I think it's essential for a particular dish. But I don't use no-fat or super low-fat spread either. Something in between is fine, at least 16% fat, and going from there.
Crème Fraiche or sour cream are also great when mixed with noodles; I often keep a couple of containers in the fridge just for this purpose.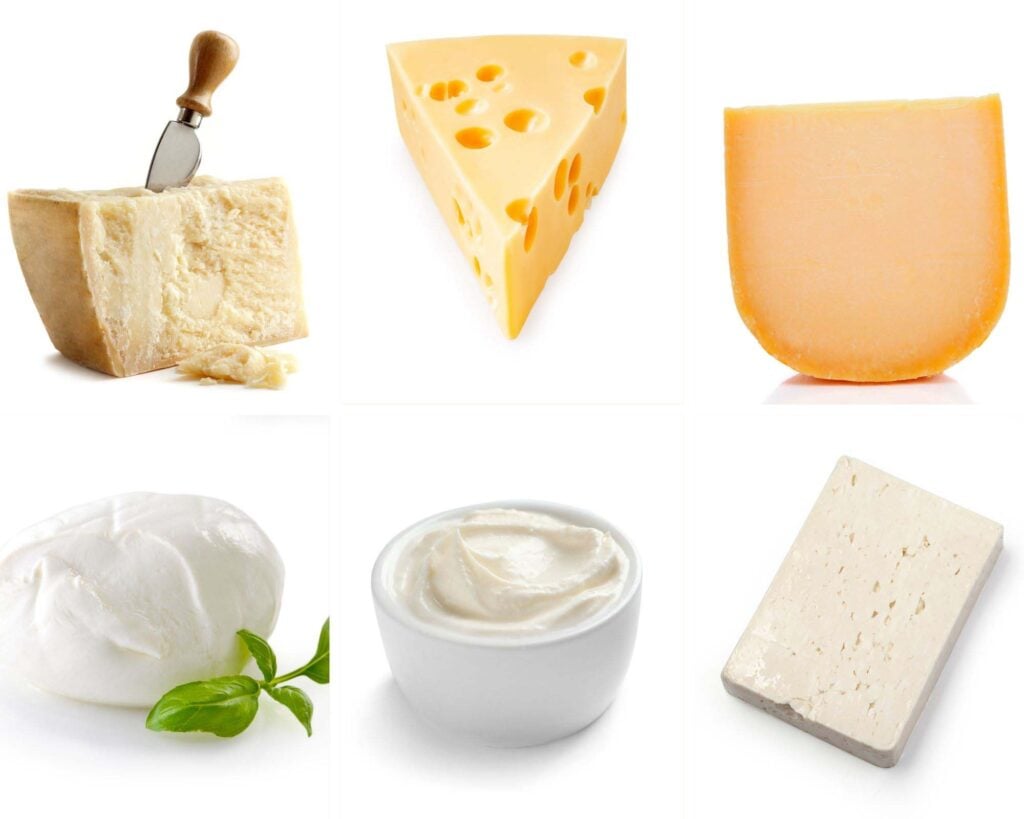 Freezer ingredients
Spinach, broccoli, cauliflower, peas, and so on. All great for making quick pasta dishes.
Chicken breast
Salmon
Shrimps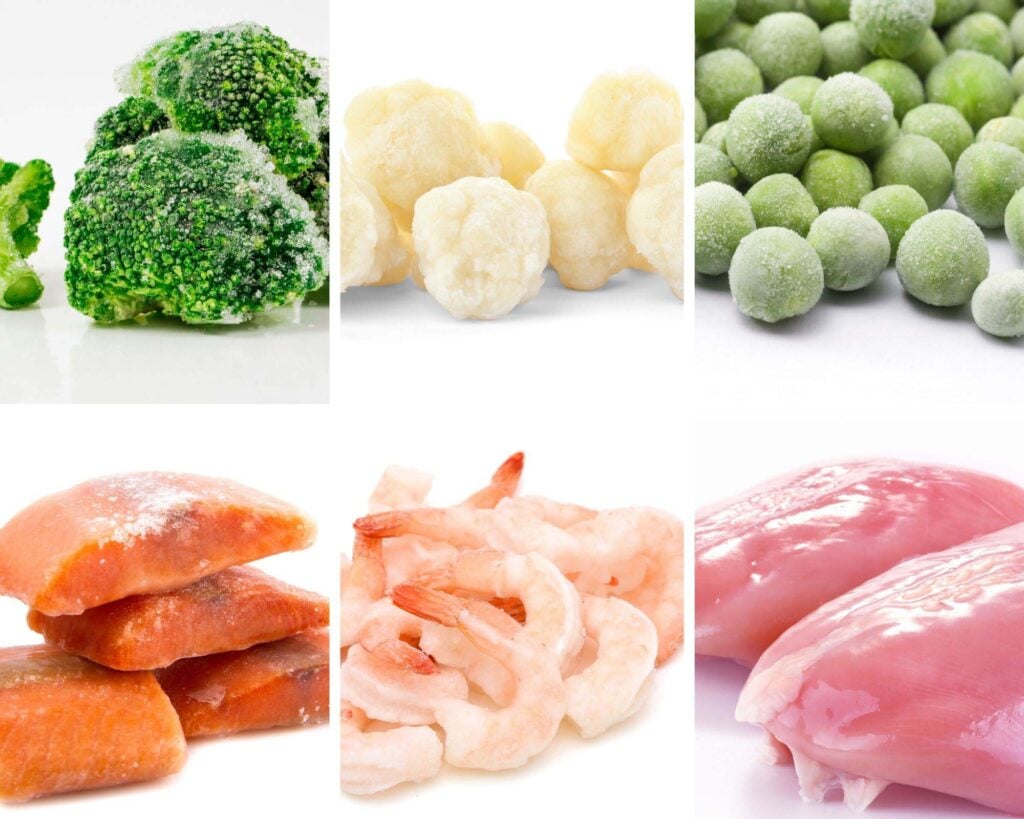 Pantry ingredients
Pesto:
Any kind you like. Bought pesto or homemade, green or red. In the freezer, I have countless jars of homemade lemon balm, mint, basil, or carrot top pesto. Defrosting one jar takes about one hour on the counter. But I usually think about it the night before or in the morning and leave it to defrost in the fridge.
Tomatoes:
Canned tomatoes are a staple in every house. I cannot even imagine not having at least 5 cans in the cellar.
Tuna:
Either in brine or oil. A lifesaver so many times. Great when mixed with cream cheese or heavy cream, with tomato sauce, pesto, sauteed or roasted veggies.
A super quick bonus recipe: mix tuna with canned beans, a finely chopped onion (small), and some olive oil. No need for cooking, the heat of the pasta will be enough. Basic, but filling and tasty.
Other nice-to-have pantry ingredients: artichokes, sun-dried tomatoes in oil, beans, or lentils of any kind.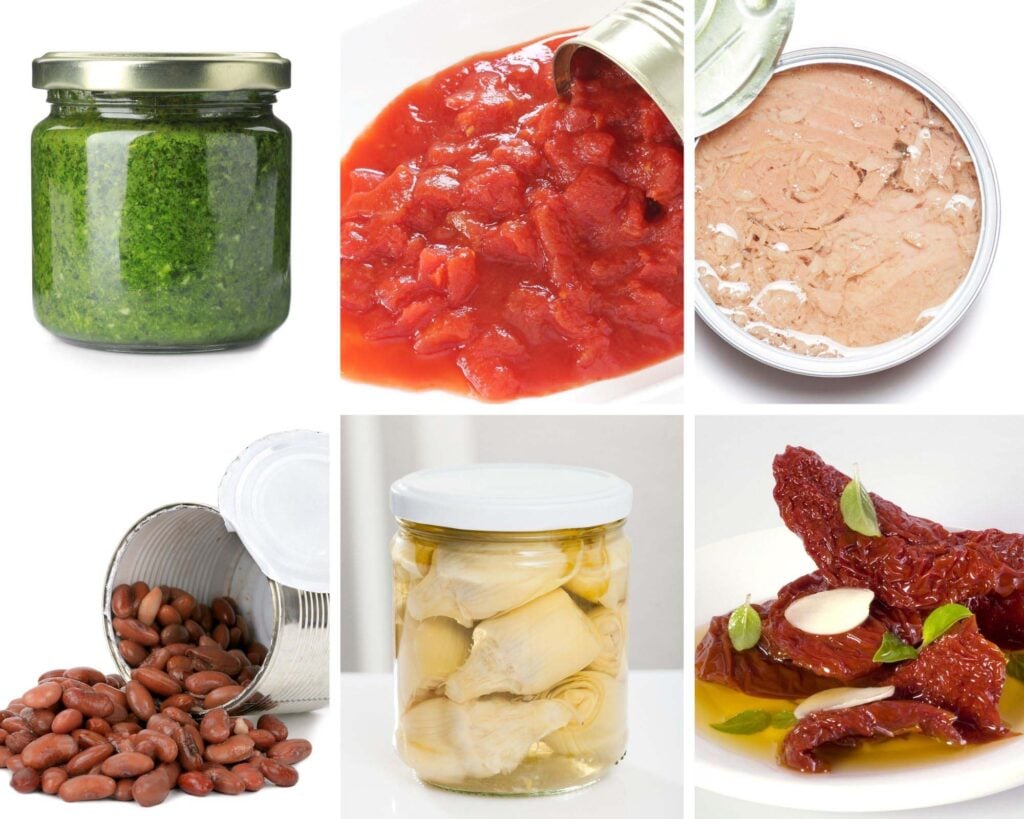 Our favorite fast pasta recipes
Let's get to the best part: the recipes. These are some of our favorite recipes that I cook regularly, and my family loves best—lifesavers on a late evening or a lazy Sunday afternoon.
Crème Fraiche Salmon Pasta
Creamy crème fraiche salmon pasta ready in about 15 minutes. An elegant yet comforting pasta dish using simple ingredients and ready in no time.
Check out this recipe
Fried Spaghetti (with Leftover Pasta)
A super-fast fried spaghetti recipe with tomato sauce and cheese. You can use fresh or leftover spaghetti.
Check out this recipe
Creamy Tuna Carbonara
This tuna carbonara is one of the best twists on a classic recipe. Creamy, comforting, and so full of flavor, a real winner recipe! Ready in about 15 minutes.
Check out this recipe
Quick Leftover Spaghetti Recipe
The most delicious way of dealing with leftover spaghetti. Fry the pasta with bacon and onions and add some grated cheese, your family will be delighted. Dinner ready in about 20 minutes.
Check out this recipe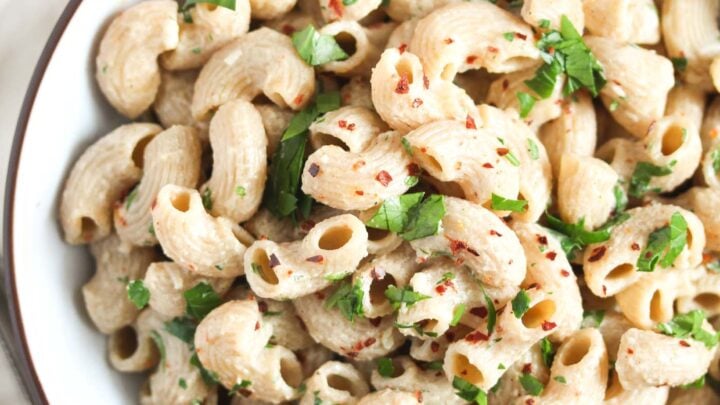 Creamy Tahini Pasta
Creamy, rich, vegan tahini pasta made with just a few ingredients and ready in about 15 minutes. Also very adjustable, you can add more ingredients according to what you have or what you crave.
Check out this recipe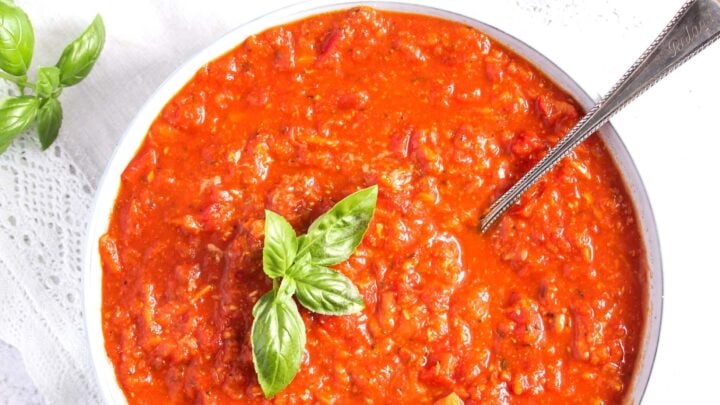 Hearty Marinara Sauce
Flavorful hearty marinara sauce perfect for pasta, pizza, lasagna, polenta, sausages, and so on. Ready in about 30 minutes, this will become your favorite quick tomato sauce.
Check out this recipe
Fast American Chop Suey Recipe
American chop suey is one of the most popular comfort meals in America. A simple combination of elbow macaroni, ground beef, and tomato sauce, this dish is bound to make people happy!
Check out this recipe
Simple Mac and Cheese without Flour
The creamiest mac and cheese without flour, a comforting and addictive dish! Ready in about 30 minutes.
Check out this recipe
Mascarpone Pasta (Tomato and Mascarpone Sauce)
Creamy mascarpone pasta with tomatoes, ready in about 20 minutes.
Check out this recipe
Easy Chicken Pomodoro Recipe
Chicken pomodoro served with pasta and basil. Light, delicious, super-fast dinner idea for any day of the week. Ready in less than 30 minutes.
Check out this recipe
What to serve with pasta dishes?
Good bread: Try French or Italian-style bread, crusty loaves or baguettes, sourdough bread, and so on. No soft white bread - that would not do.
Salads: leafy, fresh salads dressed with olive oil and good vinegar. Or make some tomato and avocado salad, chopped cucumber, or grated carrot salad.
Vegetables: sauteed vegetables like asparagus, leeks, Swiss chard, kale, spinach, and green beans. Roasted vegetables like broccoli, cauliflower, root beet, carrots, and so on. Plain-boiled veggies should be fine as well. Try some peas or a mixture of carrots and peas, broccoli, cauliflower, or green beans.
Soup: You can also serve a simple soup as a starter. Try something creamy and straightforward.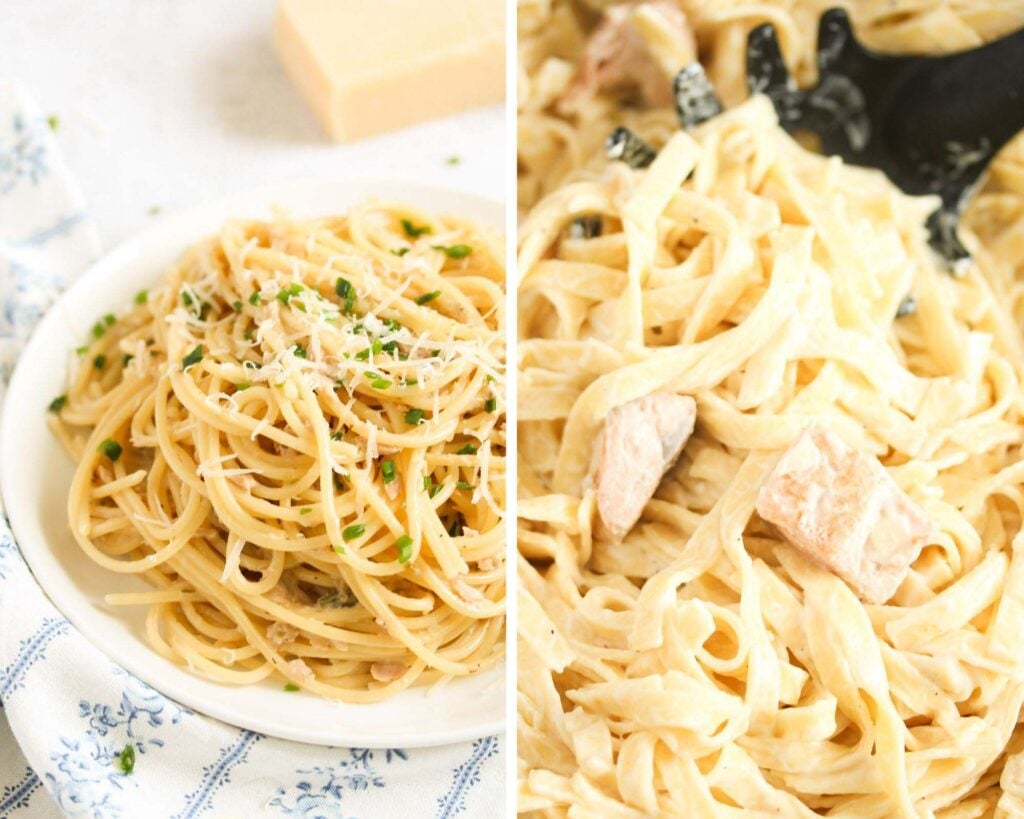 Hungry for More Fast Recipes?
Sign up for our Newsletter to receive new, quick, and delicious recipes in your inbox occasionally! Find me sharing daily meal-time inspiration on Pinterest and Facebook
Give my quick recipes a try for your next family meal! Feel free to reach out if you need any assistance!
Check out some of our web stories:
10 Interesting Facts About Pasta
How to make the American Chop Suey
Sauces that go well with pasta