A super-fast fried spaghetti recipe with tomato sauce and cheese. You can use fresh or leftover pasta.
Super-Fast Leftover Fried Spaghetti Recipe
Is there some leftover pasta in your fridge? Or are you looking for a super quick and delicious recipe to cook tonight? Either you make the fry spaghetti with freshly cooked or with leftover pasta, you will have dinner on the table in less than half an hour.
Delicious and versatile leftover spaghetti recipe perfect for using up not only pasta leftovers but also various leftovers you might happen to have in the fridge, freezer, or pantry. For instance: cheese scraps, bacon, peas, a can of tuna, canned or fresh veggies, chicken bits, and so on.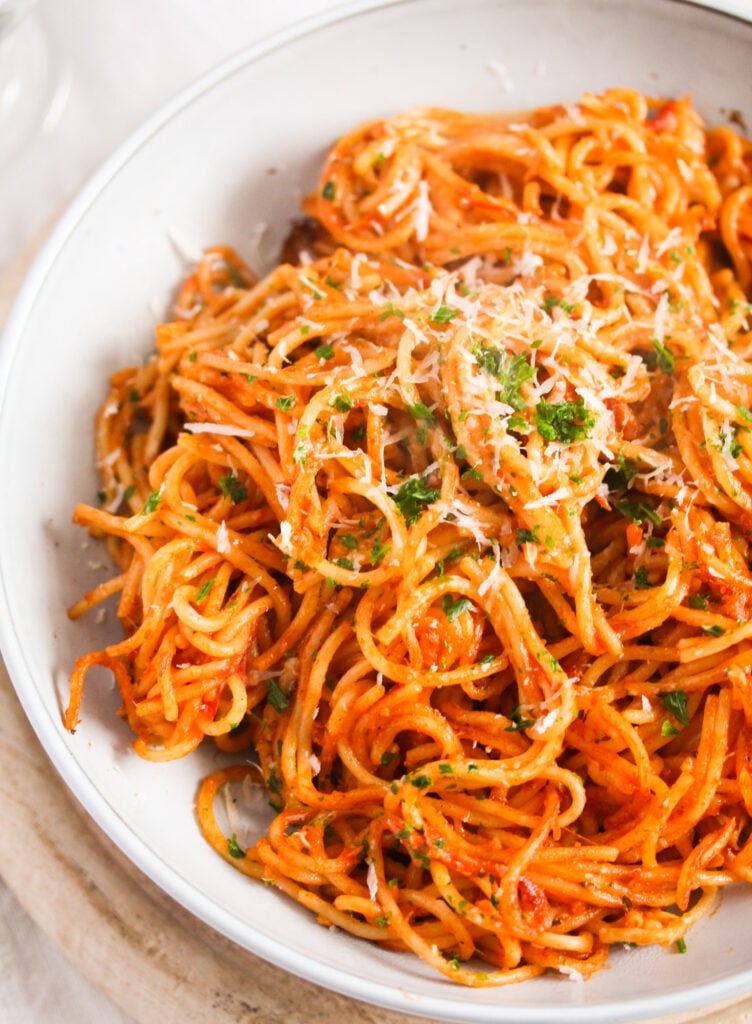 What do you need?
Pasta:
You can make fried pasta with any other pasta sort.
How much dry or cooked pasta do I need?
250 g/ 8.8 dry spaghetti pasta.
If you have leftovers, you will need more or less 550 g/ 1.2 lb. pasta.
When using cooked noodles don't stress too much about the exact amounts. If all you have are about 450 g/ 1 lb. or maybe 650 g/ 1.4 lb. leftovers, the dish will still taste great!
And if you want to calculate the ratio of dry to cooked pasta sometime in the future, all you must do is to multiply the amount of dry pasta by 2.25. So, in this case: 250 (grams of dried pasta) x 2.25 = 562 (grams cooked pasta).
Cheese:
I had Parmesan and mozzarella cheese.
I always say that Parmesan is for the taste and mozzarella for the fun and comfort.
Tomato sauce:
I often use my homemade tomato sauce if I happen to have a jar in the freezer. Or one of these flavorful and quick-to-make Hearty Marinara Sauce or Italian Tomato Sugo Recipe.
If not, your favorite brand of tomato sauce is perfectly fine.
And you will also need some tomato paste for extra tomato flavor. The paste also helps thicken the sauce.
Spices: oregano, salt and pepper.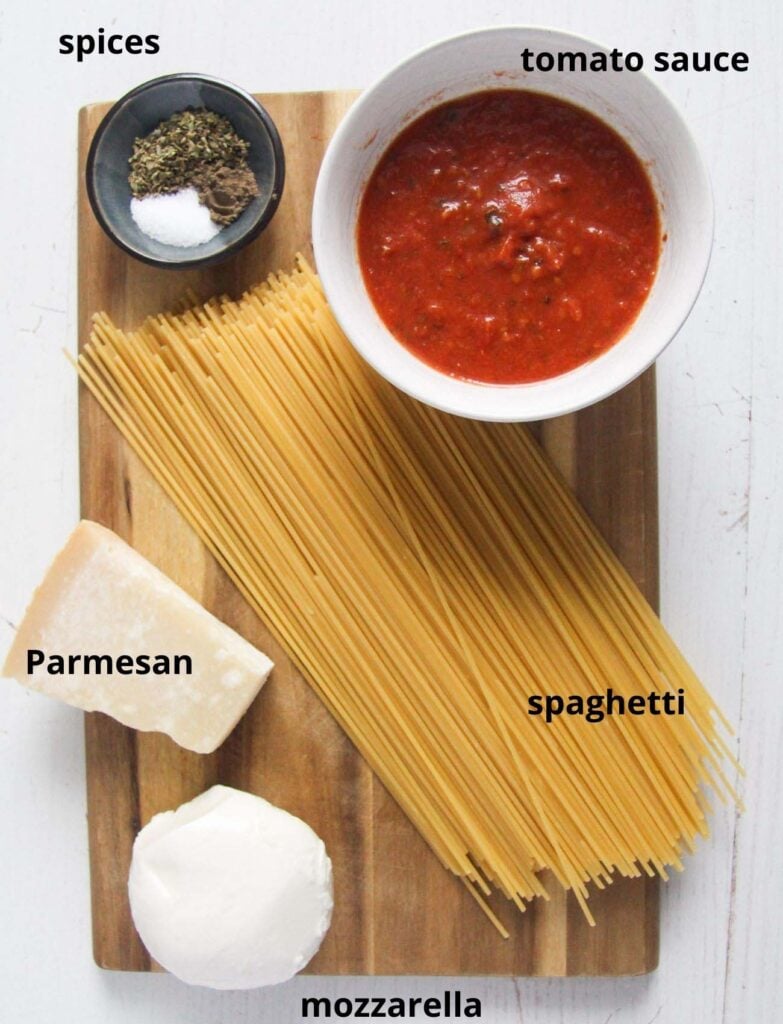 What can I add to the sauce?
Whatever you happen to have in the fridge or pantry. This is a pretty basic recipe, and you can do a lot with it.
Bacon: fry some cubes right at the beginning.
Onion and garlic: fry a small finely chopped onion and one or two garlic cloves (with the bacon, for instance) until soft.
Add some peas, green onions, or some chopped canned artichokes. Or 2 handfuls of fresh baby spinach right at the end.
Add cooked and shredded chicken. You can use leftovers as well or a little from a bought rotisserie chicken.
Add a small can of tuna, drained.
Use other dried herbs or spices, for instance, chili.
Replace the cheese with any other kind of cheese you have. Cheddar or Gouda is great, for instance.
Stir some cream, sour cream, or cream cheese into the tomato sauce, it will make it milder.
Add some fresh herbs at the end. Basil is perfect, but parsley, chives, or even cilantro are great as well.
Make an omelet or fry some eggs and serve them on top of the fried spaghetti.
How to fry spaghetti?
If you don't have leftover pasta, cook some. Drain well.
Heat a large skillet.
Add cooked noodles. (1)
Add tomato sauce, tomato paste, oregano, salt, and pepper. (2)
Stir well to coat with the sauce.
Heat well, especially if the noodles were cold, from the fridge.
Add grated Parmesan and cubed mozzarella. (3)
Stir well until the cheese is melted.
Adjust the taste with salt and pepper and serve immediately. Sprinkle with herbs if desired. (4)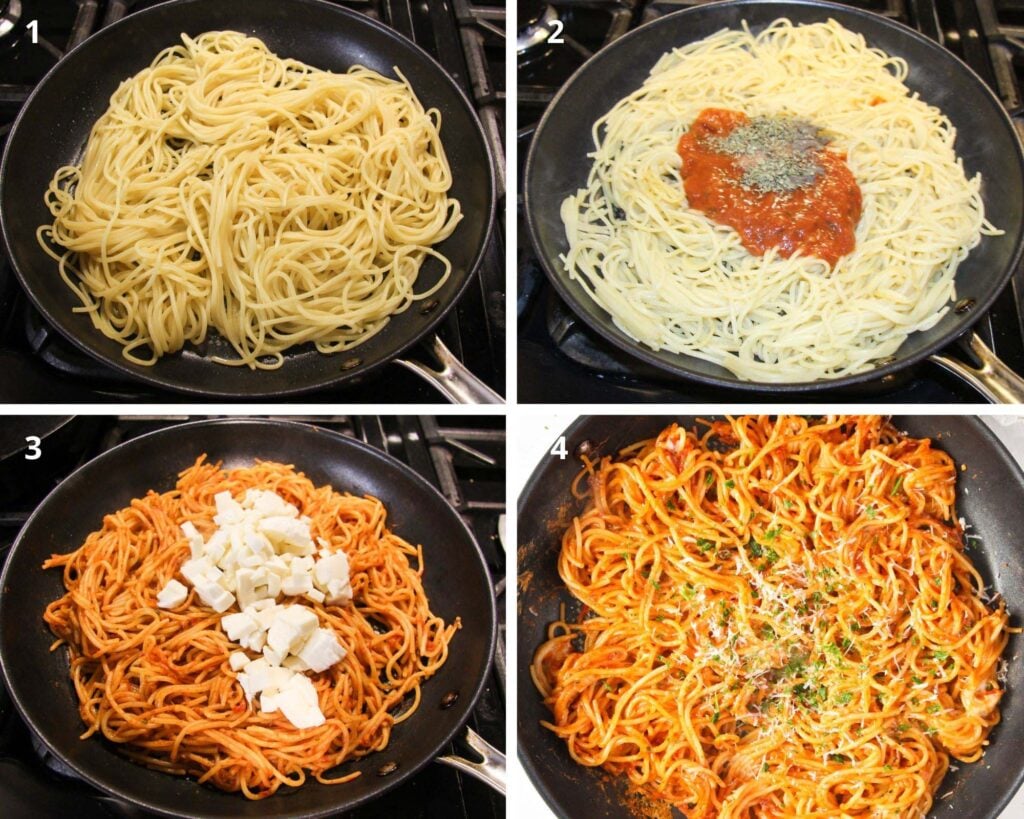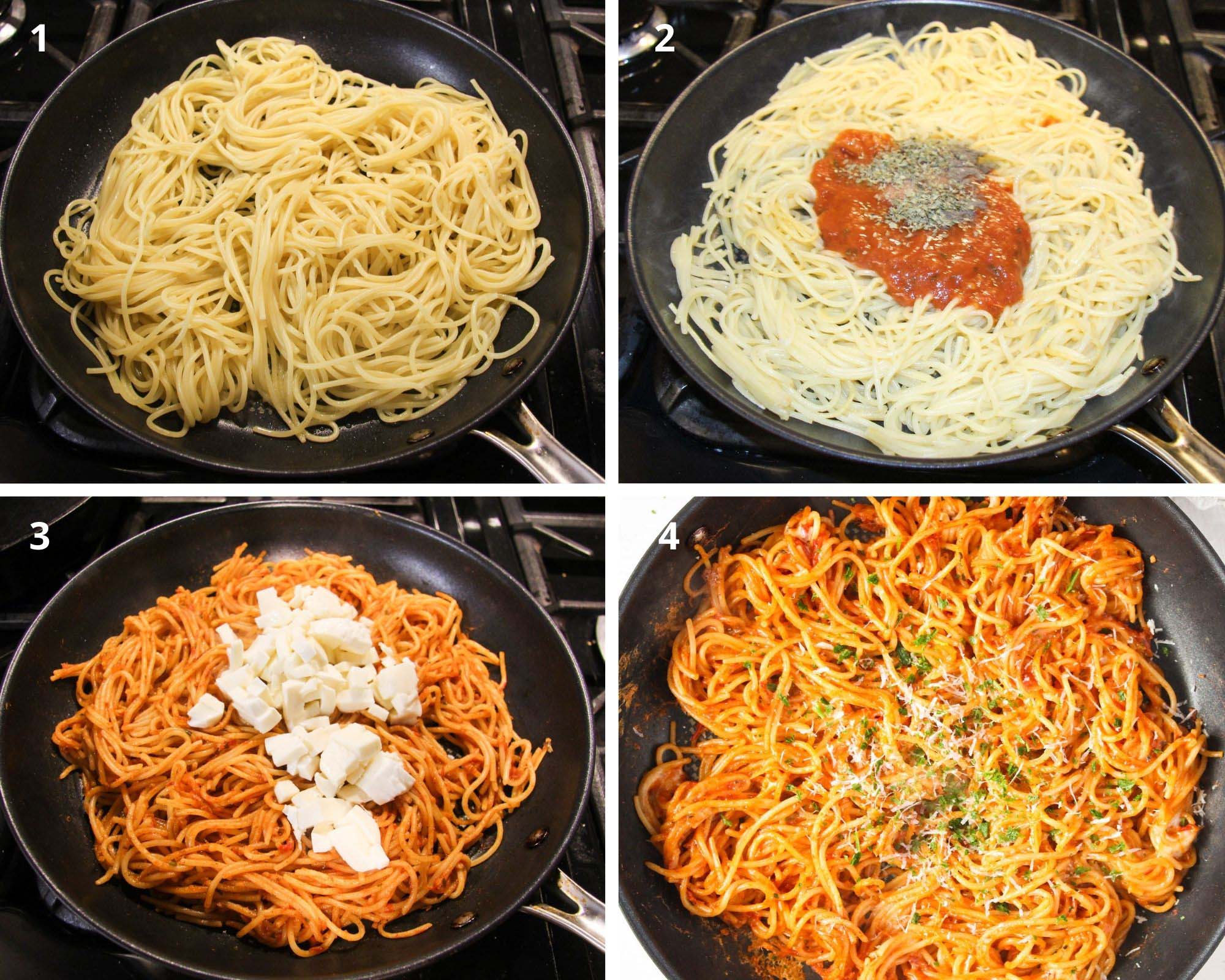 Tips
Penne, fusilli, macaroni, and so on, are all perfect for this dish.
If you are cooking the noodles for the dish, you can speed up the process by boiling the water in a kettle first. Pour the boiling water into the pot and cook the second batch of water in the kettle. Pour into the pot as well, add salt generously (the water should be as salty as the ocean), and bring it to a boil again. Once it boils, add the dry pasta.
Cook al dente, don't overcook it. If you start with dry noodles, it's actually better to cook it 1 minute less than instructed, it will cook some more in the pan.
Read the part regarding the changes you can make. Add some of the suggested ingredients to make a more filling dish.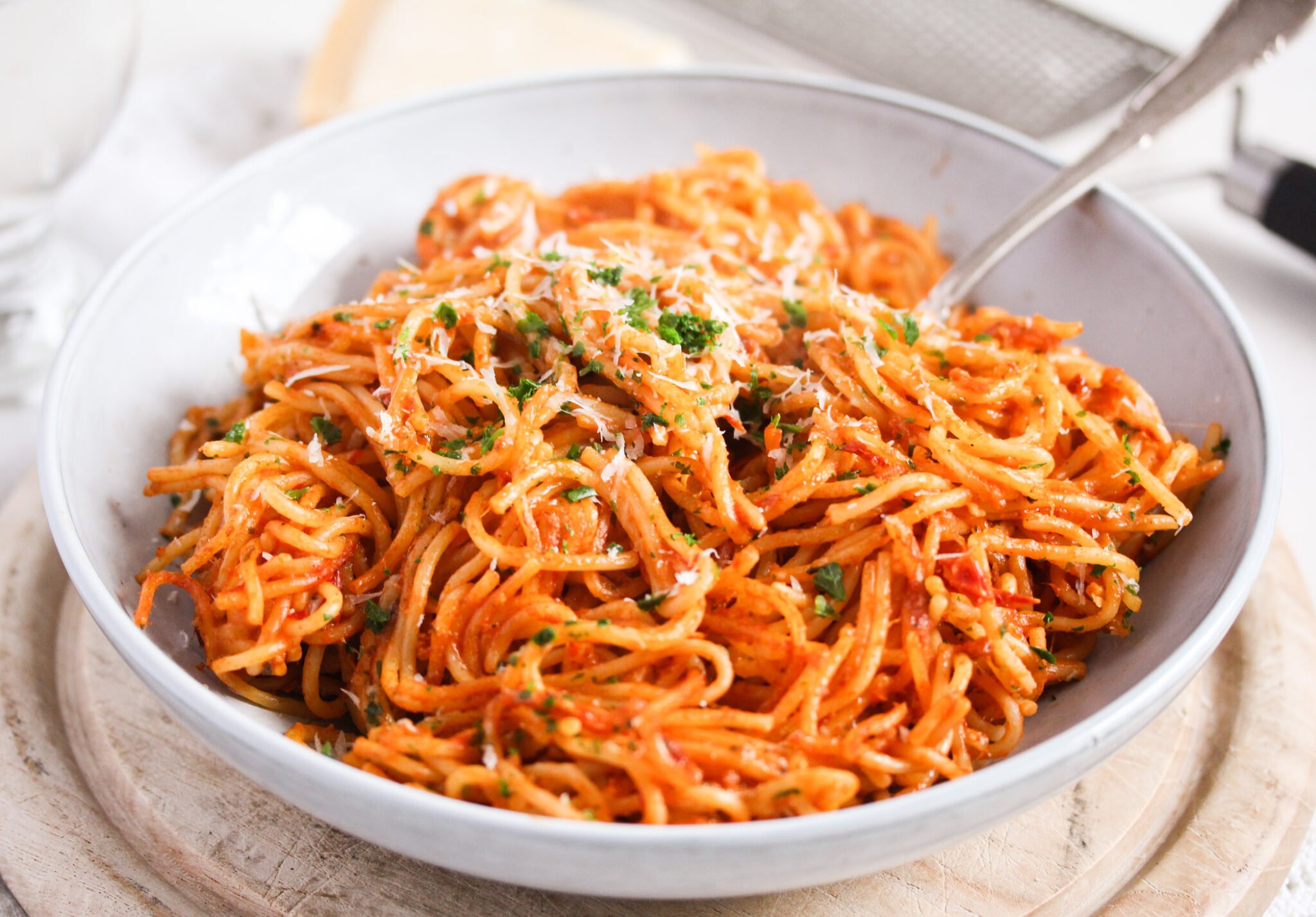 How to serve fried pasta?
Serve the fried spaghetti with a salad of choice.
You can serve with baguette for a more filling dish, but usually, I am not keen on noodles with bread, it's a matter of personal preference.
Cook some chicken breast to go with it or add a fried egg on top.
How to store and reheat?
The fried spaghetti keep well in the fridge for 3-4 days. Place in an airtight container. Reheat well before serving.
You can reheat them in the pan while stirring often. Or you can use the microwave.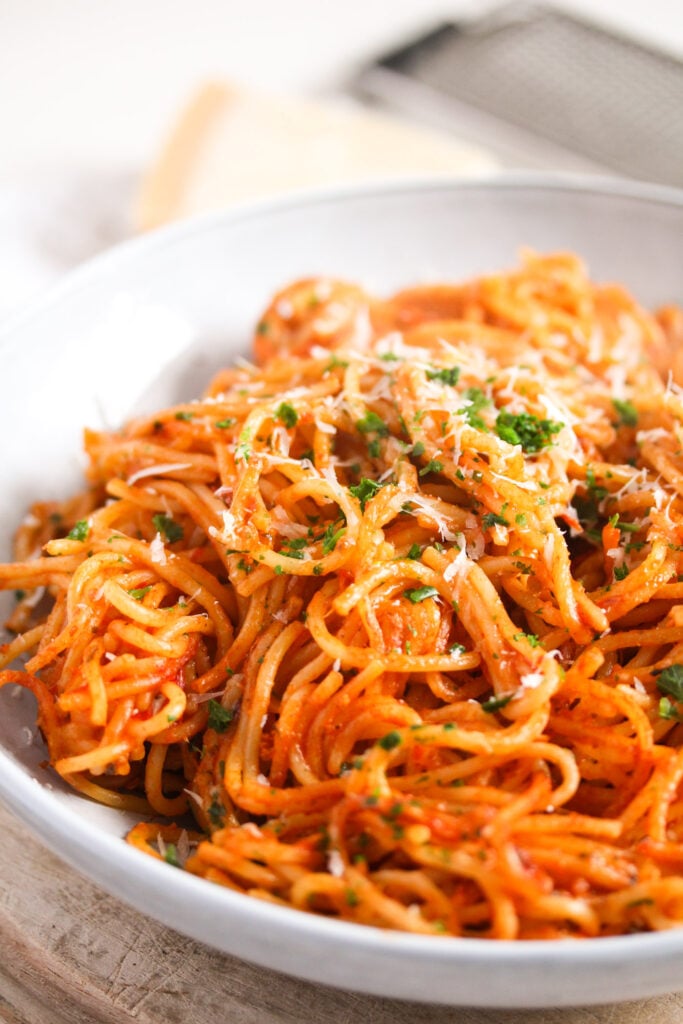 Hungry for More Fast Recipes?
Sign up for the
Newsletter
to get new quick and delicious recipes in your inbox each week! Find me sharing daily meal-time inspiration on
Pinterest
and
Facebook
Fried Spaghetti (with Leftover Pasta)
A super-fast fried spaghetti recipe with tomato sauce and cheese. You can use fresh or leftover spaghetti.
Print
Pin
Share
Grow.me
Saved!
Rate
Ingredients
8.8

oz

uncooked spaghetti

OR 1.2 lb cooked spaghetti (Note 1)

1

cup

tomato sauce

(Note 2)

1

tbsp

tomato paste

1

tsp

dried oregano

1/2

cup

Parmesan

, freshly grated

1

mozzarella

about 125 g/ 4.4 oz (Note 3)

1

tbsp

chopped parsley or other herbs

1/4

tsp

fine sea salt

or Kosher, more or less to taste

1

pinch

ground black pepper
Instructions
Use leftover pasta or cook dry pasta al dente. Drain well.

Heat a large skillet. Add pasta, tomato sauce, tomato paste, oregano. Stir well to coat the spaghetti with the sauce. Heat well, especially if the pasta was cold.

Add grated Parmesan and cubed mozzarella. Stir well until the cheese is melted.

Adjust the taste with salt and pepper, sprinkle with herbs, and serve immediately.
Notes
Or any other type of pasta.
Use homemade or your favorite brand.
You can use other sorts of cheese instead. For instance, Cheddar, Gouda, or anything else you like.
What you could add: onion, garlic, bacon, cooked chicken, canned tuna, peas, canned artichokes, baby spinach, green onions, and so on. See the blog post for more suggestions.
Nutrition
Serving:
1
/4 of the dish
|
Calories:
393
kcal
|
Carbohydrates:
53
g
|
Protein:
19
g
|
Fat:
11
g
|
Saturated Fat:
6
g
|
Polyunsaturated Fat:
4
g
|
Cholesterol:
34
mg
|
Sodium:
997
mg
|
Fiber:
3
g
|
Sugar:
5
g