Looking for tasty Thanksgiving pasta dishes? Try these simple pasta recipes for Thanksgiving to add something special to your holiday meal.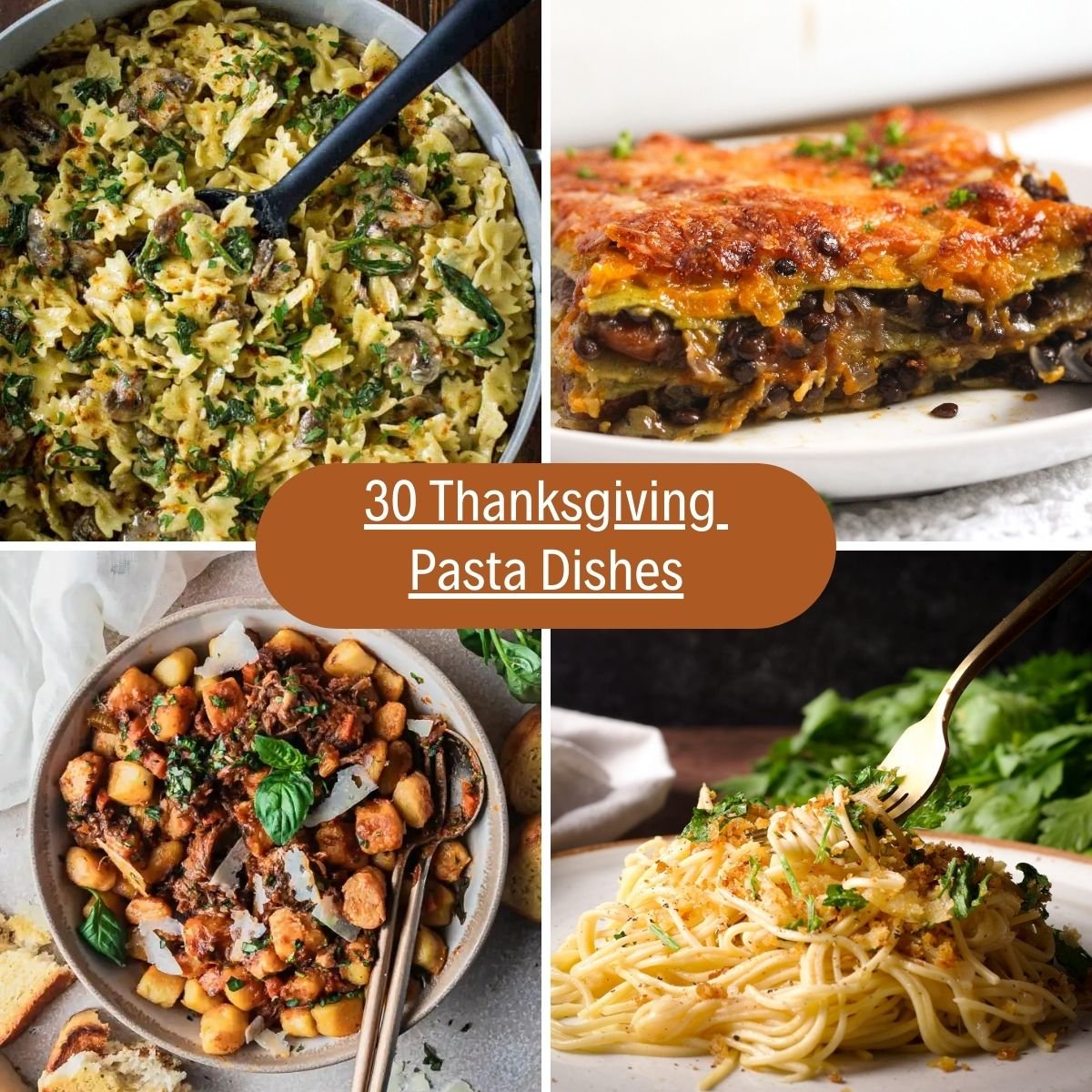 From creamy mac and cheese to flavorful turkey pasta, we've got your Thanksgiving pasta covered. These dishes are easy to make and will be a hit at your dinner table. Whether you're a pasta lover or just looking to switch things up this year, our Thanksgiving pasta ideas are perfect for a delicious and satisfying feast.
Enjoy the warmth and comfort of pasta with a Thanksgiving twist, and surprise your family and friends by serving up these mouthwatering pasta dishes on your special day. Make this holiday unforgettable with our delicious pasta recipes!
For more Thanksgiving recipe ideas, check out Quick Thanksgiving Recipes Ideas, Thanksgiving Chicken Recipe, Fall-off-the-Bone Turkey Wings, and Sweet Potato Casserole. Or learn Where to Put the Thermometer in a Turkey.
Jump to:
Why should you make a pasta dish for Thanksgiving?
Versatility: Pasta dishes can be adapted to suit various dietary preferences and restrictions, making them inclusive for all guests. Whether you prefer vegetarian, vegan, gluten-free, or meat-based options, you can find something to accommodate everyone.
Comforting and filling: Thanksgiving is a time for indulgence, and pasta provides comfort and satisfaction. It is hearty and filling, fitting well with the idea of having plenty of food during the holiday.
Variety: It comes in many shapes, sizes, and flavors, allowing you to get creative with your Thanksgiving menu. You can add ingredients, sauces, and flavors that go with the fall season to make your pasta dishes match the Thanksgiving theme.
Easy: Pasta dishes are easy to make, which can be a significant advantage during the busy Thanksgiving preparations.
Leftover-friendly: Thanksgiving leftovers are common, and pasta dishes can easily incorporate ingredients like turkey, cranberry sauce, and vegetables, reducing food waste and extending the holiday meal's enjoyment.
Pasta Mains for Thanksgiving
Enjoy Thanksgiving pasta dishes as your main course, featuring the season's flavors, ideal for a festive holiday meal.
Vegetarian Butternut Squash and Lentil Lasagna
This butternut squash lasagna is our favorite vegetarian choice for a festive meal - the perfect Thanksgiving pasta dish; it is a total delight for everyone who's ever had it.
Fast American Chop Suey Recipe
American chop suey is a beloved comfort meal. It's a simple mix of elbow macaroni, ground beef, and tomato sauce, sure to bring smiles!
Kale and Ricotta Stuffed Shells
Kale adds a nice twist to this classic comfort food. Fill jumbo pasta shells with a tasty mix of Ricotta and Parmesan cheeses. Three shells, along with a salad, make a satisfying Thanksgiving meal.
Baked Ziti with Eggplant & Chicken Sausage
This is a great holiday pasta. Penne pasta cooked just right in a zesty tomato sauce, mixed with flavorful apple chicken sausage and cinnamon-spiced roasted eggplant – a must-have for your dinner.
Creamy Sausage Mushroom Pasta
This dish features rigatoni pasta smothered in a luscious white Alfredo sauce, combined with savory sausage and earthy mushrooms. A delicious pasta recipe for Thanksgiving.
Butternut Squash Ravioli with Sage and Brown Butter Sauce
Enjoy an elegant pasta Thanksgiving idea. Made with fresh egg pasta dough and filled with a velvety blend of butternut squash and ricotta, it's gently coated in a simple brown butter and sage sauce.
Braised Short Rib Ragu with Gnocchi
Savor the ultimate cold-weather comfort food with this tasty Instant Pot braised short rib ragu served over gnocchi. It's saucy, meaty, and rich, and what's even better, it's ready in half the time it would take in the oven or on the stove!
Vegan Pumpkin Pasta with Spinach and Mushrooms
This dish combines the sweetness of pumpkin with the savoriness of spinach and mushrooms, and it's all mixed with hearty whole-grain fusilli pasta. Finish it off with a sprinkle of delicious vegan Parmesan cheese for added savory goodness.
Brown Butter Brussels Sprouts Pasta
With just a few ingredients, you might wonder where the flavor comes from. The secret is in the brown butter! Once you try making it, you'll want to use it in many dishes. Another elegant Thanksgiving pasta idea fit for guests.
Creamy Cajun Pasta with Shrimp
For a unique Thanksgiving twist, consider turning this recipe into a delightful Thanksgiving main dish.
Pasta Side Dishes
Add a tasty touch to your Thanksgiving spread with pasta side dishes that complement your holiday meal.
Old-Fashioned Baked Mac and Cheese
Savor the nostalgia of classic baked mac and cheese – an American favorite that's sure to evoke fond memories. This easy recipe maximizes the potential of basic ingredients for a truly indulgent dish.
Hokkaido Pumpkin Pasta Sauce
Prepare a delicious Hokkaido pasta sauce with Parmesan cheese using this easy recipe. It's a perfect match for various pumpkin types, offering a flavorful and fulfilling dining experience that's both simple and satisfying.
White Cheddar Mac and Cheese
Here's a simple recipe for creamy white cheddar mac and cheese. You'll only need a few ingredients, and it's ready to enjoy in about the same time it takes to cook the pasta.
Creamy Spinach Gnocchi Recipe
It's a meatless dish that's satisfying for both vegetarians and non-vegetarians. There is no need to prepare separate dishes to please everyone; just use vegetarian hard cheese instead of Parmesan.
Fall Pasta Salad
Enjoy the rich autumn flavors in our Fall Pasta Salad. It's filled with roasted vegetables, crunchy apples, sweet dried cranberries, and much more. Each bite offers a unique blend of these delightful tastes.
Roasted Vegetable Pasta Salad
Perfect for parties, potlucks, or Thanksgiving, this roasted vegetable pasta salad serves a crowd. It's naturally versatile, accommodating various dietary needs and preferences, and can be adjusted to suit your guests' tastes.
Lemon Orzo Pasta
This easy lemon orzo pasta recipe, with just six simple ingredients, is a go-to family meal when your pantry is in need. It's a fragrant and incredibly flavorful side dish.
Brown Butter Sauce Pasta with Crispy Bread Crumbs
This recipe is pure magic – pasta drenched in rich brown butter, Parmesan cheese, and crunchy toasted breadcrumbs. It's heavenly and simply irresistible. I can't help but downplay it while highlighting its sheer awesomeness.
Creamy Spinach and Mushroom Pasta
I adore whipping up a fast and delectable pasta dish for a super-easy weeknight dinner or an incredible holiday side dish! This creamy mushroom and spinach pasta has all the essentials for a truly satisfying meal.
Butternut Squash Ravioli with Crispy Sage
Butternut Squash Ravioli bathed in a luscious brown butter sauce, garnished with crispy sage and pecans. This pasta dish bursts with irresistible autumn tastes and takes less than 30 minutes to prepare!
Pasta with Thanksgiving leftovers
Turn Thanksgiving leftovers into delicious pasta dishes, making the most of your holiday feast. These inventive recipes breathe new life into your surplus turkey, stuffing, and cranberry sauce, ensuring that nothing goes to waste.
Turkey Lasagna
Turn your Thanksgiving leftovers into a delightful turkey lasagna. Enjoy a cozy family dinner and make the most of your extra turkey.
Leftover Turkey Pasta Casserole
We frequently prepare this turkey pasta casserole, using not only leftover Thanksgiving turkey but also leftover chicken or freshly cooked chicken breast when needed.
Creamy Ham and Cheese Pasta
This Ham and Parmesan pasta is a fantastic way to enjoy leftover ham. It is loaded with the flavors of ham, Parmesan cheese, cream, and garlic and is super simple to prepare.
Baked Chicken and Broccoli Pasta
You can make this comforting dish with chicken or turkey leftovers from your Thanksgiving dinner. And you can even sneak in some leftover veggies.
Chicken Broccoli Cauliflower Pasta
This dish pairs roasted broccoli, cauliflower, leftover chicken or turkey, and onions with a quick creamy sauce. With only 10 minutes of prep, it's ready in just 25 minutes!
Baked Ham Penne Pasta
We enjoy ham on Easter, Thanksgiving, and Christmas, and there are always plenty of leftovers. I like to get creative and make dishes like this favorite, Baked Ham Penne Pasta, to use up the ham.
5-Ingredient Penne Pasta
This easy recipe combines shredded leftover turkey or chicken, marinara sauce, mozzarella cheese, and Italian seasoning with your choice of pasta shape, like penne
Baked Chicken Broccoli Alfredo
Pasta is cooked alongside fresh broccoli florets and then baked with rotisserie chicken, alfredo sauce, and plenty of cheese! Plus, you can easily make it with Thanksgiving leftovers, whether it's chicken, turkey, or cooked vegetables.
Quick Chicken Chipotle Enchiladas
You can make these delicious enchiladas with leftover chicken or turkey meat. Add some salsa and lots of cheese for a truly delicious post-holiday dinner.
Chicken Cilantro Lime Tacos
Make these super tasty tacos with leftovers from your Thanksgiving dinner.
By sharing these tasty pasta dishes, you'll make your family and friends happy and have a Thanksgiving they won't forget. So, why not enjoy the cozy and yummy pasta dishes this holiday season for a special Pasta Thanksgiving?