Easy-to-make chicken cilantro lime tacos, a lighter and incredibly delicious twist on traditional tacos, this recipe is full of bright flavors and perfect for a Taco Tuesday.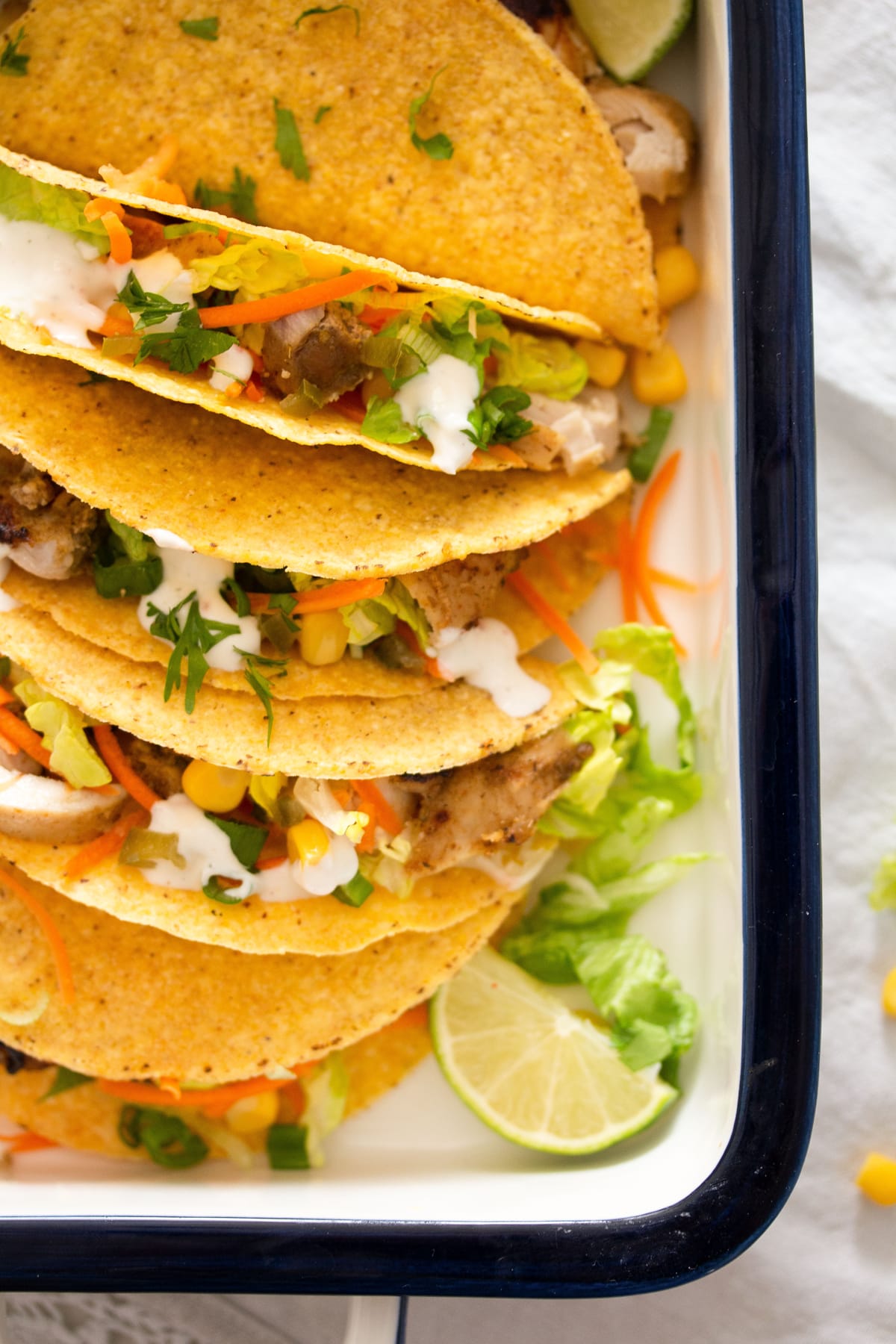 Chicken thighs in a spicy lime marinade, your favorite toppings, and two choices of amazing taco sauce. Why go out for dinner when you can make these easy chicken cilantro lime tacos yourself? The meat is tender, the marinade has a ton of flavor, and the taco toppings can be changed according to your liking.
And if you like Mexican food, check out the Easy Halloumi Fajitas or the Easy Chicken Fajita Tacos.
Recipe ingredients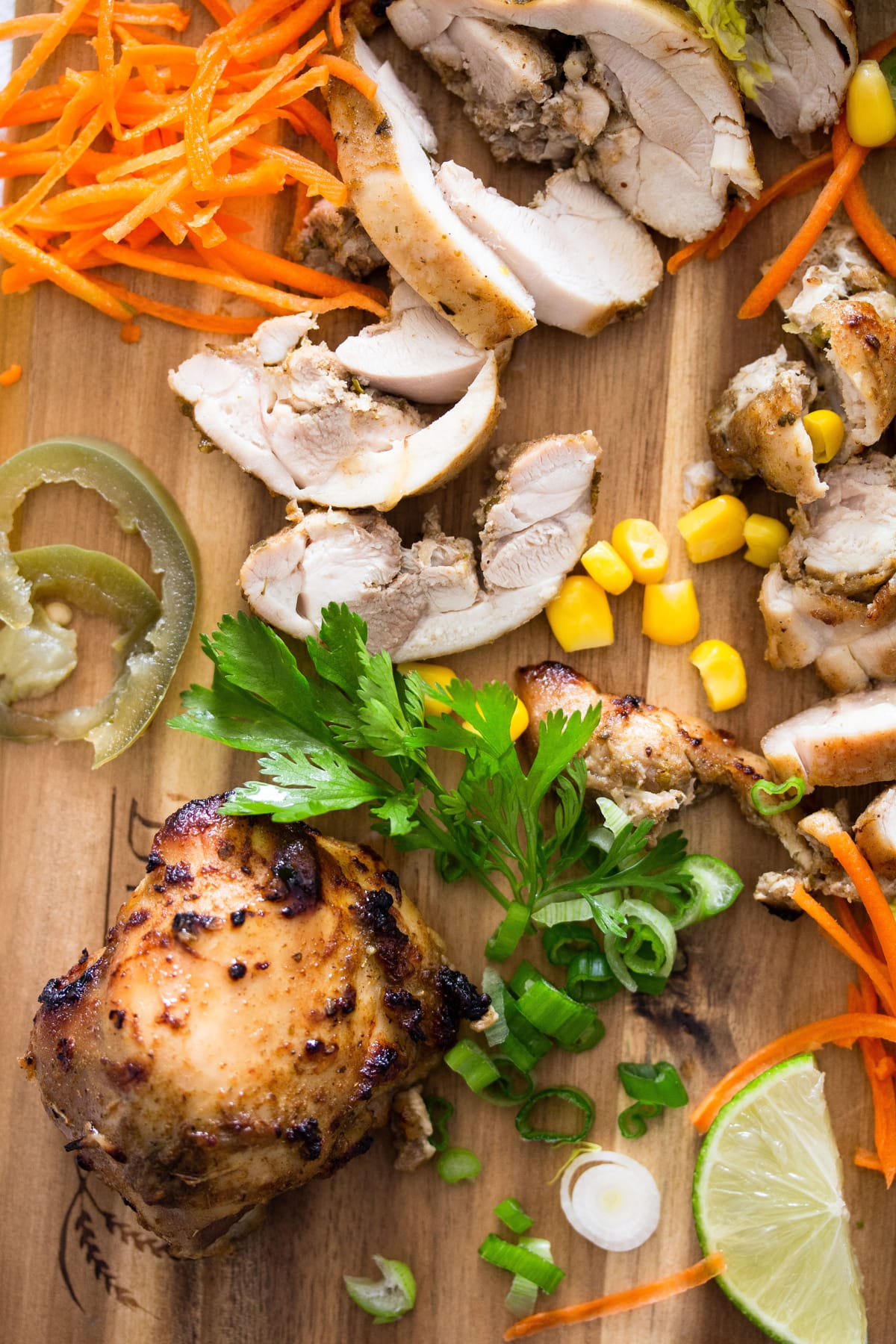 Shells:
Crunchy taco shells or small soft tortillas are both great for this cilantro lime chicken taco recipe.
I used the crunchy shells this time.
Chicken:
Boneless, skinless chicken thighs; they stay moist and juicy, and we love them.
However, you can use chicken thighs that still have the bone in. Marinate the thighs as instructed and roast until the internal temperature of the meat reaches 165°F/ 75°C. The cooking time will be longer; make sure to check.
You can also check by making a small cut in the thickest part of the thigh, near the bone, the juices should run clear, and the meat should be white; no pink allowed.
Limes:
Two small limes for the lime chicken marinade.
It's preferable to use organic, unwaxed limes (or lemons) because you will need some of the lime zest. Either way, make sure you wash the limes very well before zesting them.
Spices:
I used an array of spices for the chicken cilantro lime tacos. And it is really worth it!
You will need cumin, coriander, sweet paprika powder, oregano, cayenne pepper, or red chili flakes (to taste), a touch of cinnamon, and nutmeg, fine sea salt, or Kosher salt.
Alternatively, use bought or homemade taco seasoning.
Other ingredients: olive oil, garlic, clear honey.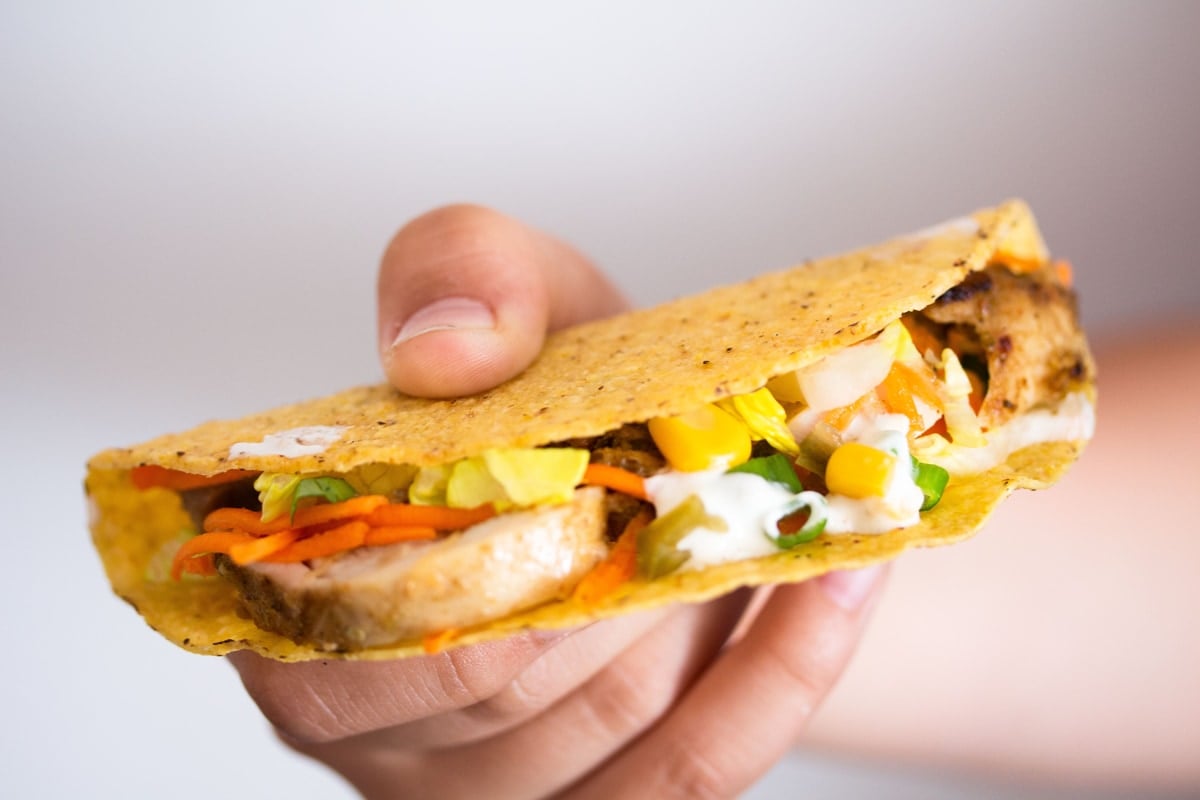 What to put in tacos?
grated cheese (Gouda, Cheddar, cotija cheese, Monterey Jack, Mexican cheese, etc.)
canned corn
julienned carrots
shredded lettuce
fresh cilantro
green onions
fresh or pickled jalapenos
What else to add to lime chicken tacos?
avocado, guacamole, or avocado crema
raw or pickled red onion (leave out the green onions in this case)
red bell pepper slices
tomato slices
red or green salsa
pico de gallo
Two sauces for cilantro chicken tacos
Sour cream sauce
Greek yogurt and tahini sauce: Although less Mexican due to tahini, this sauce is sooooo good, and it goes great with the cilantro lime tacos.
Step-by-step instructions
Marinate thighs:

Mix the ingredients for the cilantro lime marinade in a small bowl. Place meat pieces in a large bowl or freezer bag. Add marinade and coat the meat with it. Refrigerate for 6 to 12 hours. Remove from the refrigerator 30 minutes before cooking to allow the marinated chicken to come to room temperature.
Cook chicken:

Preheat the oven. Line a baking sheet with parchment paper or use a roasting tin.
Place the contents of the bowl on the baking tray and roast for 25 – 30 minutes or until cooked through (check the internal temperature).
Let the chicken rest shortly, then cut it into slices.
Make sauces:

Sour cream sauce: Mix sour cream, honey, cayenne, grated garlic cloves, lime juice, and salt.
Yogurt-tahini sauce: Mix Greek yogurt, well-stirred tahini, grated garlic clove, and salt.
Prepare vegetables:

Shred the carrot.
Shred the lettuce.
Drain the corn.
Finely slice the green onions.
Finely chop the jalapenos.
Finely chop the cilantro.
Keep them separated in small serving bowls.
Heat tortillas or taco shells:

Heat the hard taco shells in the oven or the tortillas in a pan (according to the package directions).
The hard taco shells usually need about 5 minutes at 350°F/ 180°C.
Tortillas need about 30 seconds on each side in a pan on medium heat without oil.
Serve: Assemble the tacos, add a squeeze of fresh lime, and serve immediately.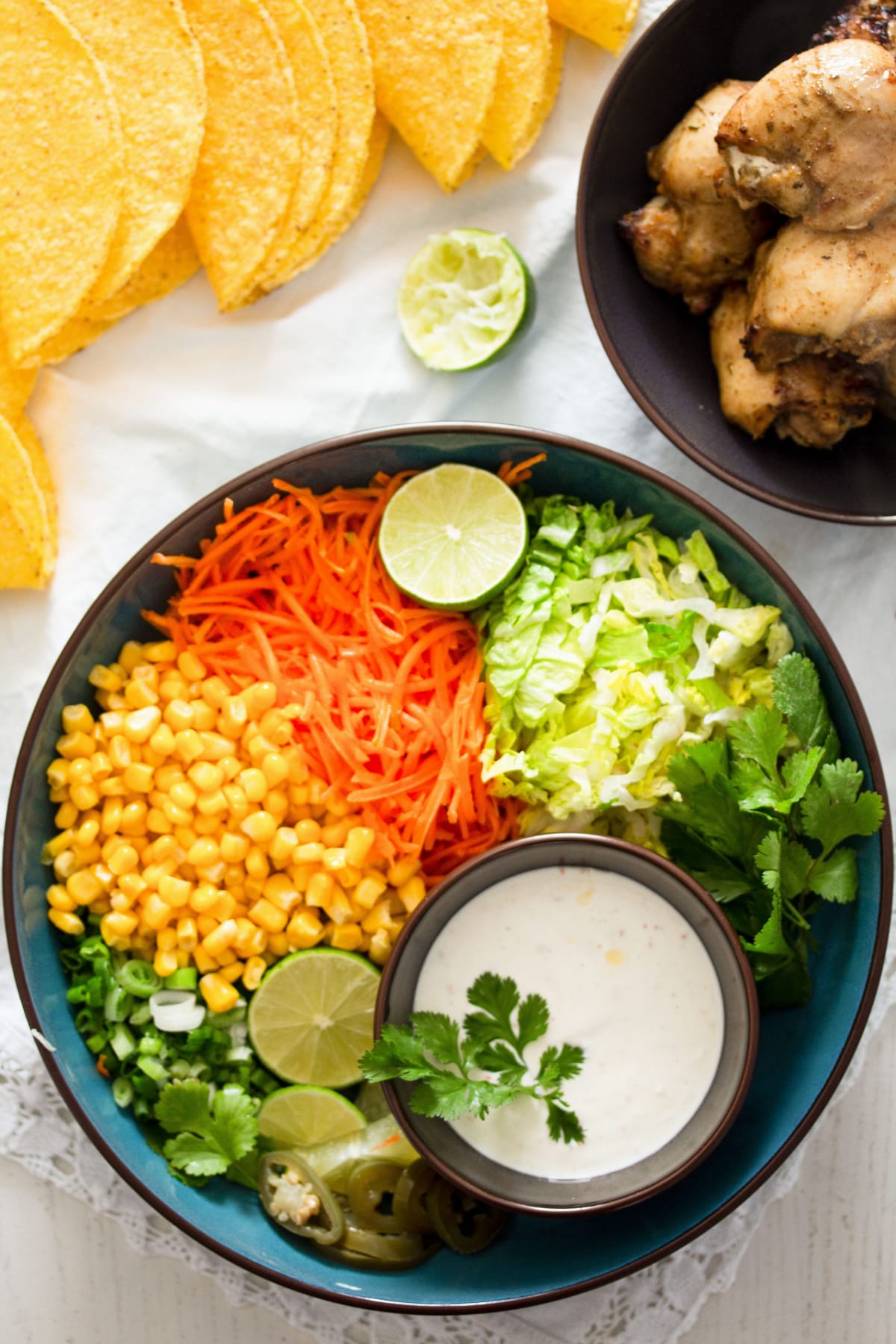 Expert tips
You can prepare the cilantro lime chicken tacos recipe in advance and keep it refrigerated until ready to serve. Reheat the thighs in the oven before making the tacos.
Only fill the taco shells before serving, or they will get soft.
If you choose tortillas, you can wrap everything in advance and take on a picnic, work, or school; this is a great recipe for making ahead.
Recipe FAQ
Can I replace crunchy taco shells with tortillas?
Use soft flour or corn tortillas instead, if you like.
Can I use chicken breast instead of chicken thighs?
Of course, the breast is fine as well. The chicken breast will need a shorter time to cook, so don't overdo it, or the meat will be dry.
How to store?
Refrigerate the filling ingredients in an airtight container for 2-3 days.
Already filled taco shells don't keep well; the shells will get soggy. It is preferable to fill just as many shells as you can eat so you don't have any leftover tacos that are already filled.
What to do with the leftovers?
Salad: Mix all the leftovers (except taco shells/tortillas) in a bowl, add some chopped onions and tomatoes, any leftover sauce, and combine.
You could also add some cooked black beans, chickpeas, fresh avocado, cheese, red pepper, etc.
If you are out of chicken, replace it with canned, drained tuna, hard-boiled eggs, or ham.
Crumble any leftover crunchy taco shells over the salad.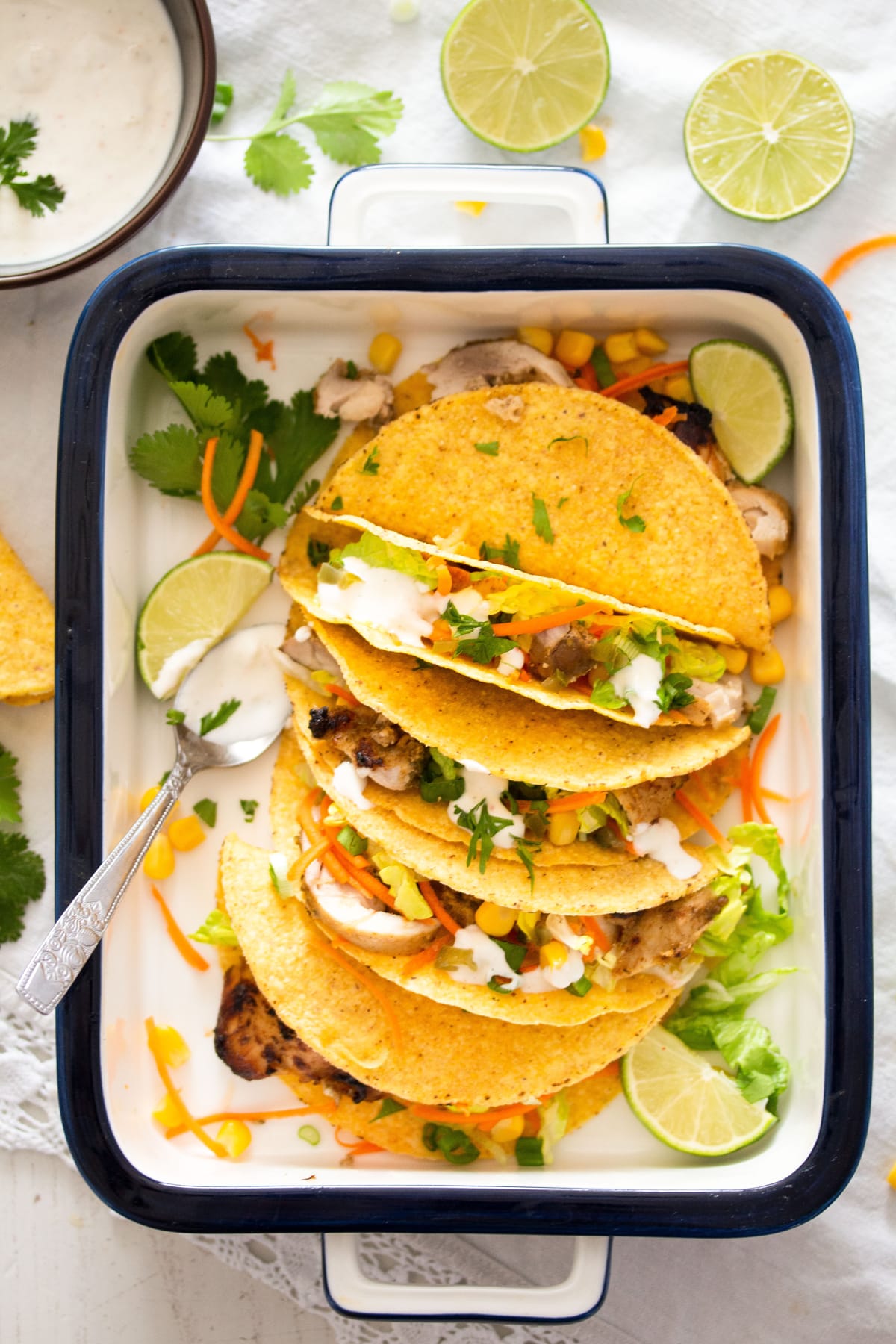 More food to eat with your hands
Hungry for More Fast Recipes?
Sign up for the
Newsletter
to get new quick and delicious recipes in your inbox each week! Find me sharing daily meal-time inspiration on
Pinterest
and
Facebook