Learn how to make cranberry sauce using dried cranberries; it's easy and delicious. This simple Thanksgiving dried cranberry sauce recipe is made with pantry ingredients and ready in about 15 minutes.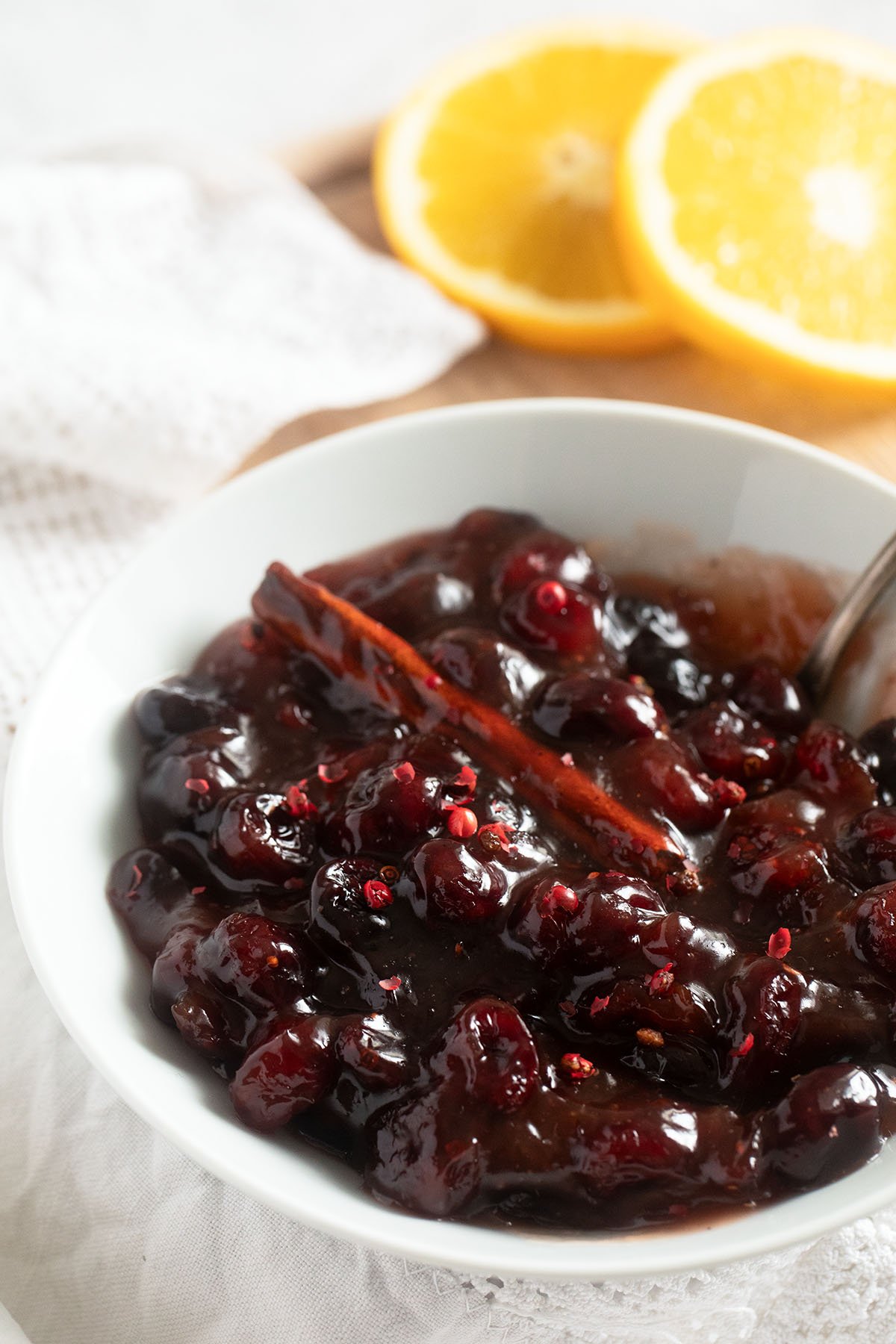 Make a delicious homemade cranberry sauce using dried cranberries! Just cook dried cranberries with orange and cranberry juice, sugar, and a little cinnamon until they burst into a flavorful sauce. Add this tangy-sweet condiment to your Thanksgiving meal or Christmas dinner – it's perfect with holiday turkey or chicken or as a dessert topping.
Jump to:
🫐Can you make cranberry sauce with dried cranberries?
Sure. They still have fresh flavor but without the extra water content. Drying preserves them by removing moisture, making them last longer without spoiling.
When you cook dried cranberries with liquids like water or juice, they soak up the moisture and plump back up, becoming similar to reconstituted fresh ones. This allows you to create a delicious cranberry sauce without needing fresh berries, making it easy to prepare at any time of year, regardless of the fall season.
Other good reasons to make this easy recipe
Convenience: Dried cranberries have a longer shelf life and are easy to store. They don't require refrigeration like fresh ones, allowing for long-term use in your pantry.
Sweetness: They tend to be sweeter than fresh ones, so there is a need for excessive added sugar.
Ease of use: They eliminate the need to cook down fresh cranberries to achieve a sauce consistency, reducing the cooking time.
📋Recipe ingredients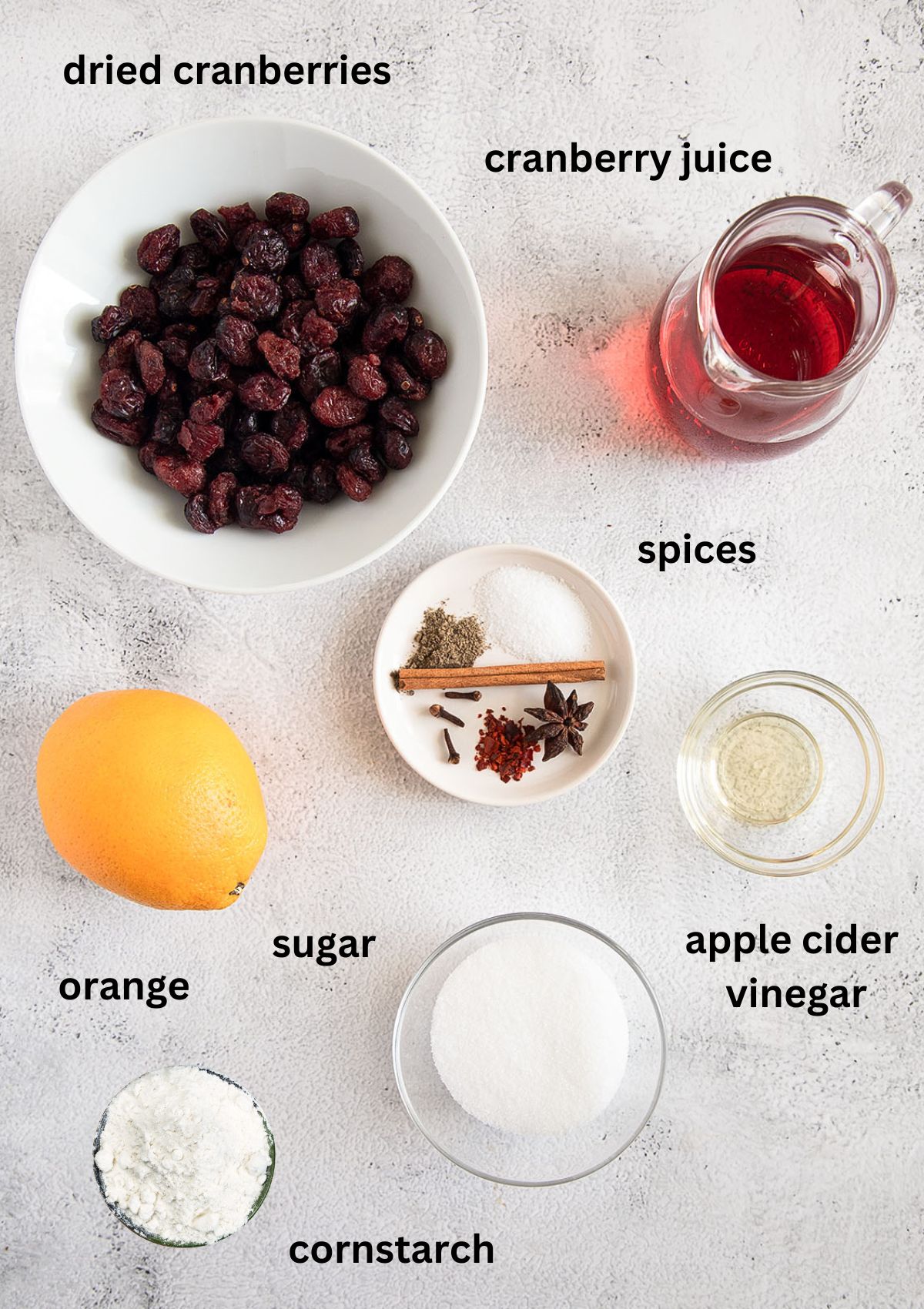 Sweetened dried cranberries: I use a whole bag, which holds about 1 ½ cups (200 g) of dried fruit. 

Craisins and dried cranberries are essentially the same thing. Craisins is a trademarked name for a specific brand of sweetened dried cranberries produced by Ocean Spray.

Orange: An unwaxed orange is preferable, as you need both the juice and the fresh orange zest. 
Cranberry juice intensifies the cranberry flavor, but I have made this sauce using apple juice just as often. Feel free to use what you have. 
Spices: You will need one small stick (or ½ a regular-sized stick of cinnamon), 2-3 cloves (no more than that as they have a strong flavor), one small star anise, and a small pinch of red chili flakes (or cayenne pepper). 

If all you have is cinnamon, it is fine; the dried cranberry sauce will still taste delicious.

Other ingredients: ¼ cup of sugar (or brown sugar), one tablespoon of apple cider vinegar (or lemon juice), a pinch of sea salt, and ground black pepper. 
👩🏻‍🍳How to make cranberry sauce with dried cranberries?
Gather the ingredients (except cornstarch and water), place them all in a small pot, and bring to a boil on medium heat.
Reduce the heat to low and let it simmer for about 10 minutes or until the cranberries plump up. 
Mix a bit of cornstarch with cold water in a small bowl.
Whisk the slurry into the sauce and stir until thickened (about 1 minute).
🍲Variations on the recipe
Liquids: Cranberry juice is not a must; you can replace it with apple juice or orange juice. 
Spice it up: Experiment with spices like a pinch of nutmeg, cardamom, allspice, or ginger. You could also use a bit of pumpkin spice or even carrot cake spice.
Other dried fruits like cherries, apricots, or raisins are a lovely addition. Combine them with the dried cranberries while cooking.
Nuts for crunch: Stir in chopped nuts such as pecans, walnuts, or almonds towards the end of cooking to add a satisfying crunch to your sauce.
Boozy flavor: Add a splash of orange liqueur, brandy, bourbon, or red wine during cooking.
Natural sweeteners: Instead of white sugar, try sweetening your sauce with honey, maple syrup, or agave nectar.
🔊Expert Tips
Sweetness: Taste the sauce as it cooks and adjust the sweetness to your liking by adding more sugar if needed. Remember that dried fruit is typically sweeter than fresh, so that you might require less sugar.
Texture: For a smoother sauce, briefly blend a portion using a hand blender or food processor while retaining some whole cranberries for texture. Avoid over-blending; the sauce should not be entirely smooth.
Make ahead: Cranberry sauce often tastes better after a day or two as the flavors meld together. It's a good idea to make it in advance and refrigerate it for a day or two before serving it for optimal taste.
You can easily make a double batch.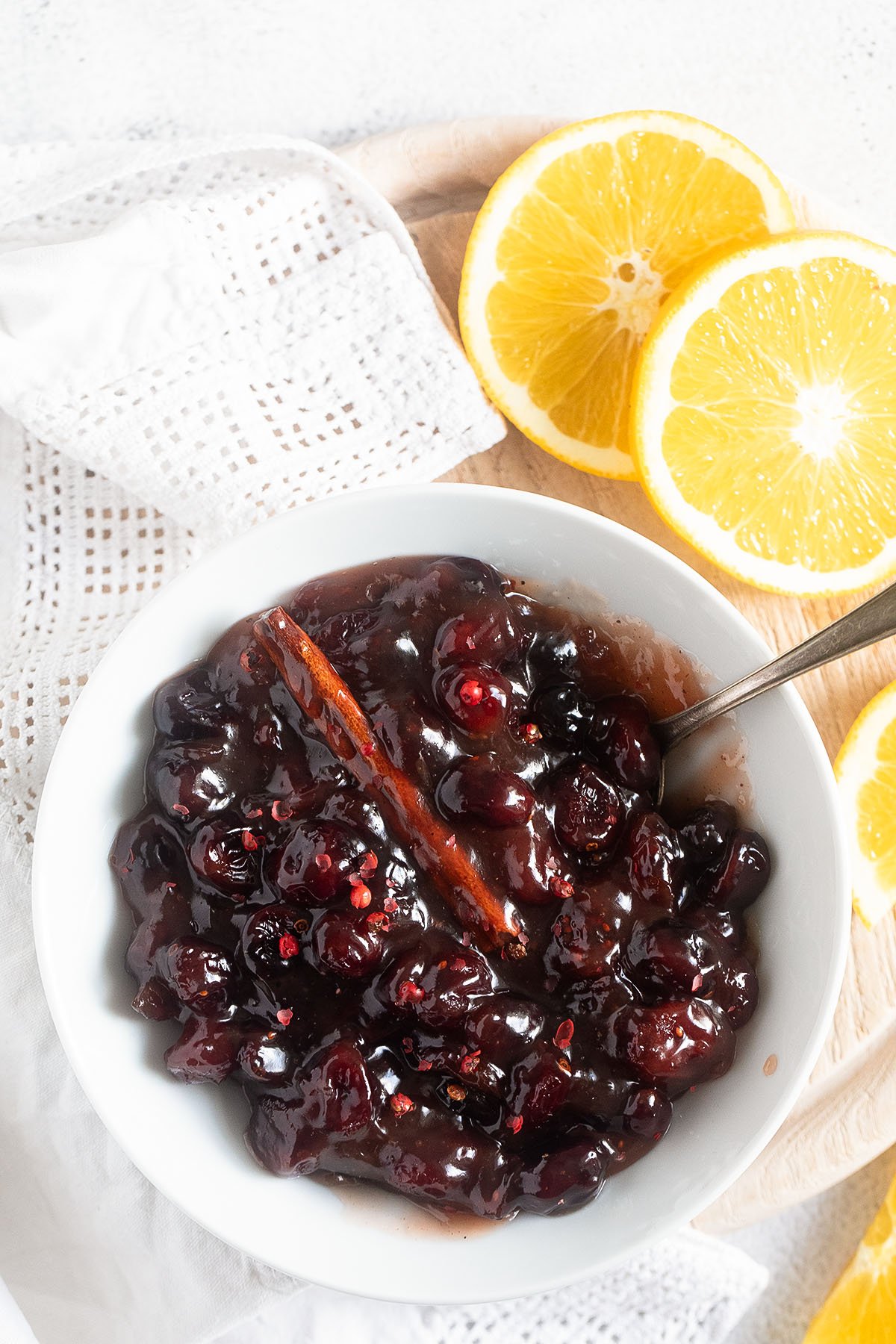 ❓Recipe FAQ
Can I use unsweetened cranberries?
Yes. They might be a bit tart, so you might need to increase the sugar content. Adjust the amount of sugar gradually until it tastes right for you. 
How do I fix cranberry sauce that's too thick or thin?
To thin out this easy sauce, add a little more liquid (water, juice, or even a splash of wine) until you reach the desired consistency. To thicken a too-thin sauce, continue simmering over low heat to allow more moisture to evaporate. 
How to store and reheat?
Refrigerate the leftover cranberry sauce in a mason jar. It keeps well for several days.
Freeze it for longer storage (4-5 months) in an airtight container. Thaw it in the refrigerator before reheating.
Reheat on the stovetop or microwave, adding a bit of extra liquid (juice or water). 
🍽️Serving suggestions
Holiday meal: Serve alongside roasted turkey, Thanksgiving chicken, or ham during Thanksgiving or Christmas dinners as a traditional condiment.
Spread or dip: We love the leftovers as a cheese or turkey sandwich spread or as a dip for cheese platters. It pairs wonderfully with cream cheese or brie on crackers.
Dessert topping: Drizzle over vanilla ice cream, yogurt, cheesecake, or pound cake.
Make breakfast fruit bowls and swirl them into oatmeal or yogurt.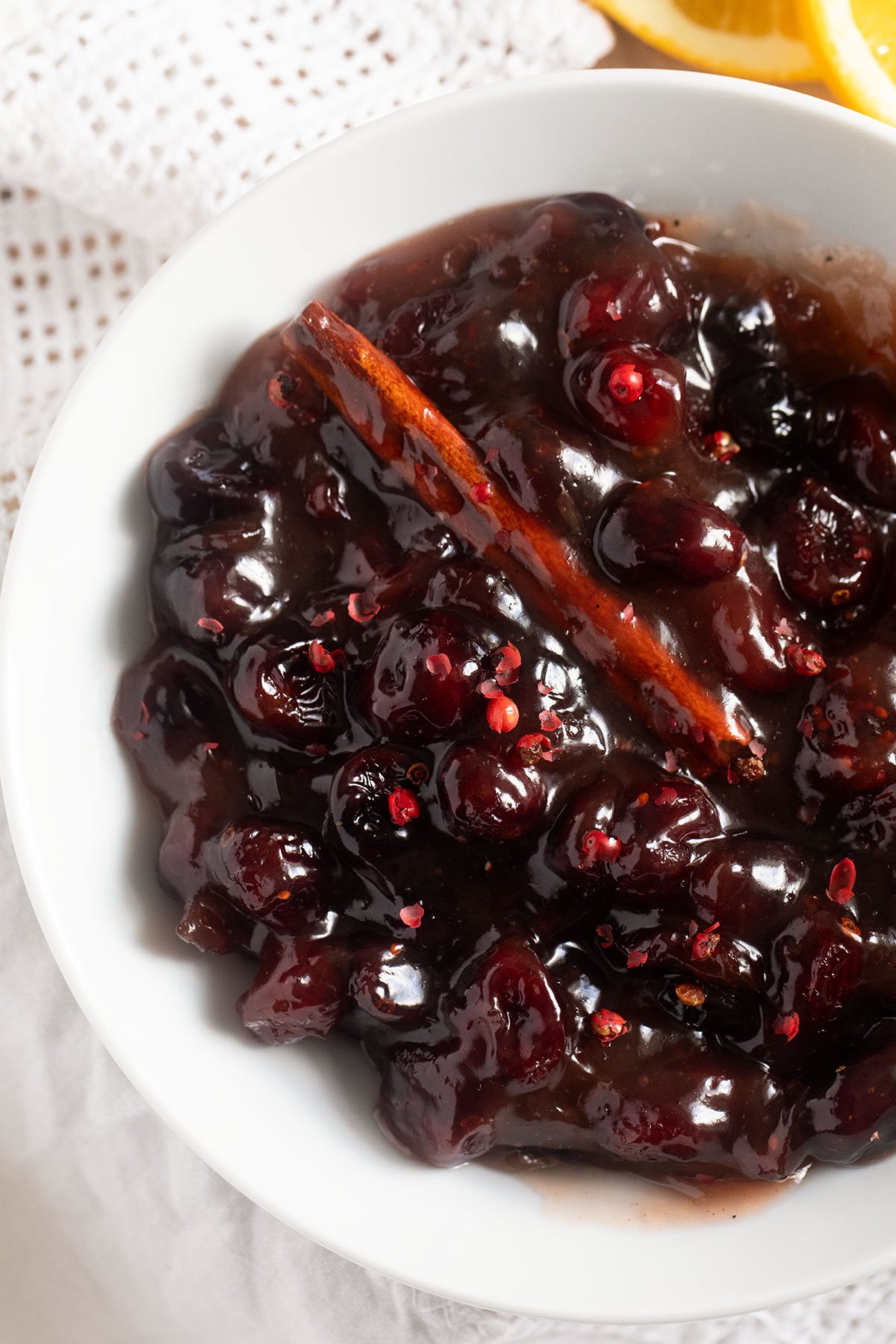 🦃​Thanksgiving turkey dinner
Hungry for More Fast Recipes?
Sign up for our Newsletter to receive new, quick, and delicious recipes in your inbox occasionally! Find me sharing daily meal-time inspiration on Pinterest and Facebook
Give my quick recipes a try for your next family meal! Feel free to reach out if you need any assistance!
📖 Recipe
Cranberry Sauce Using Dried Cranberries
Make easy, delicious cranberry sauce using dried cranberries. This quick Thanksgiving recipe needs pantry staples and takes just 15 minutes.
Print
Pin
Rate
Equipment
Small saucepan

Wire whisk

Small bowl
Ingredients
1 ½

cups

sweetened dried cranberries

200 g, Note 1

1

orange

zest and juice, Note 2

¾

cup

cranberry juice

or apple juice

¼

cup

granulated sugar

50 g

1

tablespoon

apple cider vinegar

1

small

stick cinnamon

or ½ of a regular-sized one, Note 3

2-3

cloves

1

small

star anise

small

pinch of red pepper flakes

or cayenne pepper, to taste

1

tiny pinch of

salt

⅛

teaspoon

ground black pepper

1 ½

tablespoons

cornstarch

Note 4

2-3

tablespoons

cold water
Instructions
Simmer: Place cranberries, orange zest and juice, cranberry or apple juice, sugar, apple cider vinegar, and all the spices in a small saucepan. Bring to a boil, reduce the heat, and simmer for about 10 minutes or until the cranberries plump up.

Optional: Mix cornstarch and cold water in a small bowl. Use enough water to have a thick yet pourable paste.

Whisk the slurry into the sauce and stir until thickened about 1 minute. The sauce will thicken more as it cools.

Serve immediately, or let the cranberry sauce cool slightly and transfer it to a jar. Reheat before serving.
Notes
Cranberries: Craisins and dried cranberries are the same thing; craisins are a trademarked name for a specific brand Ocean Spray produces. If using unsweetened cranberries, you might need to add more sugar (to taste).
Orange: Using an unwaxed orange is preferable, as you will also need its zest.
Spices: You can use only cinnamon or all the suggested spices. Alternatively, experiment with spices like a pinch of nutmeg, cardamom, allspice, or ginger. You could also use a bit of pumpkin spice or even carrot cake spice.
Cornstarch: Thickening the sauce with cornstarch is optional. You can leave the sauce as it is or cook it for a few extra minutes to reduce it a bit more.
Nutrition
Serving:
1
portion from 8
|
Calories:
122
kcal
|
Carbohydrates:
32
g
|
Protein:
0.3
g
|
Fat:
0.4
g
|
Saturated Fat:
0.03
g
|
Polyunsaturated Fat:
0.1
g
|
Monounsaturated Fat:
0.1
g
|
Sodium:
51
mg
|
Potassium:
66
mg
|
Fiber:
2
g
|
Sugar:
28
g
|
Vitamin A:
50
IU
|
Vitamin C:
11
mg
|
Calcium:
16
mg
|
Iron:
0.3
mg